Using FreeStyle Libre: Partnering with Abbott to share more on #LivingFullyWithDiabetes
Diabetes is fast gaining as one of the potential epidemics in India and that's alarming. In my previous post, I had mentioned in detail diabetes management, the risks of not having your glucose under check, and how you can continue #LivingFullyWithDiabetes.
The event I attended, where Jay Bhanushali shared his first-hand experiences as a caregiver to his mother's ten-year diabetes journey was an eyeopener. He explained in detail the importance of how a continuous glucose monitoring system helps monitor glucose levels effectively. It piqued my interest and I thus decided to try out how continuous glucose monitoring will help in managing diabetes.
Monitoring Diabetes
As someone who suffers from hypothyroidism and PCOS, my body metabolizes glucose and insulin in a different way. I also seem to have a high risk of developing type 2 diabetes by the age of 40 [1]. Furthermore, as a food blogger, I often make different recipes from varied cuisines and have been blissfully unaware of the toll it has on my medical condition.
Therefore, it is imperative to determine the different foods that cause fluctuations in my blood sugar levels.
Testing Different Foods
I am someone who has gone after all the fad diets in the world but to no result. But viewing a diet through the eyes of glucose levels seems like a powerful way to personalize food choices and thus come up with an optimal diet.
There are two primary ways to test one's blood sugar levels: a finger-prick glucometer or a continuous glucose monitor. When you use a glucometer, you'll have to prick your finger to pick up the sugar in your blood onto the testing strip. You'll have to do this process every time you need to check and as one can imagine, it is a painful process, quite literally, in the long run.
I know this first-hand watching my baby sister go through gestational diabetes and having to finger-prick every other day.
I wasn't ready to prick my finger every single time I wanted to check my blood glucose. I wanted a great and effective solution that helped me track my sugar levels as soon as I woke up, before and after every meal, and exercise, so that I could regulate and decide on an effective meal plan.
That's where a continuous glucose monitor comes into play. Not only does it take continuous readings, but it also gives you a range. This is highly beneficial as a continuous glucose monitor would give me the best real-time feedback on foods that work best on my metabolic health.
Continuous Glucose Monitoring using Abbott's Freestyle Libre
Abbott's Freestyle Libre is a sensor-based continuous glucose monitoring device that can track glucose levels continuously and also show a daily pattern of varying glucose levels through graphs and ranges.
How to Use Abbott's Freestyle Libre
Freestyle Libre comes with a sensor and a reader. All you have to do is stick the sensor to the back of your upper arm which can be worn for up to 14 days. The sensor is designed to be water-resistant and can be worn while bathing, showering, swimming, and exercising. It can check the glucose levels up to 1440 readings a day without pricking the finger every time or drawing blood. Simply swipe the reader over the sensor and you get to see the readings.
Check out this video below to see how I have worn Freestyle Libre and how this powerful tool could track glucose trends 24-hours a day, not only in response to diet but for lifestyle behaviours including exercise and sleep, that affect glucose.
Video to be uploaded:
Here's what I found:
Morning Cup of Coffee: There was a small spike when I had a cup of coffee first thing in the morning.
Typical South Indian Breakfast of Dosa, Chutney, and Sambar: There wasn't any noticeable spike.
Ramen/Pizza: It shot up my glucose levels probably because it is mostly processed flour.
Steak and Veggies: It didn't cause any sudden spike as the meal was complete with vegetables, protein and carbs. However, when I included a glass of sweet lime juice, it showed a dramatic glucose spike.
Morning Smoothie with a perfect mix of carbs, fibre, fat, and protein: There was barely a blip on the glucose levels.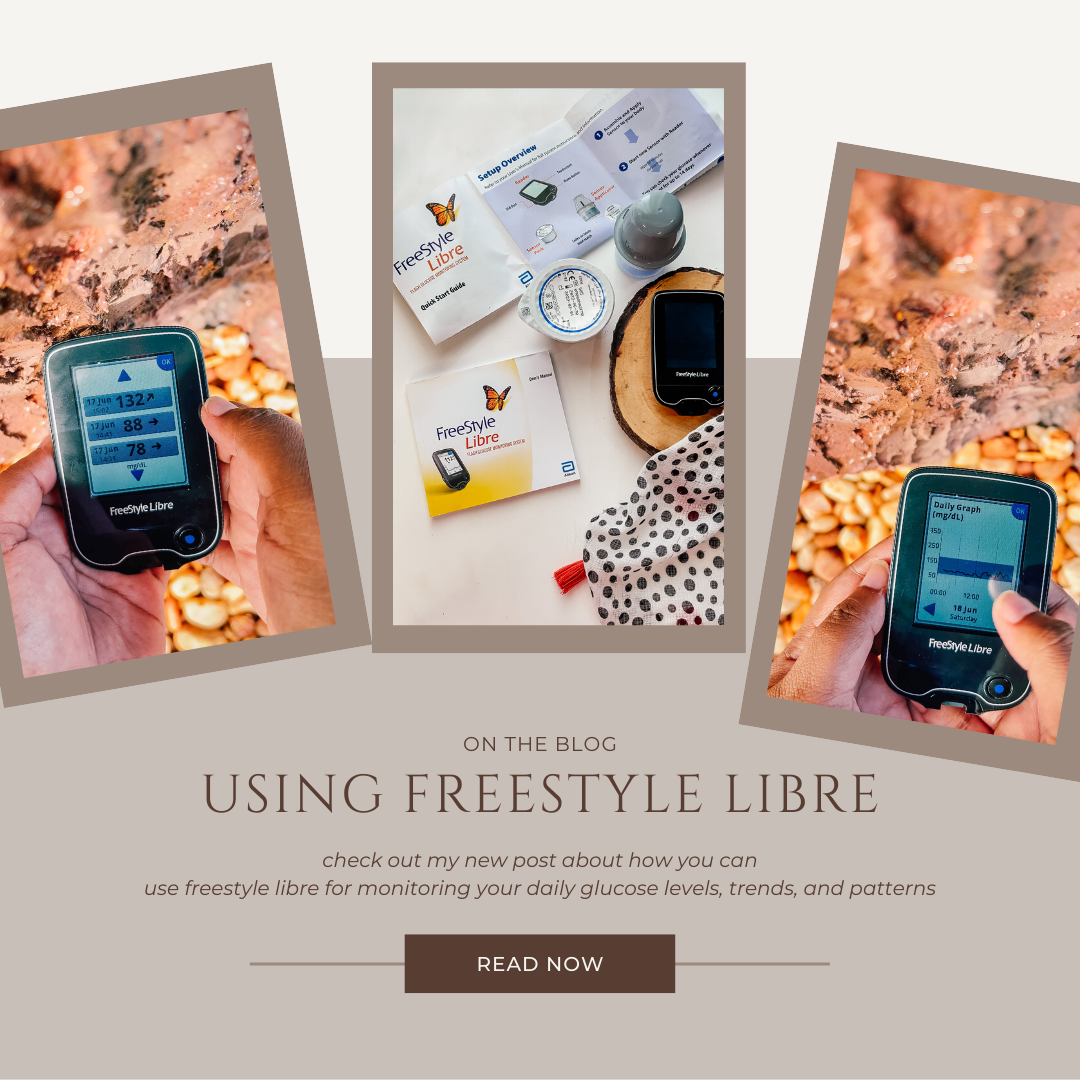 My Learnings from using FreeStyle Libre:
Include fiber and protein in your meals.
Have carb-rich meals post-workout or a 10–15-minute walk.
Stress spikes glucose levels. So, it is important to manage it by doing something that you love. Try your hand at gardening, mindful breathing, meditation, or yoga.
Set a goal to stay active throughout the day. Start slow with three 10-minute walks at different times of the day. Gradually increase your stamina to do strength training.
Sleep at the right time and for at least 6 to 7 hours every night.
Using Freestyle Libre was easy and convenient and I could see my sugar level trends and patterns. Now I know which foods I should consume more to increase my metabolic health.
Please share this blog post with your friends and family if you find it helpful. Do comment about what you think of the product or if you have any queries regarding it or my experience.
Know more about Continuous Glucose Monitoring.
Reference: