This is an exotic middle- Eastern dish served mostly in Saudi Arabia and Jordan. Here, the chicken or other meat like lamb or beef is cooked in a spiced gravy and is separately fried in melting butter. The rice is then cooked in the same gravy giving it added flavor.
When I prepared this dish few weeks ago, my kitchen was filled with aroma. I couldn't help but devour it then and there without waiting for P for lunch! And yeah, P loved it enough to take second helpings.
There are various variations to this dish. And I got this recipe from Youtube.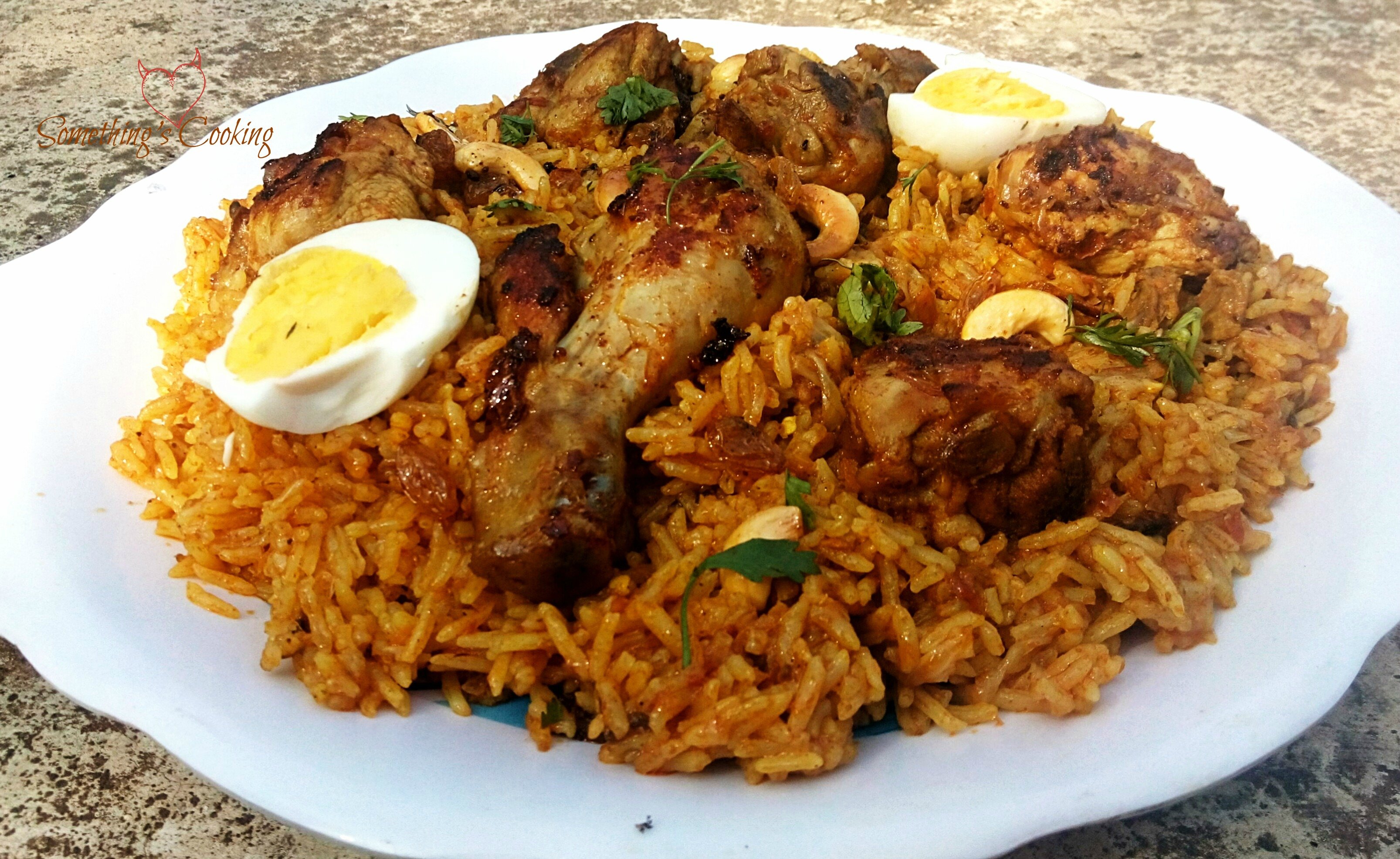 Exotic in every sense, don't you think?
Ingredients:
Chicken- ½kg cut into 4 big pieces
Rice- ½kg
Salt, Oil/Ghee
For Tempering:
Cardomon- 6, Cloves- 6, Cinnamon- 3 pieces, Bay leaves- 2, Aniseed- 1
Spice Powders:
Garam Masala- 2tsp, Turmeric powder- ¼tp, Coriander powder- 1tbsp, Cumin powder- ½tsp, Chilli powder- ½tbsp
Saute:
Onion-2 finely chopped, Green chilly- 2, Ginger-garlic paste- 1tsp, Tomato-2 pureed
Garnish:
Coriander leaves- 2tbsp, Cashew nuts, Almonds, Boiled eggs halved- 4, Lemon wedges- 2
Method:
In a pressure cooker add oil/ghee. Add onion and green chillies. Add cinnamon, cloves, cardamon, aniseed and bay leaves. Saute till onion is golden brown.
Add chicken pieces and mix well. Add the other spice powders and salt. Cook for a couple of minutes.
Add tomato puree and cook till oil rises to the top.
Cover and pressure cook for 3 whistles.
Remove the chicken pieces from the gravy and fry them in melting butter in another pan.
To the gravy in the pressure cooker, add basmati rice and mix well. Add sufficient water such that the water+gravy and rice is in the ratio 2:1.
Add a handful of chopped coriander leaves and pressure cook for 2 whistles.
Once cooked, serve the rice onto a plate. Top it with fried chicken, roasted boiled egg,  roasted nuts, coriander leaves and lemon wedges. Serve with raita.