Chicken Majboos is the national dish of Bahrain and Qatar. Similar to Biriyani and Chicken Kabsa from Saudi Arabia, it is a rice dish with meat.
There are two important ingredients to the dish- Loomi and Baharat. Loomis are limes boiled and dried in sun. This makes it extremely tangy and smoky. Baharat is a spice blend made fromroasted and powdered black pepper, paprika, cumin, coriander, cinnamon, cloves, cardamom and nutmeg.
[tweetthis]A chicken rice dish from Qatar! #AtoZChallenge @AprilA2Z @blogchatter #foodblogger #recipe[/tweetthis]
Get the ingredients ready and this flavorful dish can be whipped in 30-40 mins.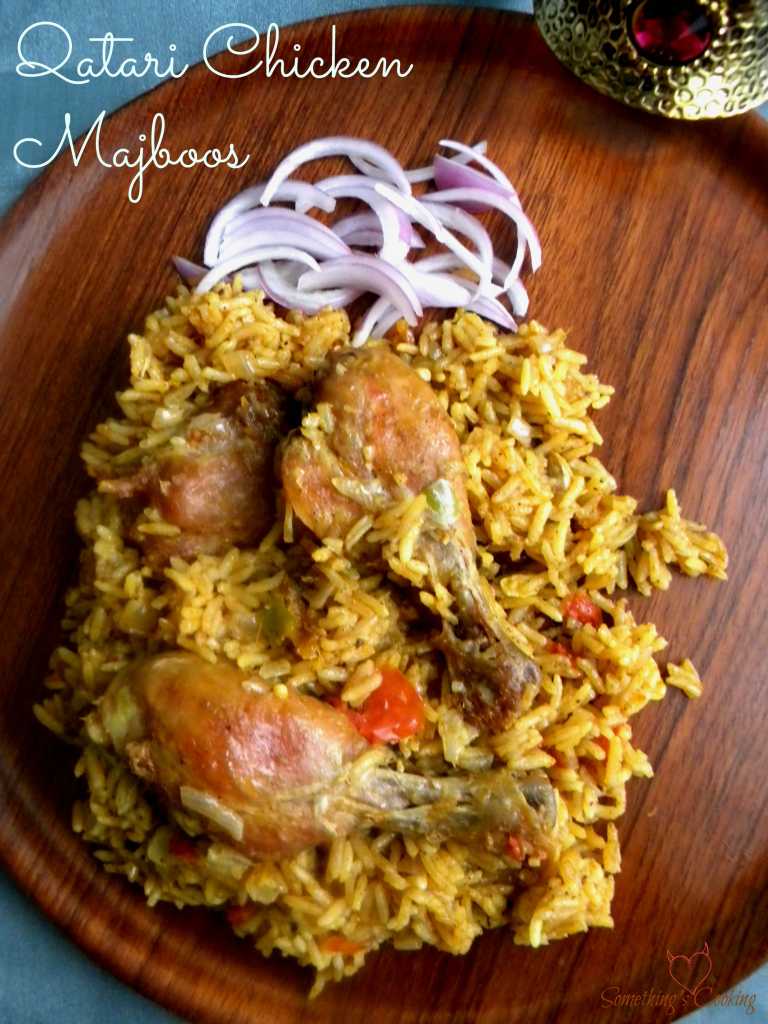 Ingredients:
2 large onions, diced
3 tablespoons ghee or unsalted butter
1 tablespoon baharat
1 teaspoon turmeric
2 tablespoons vegetable oil
A combination of chicken thighs, legs and breasts (about 3 pounds)
1 hot green chile, seeded and diced
1 tablespoon fresh ginger, minced
5 large cloves or garlic, thinly sliced
2 large roma tomatoes, diced (or 1 (14 oz) can diced tomatoes, juices drained)
2-3 dried limes (loomi), several holes punched throughout each one
5 green cardamom pods
⅛ teaspoon ground cloves
1 stick cinnamon (about 2 inches long)
2½ teaspoons salt
2½ cups chicken stock
2 cups basmati rice (soaked for at least 15 minutes, then rinsed and drained)
3 tablespoons fresh cilantro, chopped
2 tablespoons fresh parsley, chopped
Rosewater for sprinkling (optional, but recommended)
For the Homemade Baharat:
1 tablespoon black peppercorns
1 tablespoon cumin seeds
2 teaspoons coriander seeds
1 cinnamon stick (about 2 inches long)
1 teaspoon whole cloves
¼ teaspoon green cardamom seeds
1 tablespoon paprika powder
¼ teaspoon ground nutmeg
Instructions:
Heat the oil in a large Dutch oven over medium-high heat and fry the chicken pieces on both sides until the skin is brown and crispy. Transfer the chicken to a plate and leave the remaining oil in the Dutch oven.
Add the ghee (or butter), reduce the heat to medium, and fry the onions until starting to brown, about 10-12 minutes.
Add the ginger, garlic, and green chile pepper and saute for another 2 minutes.
Add the baharat and turmeric and cook for another minute.
Return the chicken pieces to the Dutch oven along with the tomatoes, dried limes, cardamom pods, cinnamon, ground cloves and salt. Add the chicken stock and stir to combine. Bring it to a boil, reduce the heat to low, cover and simmer for one hour.
Add the cilantro, parsley and drained rice and stir to combine. Return it to a boil, reduce the heat to low, cover, and simmer for another 15-20 minutes until the rice is done and has absorbed the liquid.
Transfer the chicken and rice to a serving dish (either leave the chicken pieces tossed in with the rice, or place the chicken on top of the rice), and sprinkling with 1-2 tablespoons of rosewater (optional).
Serve with a green salad and yogurt raita.
Adapted from Daring Gourmet