Eggplant or Aubergine is also called Brinjal in many parts of Asia. One can make some tasty dishes with it and the pan fried marinated slices are my favorite. Here I will explain to you how to make Eggplant Fry in South Indian style.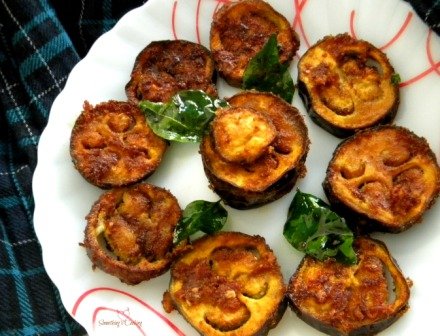 One can prepare this dish in under 30 minutes and it is a perfect side dish for both roti and rice. I love this recipe because you need not go about chopping anything other than the eggplant.
Of course as you know by now, I was a picky eater as a kid and I never had eggplants. But recently Mom shared this recipe with me and I fell in love with the aroma of the dish while the eggplant was beautifully getting fried. Voila! I had to pick one and much on it and Tadaa! I loved it!
Eggplants are a very good source of dietary fiber. It has somehow been misunderstood as a non-nourishing food. Eggplants are low in calories and can be used for controlling diabetes. It helps in limiting cholesterol and control high blood pressure and relieve stress. So, what's stopping you? Stuff, grill, bake, roast or stew your eggplants—they're delicious in most avatars!
Recipe for Eggplant Fry:
Quick, flavorful and a perfect vegan accompaniment for rice and roti!
Ingredients
Eggplants - small, about 8
Water- 1 cup
Salt - 1 tbsp
Red chilli powder - 1 tsp
Garlic - minced, 4
Sambar powder - 2 tsp
Curry leaves - a sprig
Oil - for shallow fry
Instructions
Wash and slice the eggplants in thick roundels.
Soak in salted water for about ten minutes.
Make a marinade of lil salt, red chilli powder, minced garlic and sambar powder.
Heat oil in a wide pan. You need oil for shallow fry.
Dip each eggplant roundel in marinade and add to the pan.
Shallow fry on both sides. Add curry leaves too.
Serve hot.
14,542 total views, 4 views today