Eggplant or Aubergine is also called Brinjal in many parts of Asia. Through this recipe, I am going to share how to make the South Indian style Eggplant Fry.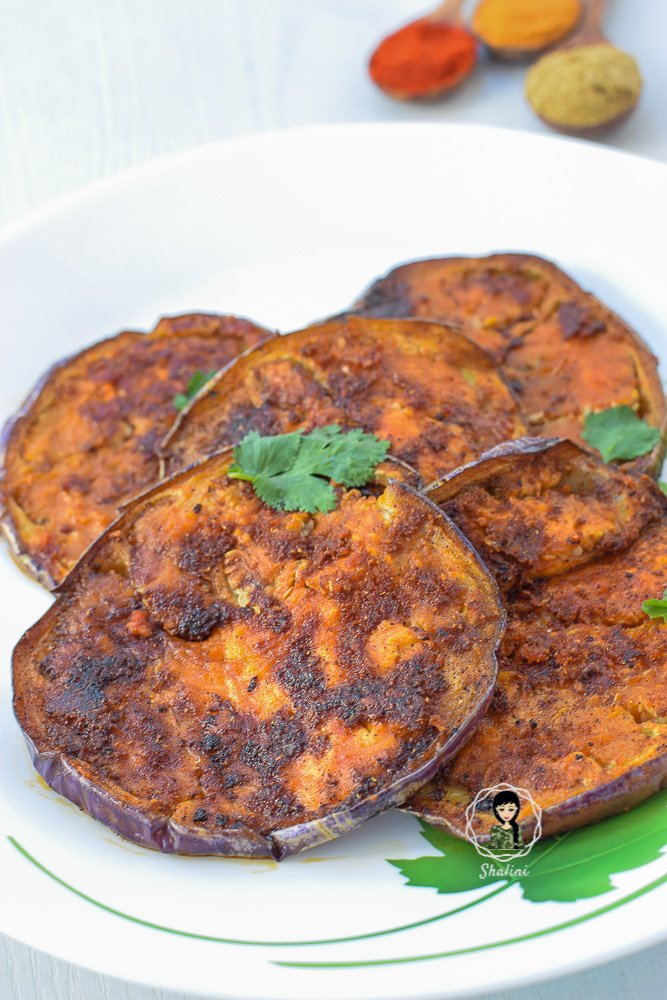 One can make some tasty dishes with eggplants and the pan-fried marinated slices are my favorite.
These eggplant steaks, as I like to call it, can be prepared in under 30 minutes- cooking time less than 15 minutes. It is a perfect side dish for both roti and rice.
I love this recipe mainly because you needn't go about chopping any other vegetable than the eggplant.
Of course, if you are a regular reader of this space, you know by now, I was a picky eater as a kid and I never had eggplants. But recently Mom shared this recipe with me and I fell in love with first, the aroma of the dish while the eggplant was beautifully getting fried. And Voila! I had to pick one and much on it. Tadaa! I loved it!
Eggplants are a very good source of dietary fiber. It has somehow been misunderstood as non-nourishing food. They are low in calories and can be used for controlling diabetes. Needless to say, it a perfect Keto diet approved vegetable as well.
It helps in limiting cholesterol and control high blood pressure and relieve stress.
So, what's stopping you? Stuff, grill, bake, roast or stew your eggplants—they're delicious in most avatars!
| How to make Baingan Bharta - Charred and mashed eggplants cooked in a onion-tomato spice mix.
The recipe that I've shared here is how we make Brinjal fry Kerala style.
Brinjal Tawa Fry Recipe:
All you need to do is slice the brinjals in slightly thick roundels, marinate with spice powders, and shallow fry or pan-fry in preferably coconut oil, for the South Indian touch.
You needn't go about looking for those large eggplants, you can try with the smaller plump ones as well.
The marinade will be perfect for about 8 small brinjals or about 6 slices of the large ones. Below is the picture where I've used small brinjals for making this recipe.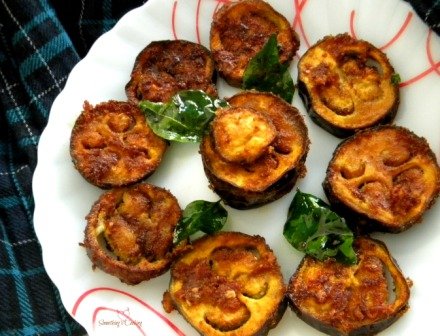 What makes this recipe different from the Bengali Style Eggplant Fry or popularly known as Begun Bhaja is that the latter requires some kind of a binding agent to the marinade. You may either coat the eggplant slices with rice flour or dip them in a chickpea flour(besan) batter.
Recipe for Eggplant Fry:
Print
Eggplant Fry
---
Total Time:

25 minutes

Yield:

3

persons

1

x
Description
Quick, flavorful and a perfect vegan accompaniment for rice and roti!
---
8

small Eggplants or

6

slices from a bigger one

1 cup

Water

1tbsp

Salt
Oil, for shallow frying
Marinade:
1tsp

Red chili powder

4

cloves of Garlic, minced

2tsp

Sambar powder

3tbsp

water
Curry leaves, for garnish, if need be
---
Instructions
Wash and slice the eggplants in thick roundels.
Soak in salted water for about ten minutes.
Make a marinade of salt, red chili powder, minced garlic, sambar powder, and water.
Heat oil in a wide pan. You need oil for shallow/pan-frying.
Dip each eggplant roundel in the marinade and add it to the pan.
Shallow fry on both sides. Add curry leaves too.
Serve hot.
Prep Time:

15 minutes

Cook Time:

10 minutes

Category:

Kerala, Side Dishes, Veg

Cuisine:

South Indian
How to Make Brinjal Masala Fry
Frequently Asked Questions
Do you peel eggplant before frying?
I assume this is a question many have in mind. I know I did.
I prefer to fry my eggplants with skin on. Especially in this recipe, leaving the skin on holds its shape. Further, the skin has many nutrients in it and it'd be perfectly tender after frying.
How do you keep fried eggplant from getting soggy? How do you fry eggplant with less oil?
Eggplants tend to absorb a lot of oil. Therefore, I prefer pan-frying these eggplant slices using less oil. They can be air fried or baked too.
How do you make eggplant not gross?
Well, I was there, trust me! There could be many reasons why many people find eggplants disgusting. It can be mushy, chewy, or unattractive after cooking. But this recipe became my favorite in an instant and the brinjal fry is a constant side to my lunch at least thrice a week.
Is fried eggplant healthy?
Eggplants are low in calories and high in dietary fiber. However, a deep-fried eggplant absorbs a lot of oil and that's why I prefer shallow frying over the deep frying method.
Love this recipe? Pin it for later!
That's all for now!
Don't miss out on any new updates. Subscribe to my blog (find the subscription box on top).
Share and connect with me on social media.
Instagram | Twitter | Facebook | Pinterest
XOXO