So you've decided to travel to India. What would you do first? I would say, grab that hot, creamy, fragrant chai brewed with fresh cardamom, cinnamon, peppercorns, ginger, enough sugar and milk that will make you want to reach for one more. Chai? What is it? It is the sweet milky tea which we love to savor by dipping Marie biscuits. Not exactly Marie biscuits or cookies, we also love the brands Parle G and Tiger!
Head to any corner of India and you will be welcomed with a steaming cup of chai. From streets to homes, it is one beverage that Indians cannot live without. Of course, I know some who doesn't like tea but I also know of many who cannot start their day without it; my dad and husband included. They start a day by sipping a hot cup of Chai and reading newspaper.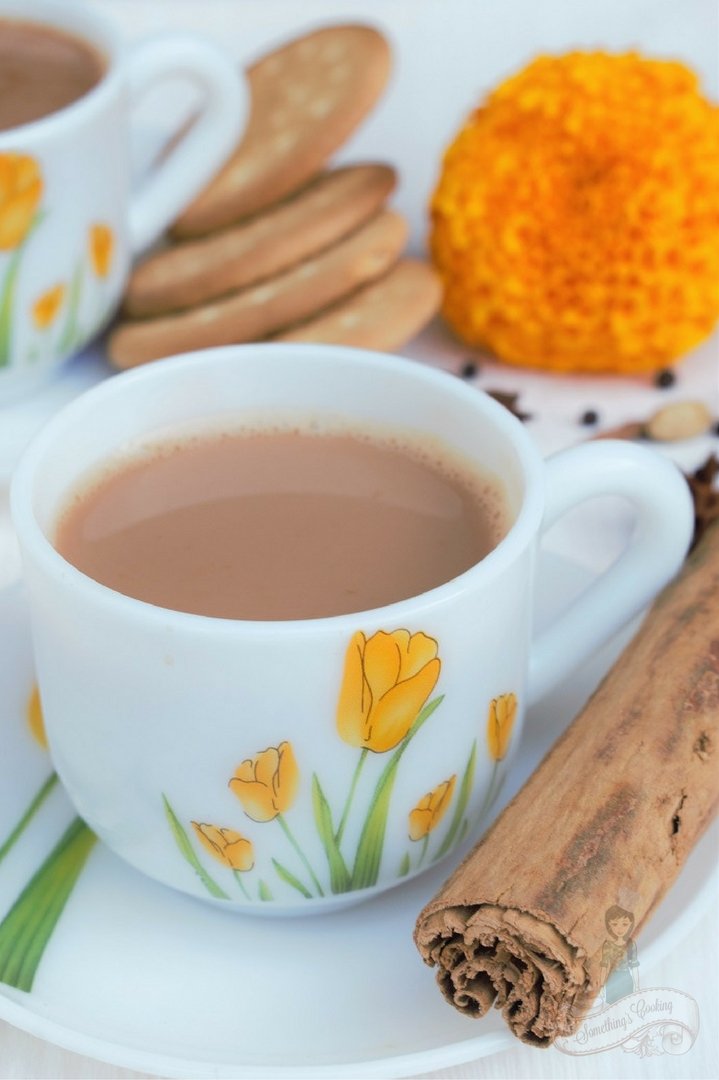 The women in my husband's household prepare litres of tea every day to be had and served throughout the day. While it may seem like an addiction, their idea is never to send a guest, a maid or a helper thirsty. It is not only the flavor but it is quick, satisfying and refreshing as well.
Chai is an integral part of our daily lives; be it get-togethers with friends and family, or that Chai Break during work, the never-ending discussions over Chai- Chai pe Charcha or to simply sit down with a book.
Indian Masala Chai is prepared by brewing black tea with different aromatic spices and milk. Each household will have their own method of preparing Masala Chai and there are many tea powders and blends available in the market. But nothing can match the flavor and aroma of a freshly brewed tea.
You can also choose to use only one spice for flavor. eg. grated ginger for making Ginger Tea or Adrak Chai, crushed cardamom pods for Cardamom Tea or Elaichi Chai. On my visit to Ooty- a popular hill station in South India, I have also had Chocolate Tea.
Indian Masala Chai Spice Mix Recipe
For that perfect Masala Chai, grind and store the spice mix beforehand. There is no fixed proportion for the spices. You can prepare them to suit your taste. Love the spiciness of ginger? Up its quantity. I love cinnamon and cardamom. So, my spice blend is a little overpowered by it.
Grind together 1/4 cup each of cinnamon, cardamom, black peppercorns and 1/8 cup of cloves and star anise. You can add freshly grated ginger while preparing tea. Store in an airtight container and it can be used for several weeks.
Indian Masala Chai Health Benefits
Indian Masala Chai has many health benefits due to the addition of spices. They beat fatigue and leaves you feeling refreshed enough to conquer your day. Clove and Ginger help in combating inflammation. Tha spices boost your metabolism, improves digestion and also rejuvenate you. It also helps to relieve PMS and is good for your heart as well.
Indian Masala Chai Recipe:
Ingredients
Water - 1 cup
Milk - 1/2 cup
Masala Chai Spice Mix - 1 tsp
Tea leaves/ Tea powder - 1 tsp
Grated ginger - 1 tsp
Sugar - 2 tsp
Instructions
Heat water in a pan and add tea leaves and spice mix.
Add grated ginger. Bring to a boil.
Add milk and bring to a boil. Steep for about 3-4 minutes.
Add sugar, stir and pour to a tea pot or directly to your cups through a tea strainer.
Enjoy with cookie or biscuits.
Tips to make that perfect cup of Indian Masala Chai
Chef says:
Keep the spice mix ready for it comes in handy to make a quick cup of tea.
Freshly grated ginger enhances the flavor of chai. So try using it while brewing. You may also add dried ginger powder while blending the spice mix.
Like it? Pin it! 🙂
P.S: I've always said that I could never make a perfect cup of chai. From there to my guests asking for a second cup, it has been a long journey!
I'm participating in the #AtoZChallenge and I'm posting 26 easy Indian Recipes to Die for. Follow my posts this April and before you know it, you'll be cooking up a storm. Stay tuned!
Meanwhile, here are 26 posts on Thailand on my travel blog
7,902 total views, 0 views today