Named after the nine precious gems/jewels of the great Mughal Emperor Akbar, Navratan Korma is a rich curry prepared from nine delectable assortments of vegetables, fruits, and nuts. It is a creamy, flavorful and mildly sweet curry which can be served with roti, or any flavored rice.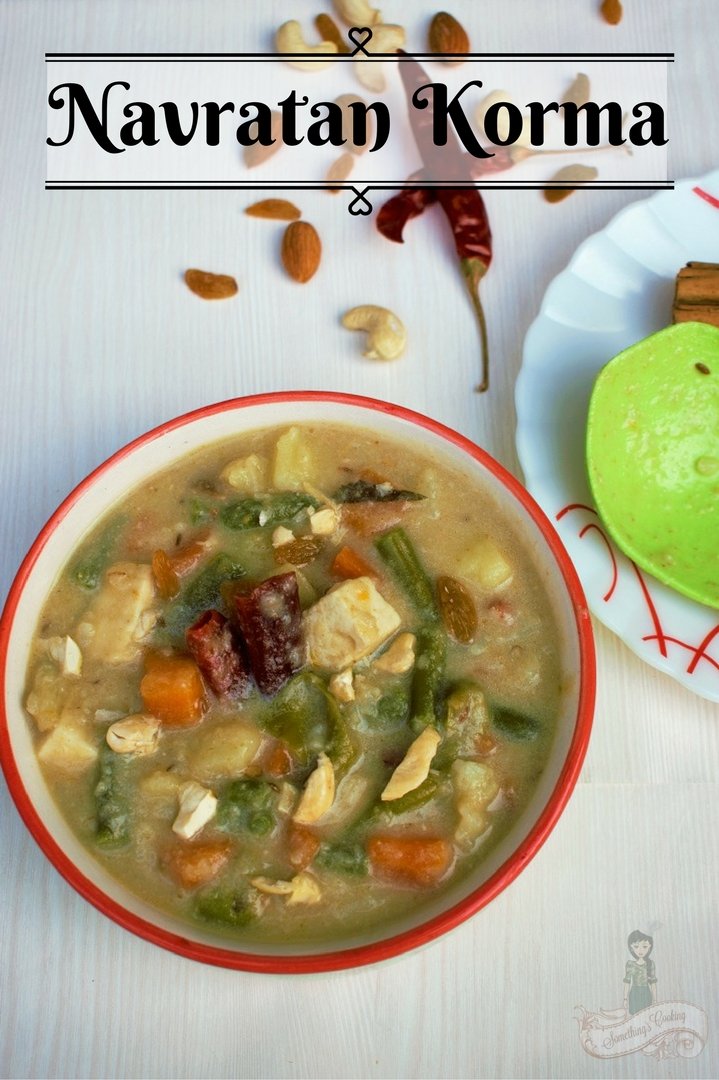 I have had different Kurmas or Kormas back in Kerala. But these curries are made of coconut milk. However, Navrathan Korma is made of a richer gravy made of cashew paste. There are different versions of this dish, including non-vegetarian variation. You can find a slightly spicier or sweeter version in different parts of India.
I dreaded making this dish as I believed it would be time-consuming. But no! As I went through and prepared each of the instructions systematically, I realized it was a piece of cake!
How to Make Navrathan Korma at Home
Boil the vegetables and keep aside. Boil onions and cashews together and grind to a rich paste when cooled down. Cook this gravy with dry garam masala and spices, add paneer, veggies, fruits and a little water. Garnish with dry fruits. Easy-peasy!
The nine gems or assortments of this dish could be anything - be it nine vegetables, or nine fruits or nine garnishing ingredients. I have used here five vegetables and four nuts/dry fruits for preparing this dish. I love pineapple in my Navratan Korma, however, I couldn't get it this time!
Navratan Korma Recipe:
Print
Navratan Korma
---
200 grams

of cubed potatoes

200 grams

of cubed carrots

200 grams

of cauliflower florets

100 grams

of chopped beans

2

onions, finely chopped

200 grams

of cashew nuts

3 cups

of water
Oil

1

bayleaf

2

cloves

1

inch cinnamon stick

2

cardamon

1 teaspoon

cumin seeds

2

green chillies, slit

1 teaspoon

coriander powder

½ teaspoon

cumin powder
A handful of chopped dry fruits like cashew nuts, raisins and almonds
Salt, as required

½ cup

of pineapple cubes (optional)
---
Instructions
Boil onion and cashew nuts together for 5 minutes. When cooled off to room temperature, grind to a fine paste. Keep aside.
In a cup of boiling water, add potatoes. Add carrots after two minutes. Add beans after another two minutes and cauliflower florets after another two more. Boil for about three more minutes. Remove from heat.
In a pan, add oil. When hot, add cumin seeds, bay leaf, cardamon, cinnamon and cloves.
Add the onion-cashew mixture and cook for about five minutes.
Add coriander powder and cumin powder. Mix well and cook till oil oozes out.
Add green chillies, a cup of water and bring it to a boil.
Add vegetables and mix.
Garnish with nuts and pineapple cubes, if using.
Serve hot with roti or rice.
Prep Time:

0 hours

Cook Time:

0 hours
Tips to make a great Navratan Korma:
Chef Says:
Adding Pineapple cubes is optional. But it brings a great flavor to the dish. However, add it only just before serving. Else, it turns the curry bitter.
Do not boil the vegetables at the same time. Each has got a different cooking time and it will get mashed if not cooked in different intervals.
You can add other spice powders, but the korma is usually light in flavor.