Masala Dosa is a popular breakfast dish from South India. It is a fermented crepe (dosa) stuffed with a mashed potato mixture with onion, green chilies, and spices. It is available across tiffin centers and restaurants. In my opinion, you'll get the best ones in the vegetarian restaurant chains like the Udupi hotel, Arya Bhava, Arul Jyothi, Saravana Bhavan and also in the Indian Coffee House.
While I always loved Plain Dosa or Paper Roast, Masala Dosa has always been my sister's favorite. There was a time when I hated potatoes, and I just couldn't bring myself to eat it, be it in a curry or fritters. But this versatile ingredient is my best friend now and I have begun incorporating it.
Did you know that our humble Masala Dosa was featured in the list of Top Ten Foods to Try Before you Die by Huffington Post in 2012? It is featured among the Peking duck from China, Green Papaya Salad from Thailand, Seafood Laksa curry from Malaysia and BBQ ribs from the US. Masala Dosas are paper-thin fermented crepes made from rice and lentils. The batter is spread on a hot griddle and is cooked to lacy perfection. Without the potato stuffing, the dosa is called Plain Dosa.
How to make Dosa Batter at Home:
| | |
| --- | --- |
| 3 cups | Parboiled rice |
| 1 cup | Urad Dal or Skinned and split black lentils |
| 2 tablespoons | Chana Dal or Bengal Gram |
| ½ teaspoon | Methi seeds or Fenugreek Seeds |
| 1 teaspoon | Grated ginger |
| 1 sprig | Curry leaves |
| | Salt, as required |
Wash and soak separately the rice, lentils, and fenugreek seeds overnight. Grind together the rice, Bengal gram, ginger, and curry leaves with little water, until you get a fine grain consistency. Remove. Grind Urad Dal and fenugreek seeds. Remove and add to the rice batter. Mix well with your hand for about five minutes. This helps in equal distribution and mixing of the ingredients. It also makes the batter airy.
Leave it for at least 8 hours or overnight for fermentation. The batter will ferment well only in warm temperature. Add salt before preparing Dosa.
Tips to make a great Dosa Batter:
Adding Chana Dal gives the Dosa a nice golden color. Adding some poha or flattened rice makes the Dosa crisp. and fenugreek Seeds helps the fermentation process. The batter should be loose and thin.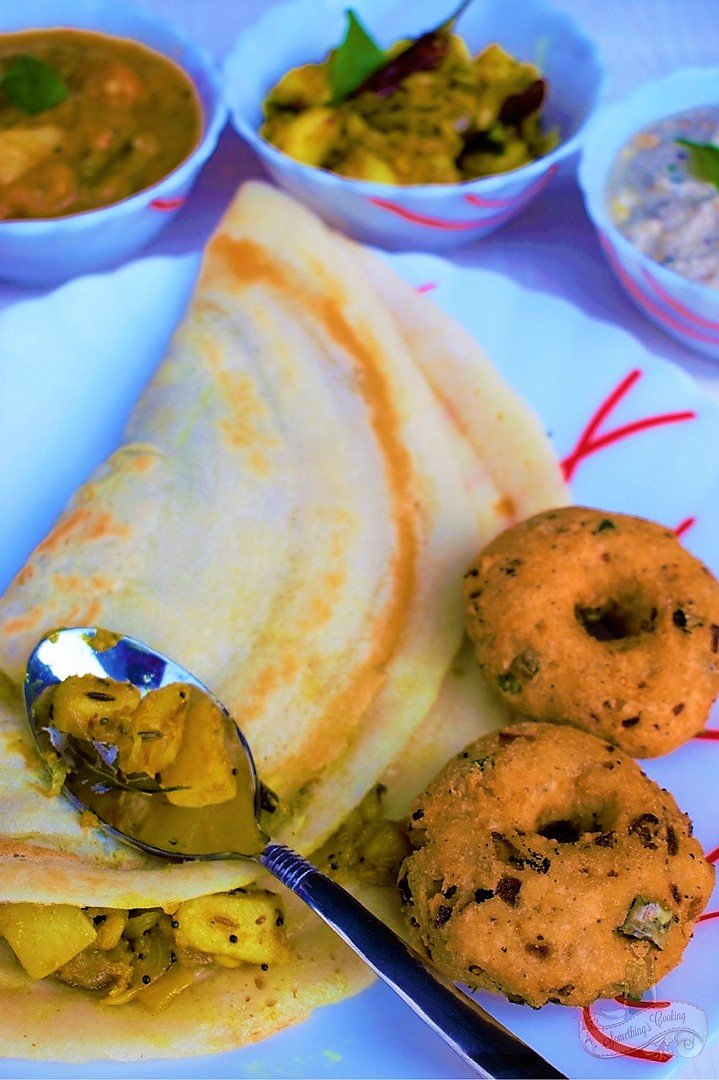 Masala Dosa Recipe:
Print
Masala Dosa
---
For preparing the potato stuffing:
3

large potatoes, boiled, peeled and crumbled

2

Onions, finely sliced

3 tablespoons

of oil

½ teaspoon

mustard seeds

½ teaspoon

cumin seeds

1

sprig curry leaves

2

dry red chilies, split

3

green chilies, slit
A pinch of asafoetida

½ tablespoon

ginger-garlic paste

¾ teaspoon

turmeric powder

2 tablespoon

water
Salt, as required
---
Instructions
Preparing the Potato Stuffing:
Heat a pan and add oil. Add mustard seeds and cumin seeds.
When it splutters, add dry red chilies,asafoetida, green chilies, curry leaves and onion.
Add little salt and saute till onions are soft.
Add turmeric powder and mix well.
Add crumbled potato and mix well. Cook for a couple of minutes, add water and mix again. Switch off the flame and keep aside.
Preparing Masala Dosa:
Before beginning the preparation, mix the batter well with little salt.
Heat the Dosa tawa/pan.. Smear little oil, if you are using a cast-iron pan. Do not smear oil if you are using a non-stick pan. You will not be able to spread the batter then.
In the middle of the pan, pour a ladle full of batter. Spread the batter in a circular motion, thus spreading the batter on the pan.
Sprinkle little oil on the dosa and edges.
Cook till it becomes golden and crisp.
Keep about 2-3 tablespoon of cooked potato masala in the centre of dosa. Fold it into half.
Serve hot with Sambar and Coconut Chutney.
Prep Time:

0 hours

Cook Time:

0 hours
Like it? Pin it!