Here's a collection of 7 of my favorite Dosa recipes I make at home. One batter and seven recipes!
Sounds good?
Read on...
Dosa is a popular South Indian breakfast that can be (almost!) matched with savory pancakes or crepes. Made with rice, urad dal, and fenugreek seeds, the batter is fermented for hours before usage.
Tips to Make Restaurant Style Crispy Dosa at Home
First comes the utensil or pan in which you prepare a Dosa. The best bet is to opt for a cast iron pan. If you are a South Indian, you'd know that your mum would have that black cast iron pan dedicated just to making dosas.
While this could be expensive and if you are someone who runs away because of the maintenance it needs, then here's my pick.
This Tawa is a non-stick pan, is about 30cm in diameter (you also have a 33cm variant), and is perfect for crispy dosas at home. You get a decent-sized dosa as well.
Make sure that the pan is hot before pouring the batter.
If you are using a cast-iron pan, make sure that you season it well. Sprinkle some ghee or gingelly oil and spread on the pan. Alternatively, you may also use a half-cut onion dipped in oil to rub onto the pan. This is to prevent the dosa from sticking to the pan. This step has to be done everytime before you make or spread the batter for a dosa.
I use the non-stick pan and I have never had to spread oil before making a dosa.
| Here's a detailed method of making Dosa Batter
Use a round bottom ladle, preferably, a sauce ladle to spread the batter in a circular motion, from inside out, until it fills the pan. It is the perfect tool to make ridges and also to make thin dosas.
Do not worry if you do not get it right the first time. It comes with practice.
The one tip I can give you to make crispy dosas is to add a smidgen of ghee or gingelly oil around and at the center of the dosa.
Let the dosa cook for a couple of minutes until you find the bottom turning to a nice golden brown.
Flip over the dosa and allow it cook for another two minutes.
Fold it into half and serve with accompaniments. That's it!
Let's get on with some easy Dosa recipes now.
| How to Make White Coconut Chutney
7 Easy Dosa Recipes You Can Try At Home
1. Simple Dosa or Plain Dosa
The first Dosa is the regular, plain Dosa. There is no rocket science for making this variant, except mastering how to spread the dosa batter evenly to get a round, crispy, elegant dosa, as mentioned above.
2. Ghee Roast Dosa
Ghee Roast is my absolute favorite Dosa of all time. They are these super crispy, thin dosas and the best part is that you can make however big you want it to be. In restaurants, you may find these served in the shape of a cone or like a huge paper roll. It's fun!
Instead of gingelly oil, ghee is used to sprinkle the sides and center of the dosa. You may choose to use how much ever ghee you want to.
You may or may not flip the dosa to the other side. But instead, fold over and serve. This is because the Ghee Dosa is thin as paper and it doesn't take much time to cook through.
| How to Make Kerala Style Sambar
3. Masala Dosa
Next up is another popular Dosa variety from the South - Masala Dosa where a filling of potato masala is stuffed in the dosa before serving.
Did you know that our humble Masala Dosa was featured in the list of Top Ten Foods to Try Before you Die by Huffington Post in 2012? It is featured among the Peking duck from China, Green Papaya Salad from Thailand, Seafood Laksa curry from Malaysia and BBQ ribs from the US.
| Step By Step Recipe for Masala Dosa
4. Set Dosa
Set Dosa are these small, thick, spongy dosas, usually served in a set of three.
To make Set Dosa, add a ladleful of dosa batter on a heated pan. Spread only lightly so that the dosa is still thicker in size than a regular plain dosa. Once you find small air bubbles forming on top, sprinkle oil. When the base turns golden brown, flip, and cook for a few more minutes.
Lift with a spatula and serve.
5. Podi Dosa
What is Podi Dosa?
Before I get into that, let me explain what 'Podi" is.
Podi (meaning powder) is a spicy coarse spice powder. It is served by mixing a spoonful of oil, along with Idli or Dosa as an accompaniment (below picture for reference). It is mostly made with ground chickpeas, black gram, dry red chilies, sesame seeds, and salt.
The podi can be made at home or store-bought and is popularly known as Idli podi, Dosa podi, gun powder, mulaku podi, chutney podi.
Podi Dosa Recipe:
To prepare Podi Dosa, we'll first begin by making a set dosa. Add a ladleful of dosa batter on a heated pan. Spread only lightly so that the dosa is still thicker in size than a regular plain dosa. Once you find small air bubbles forming on top, sprinkle oil.
Wait for the dosa to be cooked until ¾ done. Sprinkle Dosa Podi over the dosa. You may choose to add more or less, according to your taste and requirements. Drizzle another teaspoon of oil over the podi and flip the dosa. Cook for about a minute and serve hot!
6. Uthappam
Let's now make some Uthappam, alright?
Uthappams are slightly more bigger than Set Dosa, but thicker, all the same. There are different varieties of Uthappams. mainly Plain, Onion, and Tomato-Onion Uthappams. I'll be making the Tomato-Onion Uthappam for now.
To make Tomato Onion Uthappam, spread about 1.5 ladlefuls of dosa batter on a heated pan. Sprinkle chopped onions and tomato over the dosa. You may also add some finely chopped green chilies and coriander leaves.
LIghtly press the tomato-onion mixture to the batter so that it sticks to the dosa. Sprinkle oil on the centre and sides and cook for a couple of minutes on medium flame, until the base turns golden brown.
Flip carefully and cook till the onions caramelize. You may gently press with the spatula too. Flip again and serve.
7. Egg Dosa
Egg Dosa is another easy-to-make Dosa. It is filling and one of the best ways to get in that protein, early on in the day.
To make egg dosa, we'll begin by making an Uthappam sized dosa. Spread about 1.5 ladlefuls of dosa batter on a heated pan. Pour beaten egg on the dosa and lightly spread to cover the dosa evenly. You may make a mixture of beaten eggs, onion, green chilies, and coriander leaves too.
Drizzle oil on the center and sides of the dosa. Once the base is golden brown, flip and press with a spatula. Let the egg gets cooked. Flip again and remove from the pan to serve hot.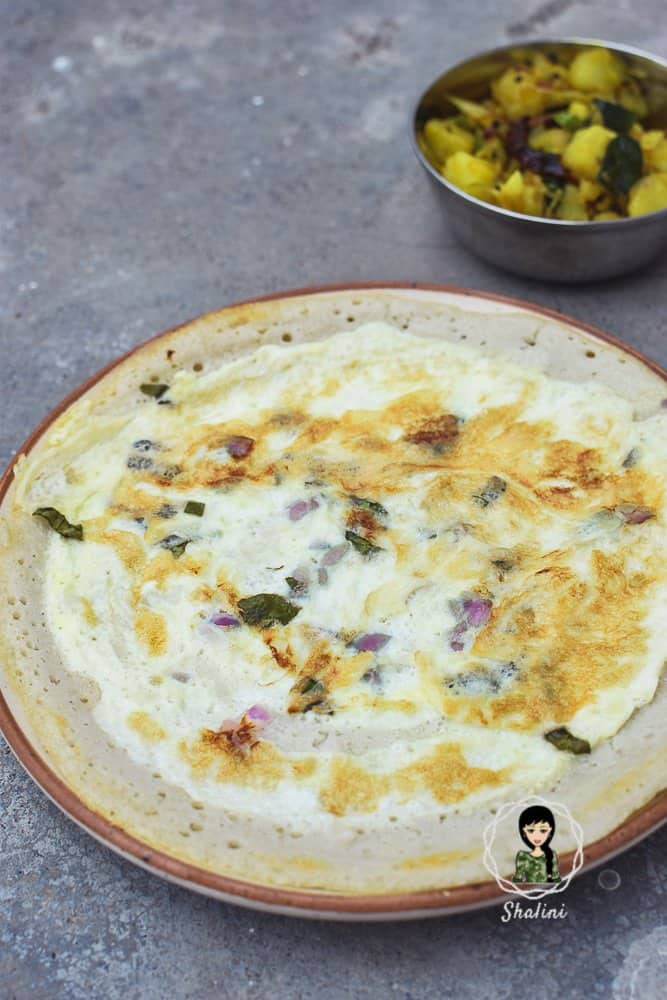 That's it! I hope you try out these different Dosa recipes soonest!
Don't forget to serve Dosa with Dosa Podi, White Coconut Chutney, and Medu Vada Or Uzhunnu Vada.
Pin it for later!
Did you like these easy and quick-to-make Dosa recipes? Let me know in the comment section.
| Find other Kerala Breakfast Recipes
| For Blogchatter's #MyFriendAlexa Campaign