Vermicelli or Sevayan are either made from wheat flour or all purpose flour. It is a much used ingredient in South India for preparing Payasams/Pudding. As a kid, I used to refer it is One-one Payasam. Well, it looks so.
Another popular dish that makes use of Vermicelli is Upma - a much loved breakfast in this part of the country. It can be also had anytime during the day, like a snack for tea or a quick dinner. Upma is generally made with Semolina. But, Vermicelli Upma is also a great eat. It is savory and sweet as it is often had with sugar or a tangy tomato sauce.
There are different varieties of Upma. Added with vegetables, this dish makes a meal in itself. I was not a huge fan and it was only recently that I developed a taste for it. However, it is usually preferred among kids and adults alike. I'm always an exception. Top it with a dollop of ghee or butter and you can find your kid gorging the dish.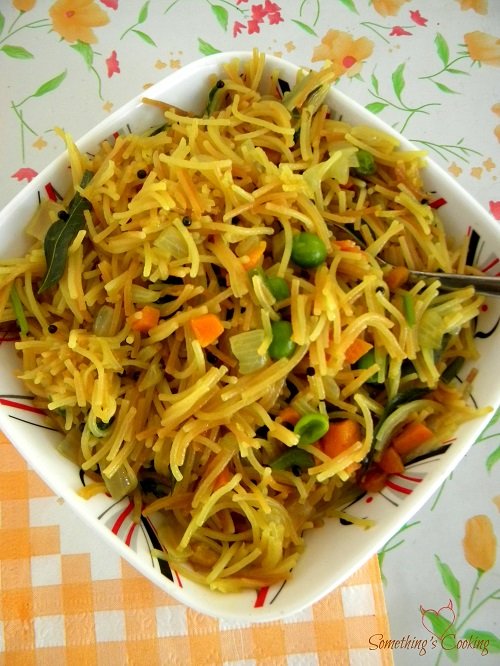 So, here's the vermicelli upma recipe.
Print
Vermicelli Upma
---
Vermicelli/Semolina - 2 cups
Water - 1.5- 2 cup
Oil - 3tbsp
Mustard seeds - 1tsp
Urad dal - 1tsp
Cumin seeds - 1 tsp
Ginger- finely chopped, 1 tsp
Asafoetida - a pinch
Curry leaves- a sprig
Green chillies- finely chopped, 2
Onion -finely chopped ½ cup
Finely chopped/cubed vegetables of your choice - 1 cup.
Coriander leaves- finely chopped, to garnish
---
Instructions
Fry the vermicelli in oil until golden brown. Remove and keep aside.
To the same oil, add mustard seeds. When it splutters, add asafoetida, urad dal, cumin seeds and green chillies. Saute and add chopped ginger and curry leaves.
Add onions and saute for 7 mins.
Add water and cooked vegetables of your choice. Add salt to taste.
Add the fried vermiceli and cook for 10-12 mins.
Garnish with coriander leaves.
Mix well and serve hot.
Notes
You can use finely cubed carrots, peas, beans and potatoes to add in this dish.
Prep Time:

0 hours

Cook Time:

0 hours
[tweetthis]Fortified with vegetables, Vermicelli Upma makes a meal in itself.[/tweetthis]
I am taking my Alexa Rank to the next level with Blogchatter