Jump to recipe
Corn Cheese Croquettes are crispy golden fried rolls made of mashed potatoes, sweet corn, and spices with a cheese cube buried inside. Well, you can always add grated cheese, but who doesn't like to take a bite and relish the cheese oozing out of the croquettes!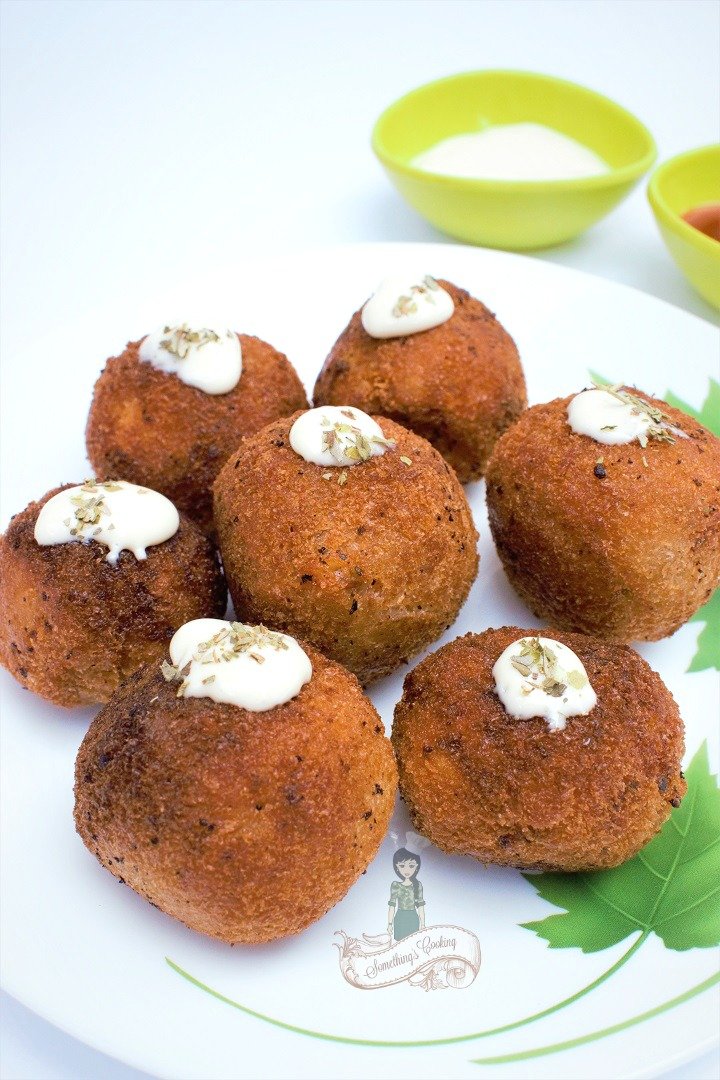 Let me confess something! I'm not cheesy!  I mean… I am not a cheese person. At all. But corn and cheese croquettes is one appetizer that I absolutely love. It doesn't hurt indulging on calories once in a while, right? Well, knowingly! I think the first time I had these was at some kid's birthday party. I found that it was an instant hit among kids and they were all asking for second or third helpings! As I said, who wouldn't love to munch on this cheesy gooey crispy fried dish!
I have made a completely vegetarian version of Corn and Cheese Croquettes. You might wonder how else we could make it. I will come to that.
Can we use Store bought Sweet Corn Kernels?
Absolutely yes! I have used frozen sweet corn kernels here and have let it thaw in warm water for about five minutes before making the mixture. Remember to pat it dry, so that the mixture doesn't contain much moisture.
Step-by-step Instructions on how to make Corn Cheese Croquettes
Corn and Cheese Croquettes are easy to make. It serves as a perfect appetizer at a party or a get-together.
| | |
| --- | --- |
|   | Add spices to sweet corn kernels and mashed boiled potatoes. |
|   | Mix all the ingredients together. |
|   | Roll into croquettes, either round or cylindrical in shape. Make a dent on each ball and place a cheese cube. Seal and smoothen the ball. You can substitute adding cheese cubes in the center by adding grated cheese to the whole mixture. |
Now you ought to have a binding agent, mostly it is egg wash to coat breadcrumbs. Here I have replaced eggs with a running batter of flour which would serve the same purpose.
Corn Cheese Croquettes Recipe:
Corn Cheese Croquettes
Ingredients
2 potatoes, boiled and mashed well without any lumps
3/4 cups sweet corn kernels
8 tiny cheddar cheese cubes (1/2 inch size) ; If in India, you can use Amul's Processed Cheese cubes
1/2 tsp paprika or red chili falkes
1 tsp mixed herbs including thyme, oregano, rosemary
1 tablespoon corn flour
2 tablespoons All purpose flour/Maida
Water, to make a batter of APF
1 cup of breadcrumbs
Salt, to taste
Oil, for deep frying
Serving Size
Makes 8 Rolls/Balls
Instructions
In a bowl, combine mashed potatoes, sweet corn kernels, red chilli flakes, mixed herbs, corn flour and salt.
Make equal sized balls or rolls from the mixture.
Make a dent in a roll and place a cheese cube. Seal to form smooth balls/rolls. Repeat the same for all the portions.
Make a lump free batter of all purpose flour and water.
Dip each ball in this batter and then evenly coat with breadcrumbs.
Heat oil in a pan. Deep fry the croquettes until golden brown.
Remove on kitchen tissues and serve hot with mayo or ketchup.
© 2021 Copyright Something\\\\\\\\\\\\\\\'s Cooking
Love it? Pin it for later!
Here is another interesting Croquettes Recipe made of Chicken!
I am taking my Alexa Rank to the next level with Blogchatter. This birthday month, #CookWithShalini some yummilicious Party food.
10,907 total views, 1 views today