Jump to recipe
Neichoru or Ghee Rice is a traditional Muslim dish from the Malabar region of Kerala. A quick to make and easy dish, Neichoru is made by cooking rice with clarified ghee, spices, and dry fruits and is prepared on all special occasions like Ramadan and weddings.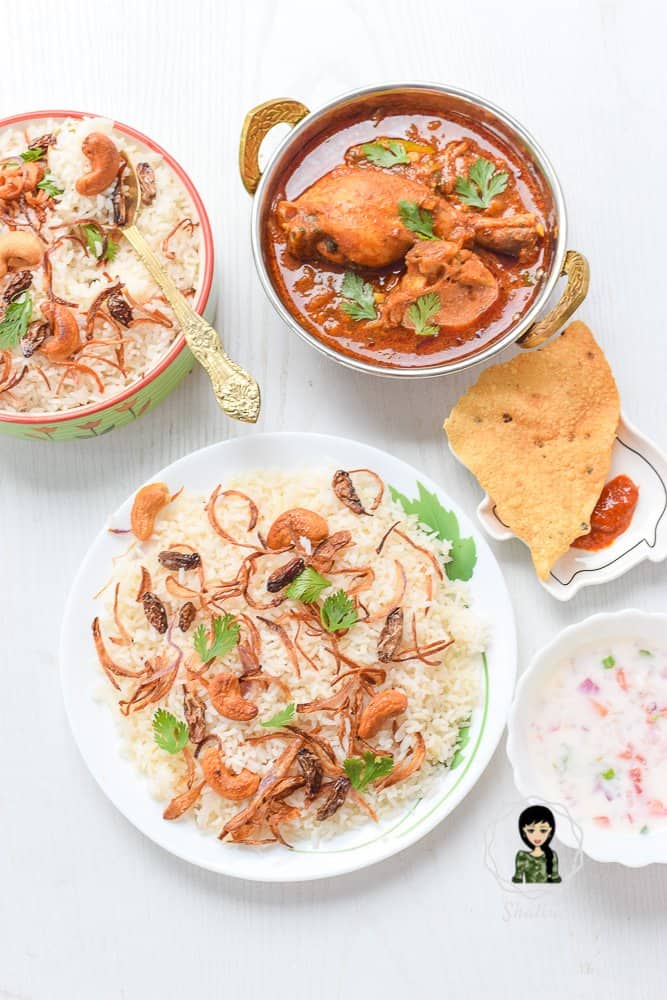 Here's one of my favorite lunches from Kerala – Neichoru made with Jeerakasala or Kaima rice, usually served with Chicken curry or Mutton curry.
This is often my go-to during personal lunches, get-togethers, or dinners. The best part is that it is easy and quick to prepare. That doesn't mean it affects its grandeur.
Neichoru is just what the name says- Nei meaning Ghee and Choru meaning rice.
Kerala Style Ghee Rice has always been prepared for special occasions and festivals like a wedding or Ramadan. Usually served along with a non-vegetarian curry, usually a Mutton or Chicken Curry, you may also serve with a regular Dal Curry or Kerala Style Parippu (Dal) curry to relish its true deliciousness. I also serve pappad, pickle, and raita (challas) alongside.
Traditionally, Neichoru is prepared with Jeerakasala Rice or Kaima rice. It is short-grain rice with a distinct flavor of its own. However, you may prepare Neichoru with basmati rice as well.
The gorgeous aroma of ghee will waft through your house when you cook Neichoru and that's a good thing!
So when you do not want to put in the effort of making a Biriyani, want something other than Jeera Rice but in almost the same grandeur, go for Ghee Rice.
Try once and the flavor would definitely make you want to prepare this every other day.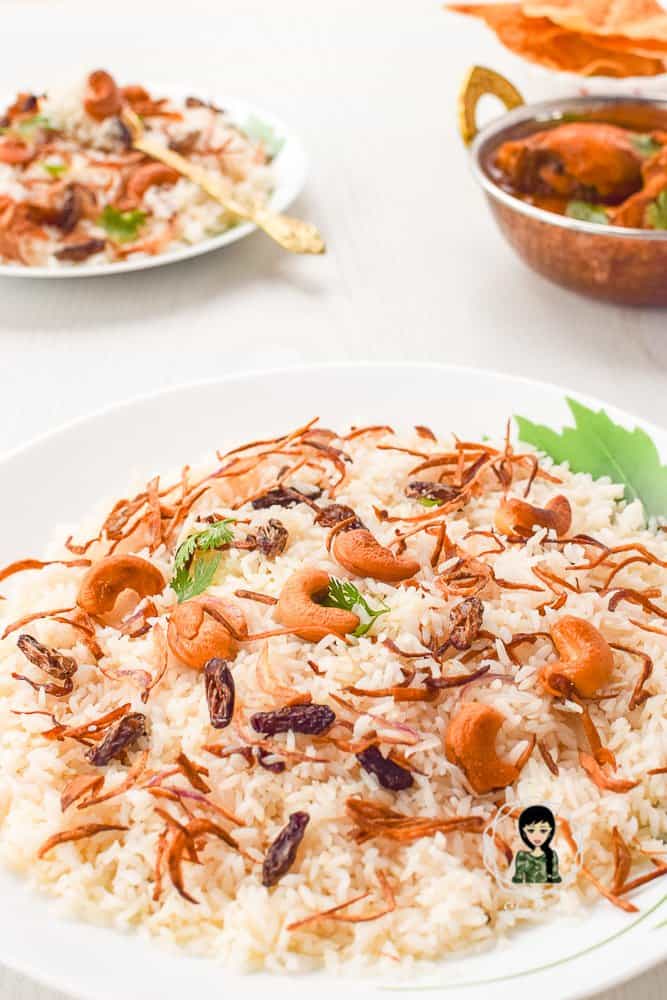 How to Cook Neichoru: Step by Step Instructions with Pictures
Preparing ghee rice is pretty easy. As the first step, let's prepare the garnish.
Heat a tablespoon of ghee in a pan and roast some cashews and raisins. Remove and keep aside.
It's now time to brown some onions. To the same pan, add finely sliced onions and a pinch of salt.
Fry till it's golden brown. Do not fry beyond this stage because onions tend to cook even after taking out of the hot ghee/oil.
Spread apart on a plate and look at that color! Perfect.
5. To make the ghee rice, in the same pan, add one more tablespoon of ghee. Add a bay leaf, cinnamon, cardamom, cloves, and star anise. Saute.
6. Add finely sliced onions and saute till brown.
7. Add washed Kaima rice and combine everything. Saute till all the water is evaporated.
8. To this, add water. Cover and cook until the rice is done.
How to cook rice:
You may cook rice on stovetop in a deep vessel/kadhai, or on a pressure cooker. If using a pressure cooker, after adding water, close with the lid and pressure cook for two whistles.
Alternatively, you can cook Neichoru in an electric rice cooker. After adding water, mix well and transfer the mixture to the electric rice cooker. Switch on the 'cooking' mode, just like you cook regular rice.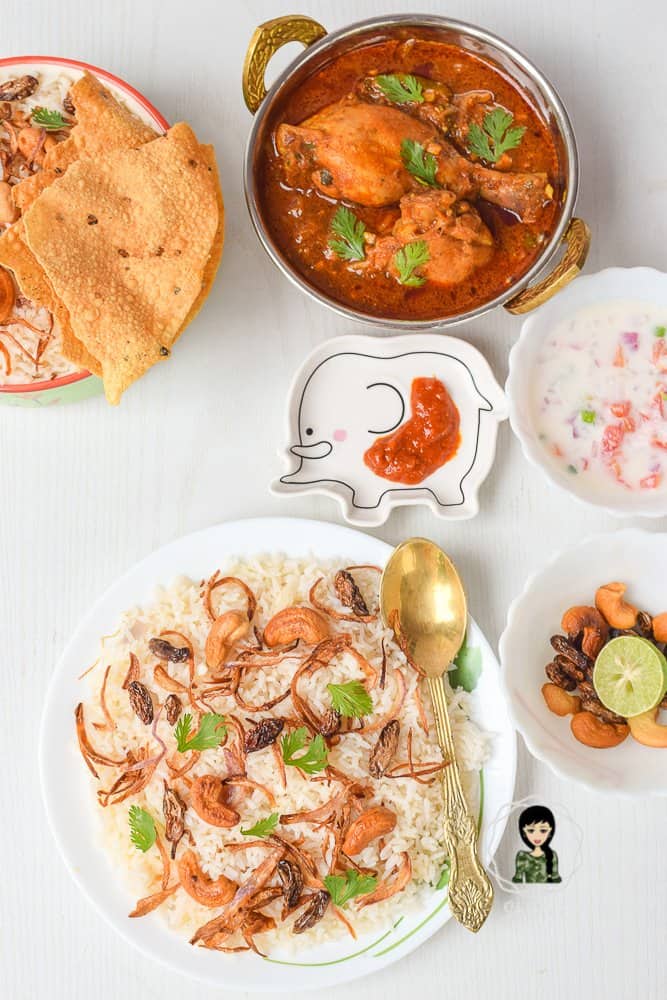 How to prepare Kerala Style Ghee Rice | Neichoru
Neichoru | Kerala Style Ghee Rice
Ingredients
1 cup basmati or jeerakasala rice
1+ 1 onion, finely sliced
1 star anise
3 cloves
3 cardamon
2, 1″ cinnamon stick
1 bay leaf
1/2 tsp Salt
2 cups boiling water
2 tbsp ghee (You may use up to 1/4 cup ghee)
1/4 cup cashews
1/4 cup raisins
Instructions
Wash and drain rice a few times. Keep aside.
Heat 1 tbsp ghee in a pan and roast the cashews and raisins. Remove and keep aside.
Fry one finely sliced onion for garnish. Remove and keep aside.
To the same pan, add another tablespoon of ghee, and saute the dry spices like star anise, cloves, cinnamon, and bay leaf.
Add the remaining finely sliced onion and saute till golden brown.
Add drained rice and saute till the water is evaporated. Be gentle, the rice shouldn't break.
Cook rice adding water and salt.
Once cooked, fluff up the rice using a fork, this will separate the rice grains.
Garnish with fried cashews, raisins, and onions.
© 2021 Copyright Something\\\\\\\\\\\\\\\'s Cooking
Like the recipe? Pin it!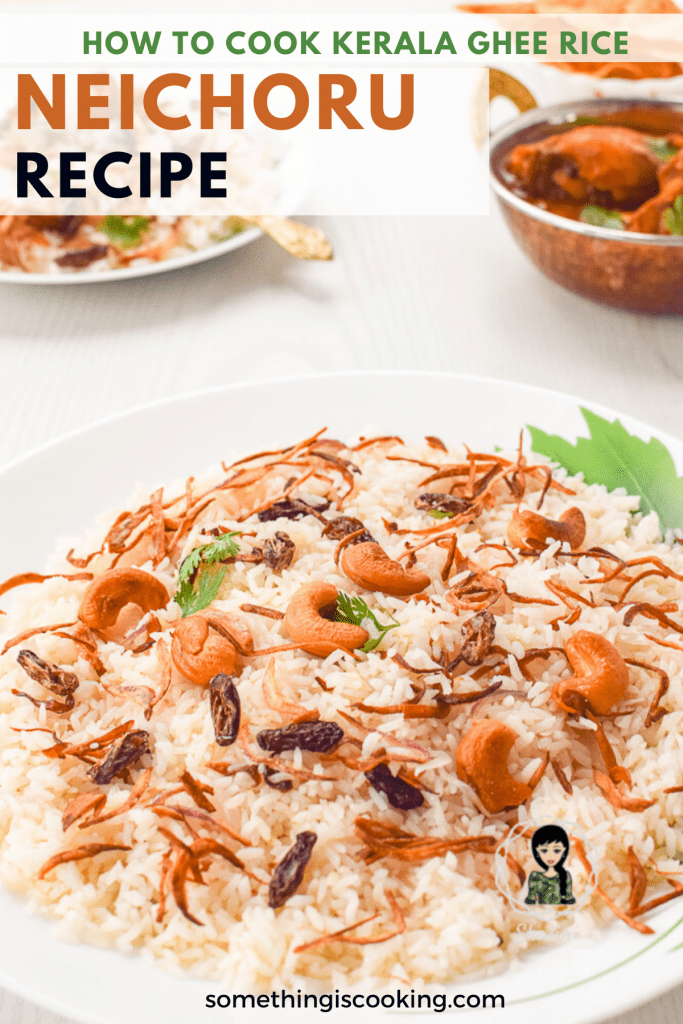 Did you make this recipe?
Tag me on Instagram @somethingis_cooking
Don't miss out on any new updates.
Subscribe to my blog (find the subscription box below and on top of the website).
Share and connect with me on social media.
Instagram | Twitter | Facebook | Pinterest | YouTube
Love love.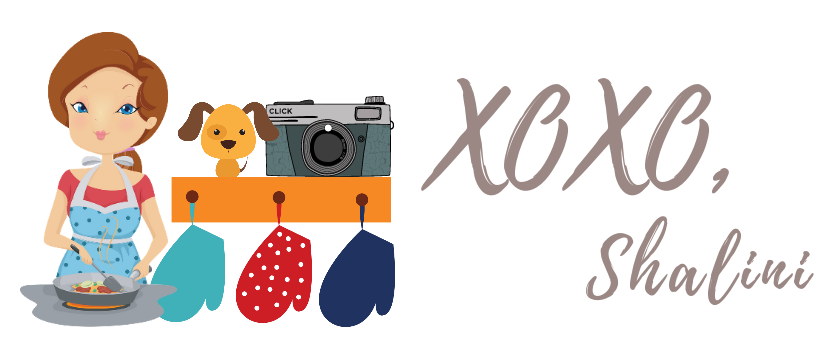 6,922 total views, 2 views today