Jump to recipe
Spicy, flavorful, aromatic and definitely mouth-watering Kerala Style Mango Pickle is ridiculously easy to prepare. Sour raw mangoes and gingelly oil are the main ingredients that give the pickle its unique flavor.
Maanga curry or Mango Pickle is an important dish served in a traditional Onam/Vishu/Kerala Wedding Sadya. It is one of my absolute favorite and the mere thought of it makes me drool. There are different ways to prepare a Mango Pickle in Kerala Style. This is how my Amma makes and it is pretty simple to prepare. And of course, this IS prepared by Amma and the pictures were clicked when I had visited home last September. I was browsing through the pictures today and these sinful pictures reminded me of posting the recipe.
Mangoes are in season now and also, today on April 22nd we are celebrating Aam Achaar Day (Mango Pickle Day) nationwide. Rushina Munshaw Ghildiyal, founder of APB Cook Studio, had come up with this special day last year in 2017. Since sticking to only mango pickles was kinda limiting, this year it has been extended to Achaar Day.
I confess that I don't usually make pickles at home. I pick up my favorite brand of pickles from the supermarket. But when I visit Amma she makes these sinfully delicious ones and I go crazy. This raw mango pickle is also called Kadumaanga achaar in Malayalam. I thought pickle-making was a hectic job but believe me, this is easy and I will definitely prepare it this mango season.
Kerala Style Mango Pickle Recipe:
Kerala Style Mango Pickle
Ingredients
1 large raw mango, diced small (It will come to 2 cups)
1 tbsp ginger, finely chopped
1 tbsp garlic, finely chopped
3 green chilies, finely chopped
2 sprigs curry leaves
1 tbsp mustard seeds
4 tbsp Kashmiri red chili powder
1/2 tsp turmeric powder
1/2 tsp asafoetida
1/4 tsp fenugreek powder
1/4 cup gingelly oil/ sesame oil/ til ka thel
Salt, to taste
Instructions
Add salt and 1/4tsp asafoetida to the chopped raw mango. Mix well and set aside for 6 hours or overnight.
Next day, heat gingelly oil in a pan. Add mustard seeds. When it splutters, add ginger, garlic, green chilies and curry leaves. Saute for a couple of minutes.
Keep the flame in low and add red chili powder, turmeric powder, fenugreek powder and the remaining asafoetida. Mix well and saute for a couple of minutes.
Remove from flame and add to the 'marinated' mango. Mix well.
Serve immediately or store in an airtight container in a refrigerated upto a week.
© 2021 Copyright Something\\\\\\\\\\\\\\\'s Cooking
Like it? Don't forget to pin it!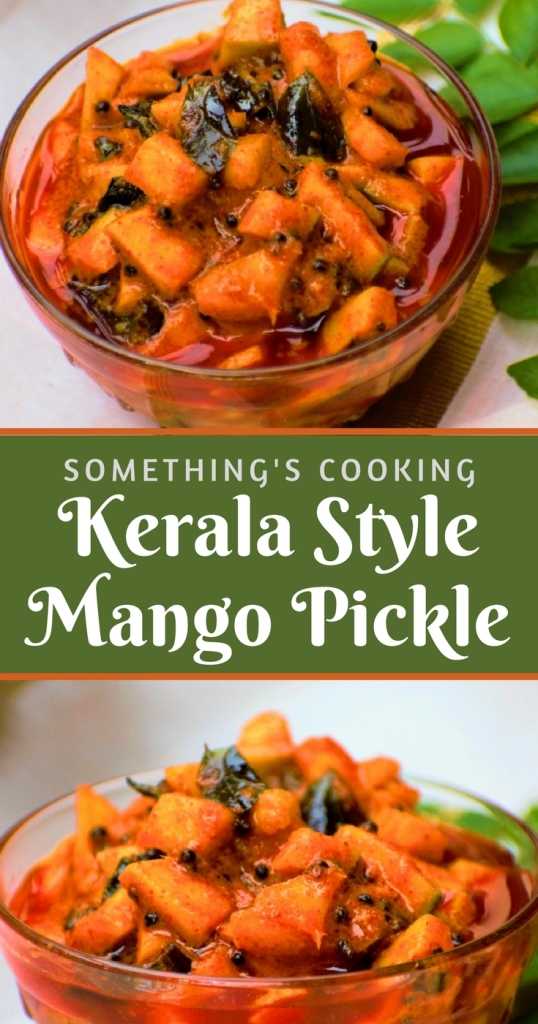 Don't miss out on any new recipes or updates. Subscribe to my blog (find the subscription box on top and the right side of this page).
Share and connect with me on social media. If you cook a dish using a recipe from this blog, feel free to click a picture and send it across. I would love to showcase it in the new section- The Reader's Space!
Instagram | Twitter | Facebook | Pinterest
Love love.
12,206 total views, 2 views today