Keto Chicken and Broccoli Stir Fry is a perfect one-pot dish in which chicken chunks are stir-fried with fresh broccoli florets and coated in a glazing savory sauce.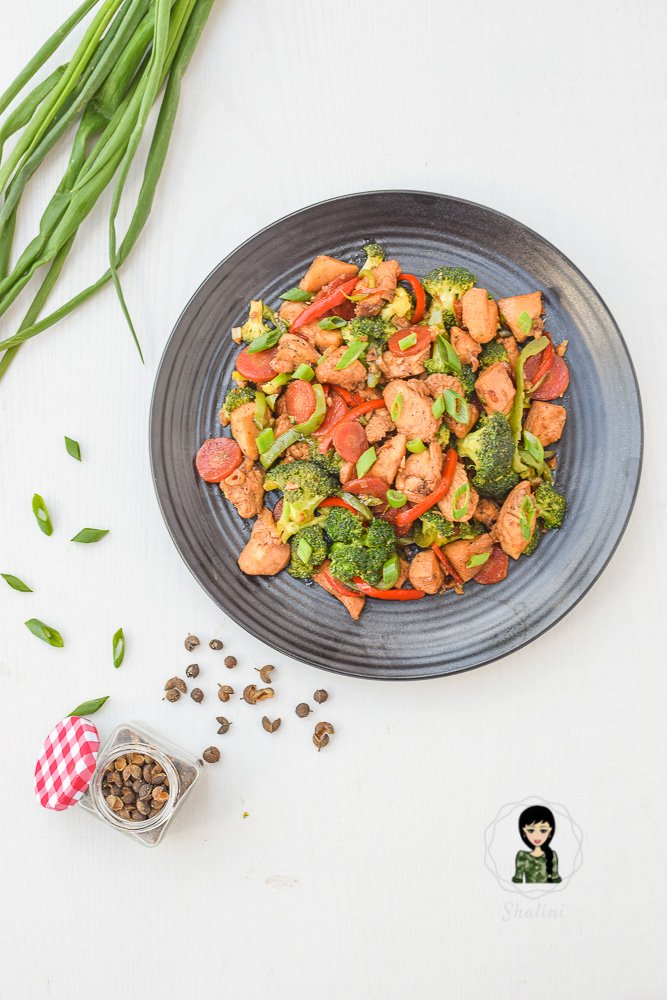 Stir-fries are one of the easiest and favorite dishes we make during weeknights.
I love anything Chinese and so, I do not miss a chance to make them at home. Stir-fries do not take much time to cook (and eat!) and there is only one pan that is going to get dirty. That's an added bonus if you ask me!
In other news, I know that it has been a while since I have posted anything here. AtoZChallenge took its toll on me and I was exhausted after posting every day in the month of April. I'm back home with my furball now and guess what?
We went on a hike!
Anyway, I'm also back on Keto.
| What is a Ketogenic Diet? What to eat and what not to in a Keto Diet
How to make Keto Chicken Broccoli Stir Fry
Well, there are no rules when it comes to stir-fries.
You can clean out the refrigerator and add veggies of your choice be it carrots, asparagus, or mushrooms.
However, since the Ketogenic diet doesn't allow root vegetables like carrots, omit it. I have added a few for the husband as he isn't really keen on broccoli. Ah!
Broccoli isn't available in the market close to where I live. In fact, it is after a couple of years that I found a few broccoli last week. Needless to say, I was over the moon and I knew what exactly I should cook with these.
Keto Chicken and Broccoli Recipe
To get the Asian flavor, I cook stir-fries in sesame oil.
To start off, marinate the chicken pieces in a little salt and pepper.
Cook in sesame oil in high heat for a couple of minutes until the chicken is browned on the outside. You needn't wait till it is properly cooked. There is still time for that. Remove and keep aside.
Add ginger, garlic, broccoli (and other veggies if you are using them) and cook until just tender. Add the cooked chicken and give it a toss.
It's time to prepare the sauce!
In a bowl, whisk together half a cup of chicken broth and soy sauce. Do check the macros. Soy sauce isn't advisable on Keto but you'd be adding only a tablespoon or so. However, if you want to avoid using soy sauce altogether, use coconut aminos instead.
Add this to the pan, cover, and cook the chicken and veggies for two to three minutes until the chicken is done.
Garnish with red chili flakes, spring onion greens and serve hot with a bowl of cauliflower rice.
Keto Chicken and Broccoli Stir Fry Recipe:
Print
Keto Chicken and Broccoli Stir Fry
---
Total Time:

20 minutes

Yield:

Serves 2
Description
Keto Chicken and Broccoli is a perfect one-pot, low-carb dish in which chicken is sauteed with broccoli florets in a savory sauce. Easy and quick to make.
---
200

gms of boneless Chicken, cut into bite-sized pieces
Salt, to taste
Pepper, ground, to taste

2 tbsp

Sesame oil

1 cup

Broccoli florets

1 tbsp

Ginger, finely chopped

1 tbsp

Garlic, finely chopped

½ cup

Chicken Broth

2 tbsp

Soy Sauce
Red chilli flakes, Spring Onion Greens to garnish
---
Instructions
Marinate the chicken pieces in salt and pepper.
Heat sesame oil in a pan and add the chicken pieces. Cook in high heat until the chicken is browned. Remove and keep aside.
To the same pan, add ginger and garlic. Add broccoli florets and cook until it is tender crisp.
To this add the chicken and toss.
In a bowl, whisk together the chicken broth and soy sauce. Add it to the pan.
Cover and cook for a couple of minutes until the chicken is cooked.
Toss in high flame for a couple of seconds to retain its crispiness.
Garnish with red chilli flakes and spring onion greens.
Serve hot with cauliflower rice.
Notes
Substitute soy sauce with coconut aminos, if you are on strict keto.
You may also add green and red bell peppers and mushrooms.
Prep Time:

5 minutes

Cook Time:

15 minutes

Category:

Side Dish

Cuisine:

Keto Asian
Like the recipe? Bookmark and Pin it!
Tag me on Instagram @somethingis_cooking
Don't miss out on any new updates.
Subscribe to my blog (find the subscription box below and on top of the website).
Share and connect with me on social media.
Instagram | Twitter | Facebook | Pinterest | YouTube
Love love.