Saucy Paneer is a Chinese dish usually served as an appetizer. I am fond of Chinese cuisine and it is usually my go to food for a take away. Today, Chinese cuisine is enjoyed all around the world, for it is nutritious, balanced and delicious.
Paneer is a fresh, unsalted white cheese that can be easily made at home. All you've to do is curdle milk with little lemon juice or vinegar, separate the milk solids and strain off the whey or liquid. It is similar to cottage cheese, however cottage cheese is wet and has loose curds which cannot be used the way paneer is used in Indian dishes.
Paneer is extremely versatile and is used in Indian, Iranian and Afghani cooking. It is vegetarian and is a smart alternative to meat. It is used to make kebabs, stuffing to flat breads and sandwiches and stirred into soups and curries.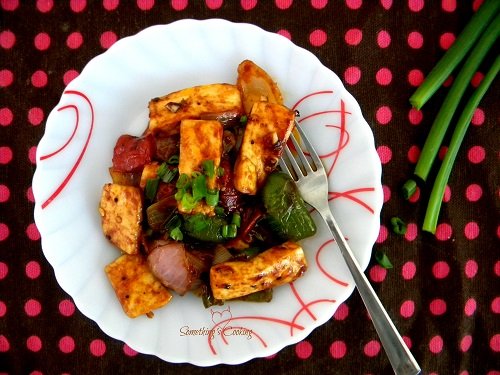 Saucy Paneer is a quick dish that can be made by stir frying the paneer cubes in vegetables and different sauces.
Saucy Paneer Recipe Video:
It can be served as an appetizer or side dish and it goes well with Fried Rice and Noodles. Prepare this for a get-together at home and I'm sure it would be an instant hit.
You can use tofu instead of paneer for a vegan version.
Recipe for Saucy Paneer:
Print
Saucy Paneer
---
Garlic - 6 cloves, finely chopped
Green chillies - 2, finely chopped
Oil - 2 tbsp
Soya sauce - 1 tbsp
Tomato ketchup - 1 tbsp

8

to

8

sauce - 1 tsp
Chilli garlic sauce - 1 tbsp
Salt and pepper- to taste
Cut the below ingredients into 1" cubes:
Paneer - 200 gm
Capsicum - 1
Onion - 1
Tomato - 1 , de-seeded and cubed
---
Instructions
Heat a tablespoon of oil in a wide pan and toss capsicum and onion for a minute.
Add paneer and toss, but careful enough not to crumble the pieces.
Add tomato and saute for a few seconds.
Remove them and set aside while the sauces are prepared.
Heat remaining oil in the pan and add garlic and green chillies.
Add the sauces and simmer for a minute.
Add the cooked paneer and vegetables which was set aside.
Mix carefully and add salt and pepper to taste.
Cook for about 5 mins on low heat till the paneer and vegetables are coated with sauces.
Notes
Tofu is a good replacement for paneer.
If you do not have the above mentioned sauces, use hot and sour sauce or only soya sauce and tomato ketchup.
Prep Time:

0 hours

Cook Time:

0 hours
[tweetthis]Saucy Paneer can be served as an appetizer or side-dish to fried rice and noodles[/tweetthis]
You can check out other Paneer recipes here.