Methi Chicken aka Methi Murg is one my favorite Indian chicken curries. It is prepared my cooking tender chicken pieces with assorted spices and fresh fenugreek leaves. Since the curry uses fresh cream for its preparation, it is also called Methi Chicken Malai. It is mildly spicy and the flavor and aroma will win you over.
I had discovered my love for fenugreek leaves some three years ago when I first tried this recipe in my almost-burnt down kitchen. Of course, I was a newly wed and cooking delicious food for my soldier husband was always on top of my mind, thus discovering some unique flavors of Indian cooking.
And when I began this November, blogging daily for the yearly #NaBloPoMo challenge, I told you about my love for Methi/Fenugreek leaves through a recipe for Aloo Methi or Potatoes in Fenugreek leaves. But this wasn't the case three years ago. I was hesitant to use fresh fenugreek leaves, of course due to its extreme bitterness. I somehow gathered courage and braved myself to try and prepare this dish for once. Little did I know that I was going to be bowled over by the result.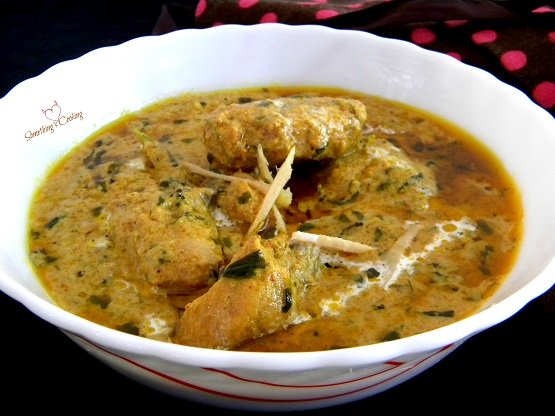 Cooking with methi leaves is therapeutic for me. And this one is my favorite stress-busters too, as when I cook this, the aroma of the methi and spices, just transcend me into this peaceful space. Fresh Methi leaves add a very earthy flavor to this dish. But do you still worry about its bitterness? Here's something you can do to reduce the bitterness of this leaves.
TIPS TO REDUCE BITTERNESS OF FENUGREEK LEAVES
To reduce the bitterness of these leaves, separate it from the stems. Do not add the stems, for it will make the dish bitter. Wash the leaves well and soak in a little salt, sugar and water for about fifteen minutes before use.
This recipe is inspired form Chef Harpal Singh's Methi Murg. I added my tweaks though. I have added other mild flavors like cardamon, cloves, cinnamon and bay leaves to the dish. And I didn't want to over power the dish with tomatoes and I have added both fresh and dry fenugreek leaves called Kasoori Methi at various stages of its preparation. It's rich and creamy and is an absolutely drool worthy dish.
Recipe for Methi Chicken:
Print
Methi Chicken
---
Prep Time:

0 hours

Cook Time:

0 hours

Total Time:

1 hour
Description
Prepared by cooking tender chicken pieces with assorted spices and fresh fenugreek leaves.
---
Chicken – 500gm , cut into big piecces
For Marination:
Yogurt – 1 cup
Coriander powder – 1 tsp
Turmeric powder – 1/2 tsp
Chilli powder – 1 tsp
Salt – to taste
Cardamon – 2
Cinnamon – 1″ piece
Bay leaves – 2
Cloves – 3
Peppercorns – 3
Ghee – 1 tsp
Kasoori Methi – 1/4 cup
To Blend:
Ginger – 1″ piece
Garlic – 5 cloves
Onion – 1 1/2 cup, finely chopped
Green chillies – 3
Others:
Oil – 2tbsp
Green chillies – 2 slit
Ginger – juliennes, few
Fresh fenugreek leaves – 2 cups, finely chopped
Cream – 1/2 cup
---
Instructions
Marinate the chicken pieces with the ingredients listed under marination. Keep aside at least for 30 mins.
Blend together ginger, garlic, onions and green chillies.
In a wok, add oil. When hot, add the onion-garlic paste which we blended. Saute for about 5 mins or until cooked.
Add chopped fenugreek leaves. Mix and cook for about 6 minutes. Stir continuously in medium flame.
Add the marinated chicken along with the marinade. Mix well.
Cover with a lid and cook for about ten mins. Stir in between and add slit green chillies.
Add ginger juliennes and cream. Simmer and cook for a couple of minutes.
Serve hot with rotis or rice.
Check out other chicken recipes here.