Methi Thepla is an Indian flatbread made of whole wheat flour, chick pea flour, fenugreek leaves and spices. It is a popular dish from the state of Gujarat.
The first time I had Methi Thepla was when my colleague had brought these to office for lunch. If you are a regular reader of my blog, you would know that cooking with fenugreek leaves is a recent discovery. Hailing from Kerala, the southern state of India, I wasn't used to the many unique flavours of North Indian cuisine. The first bang of the Bong Mustard Fish Curry and the earthy flavour of Methi Chicken had bowled me over.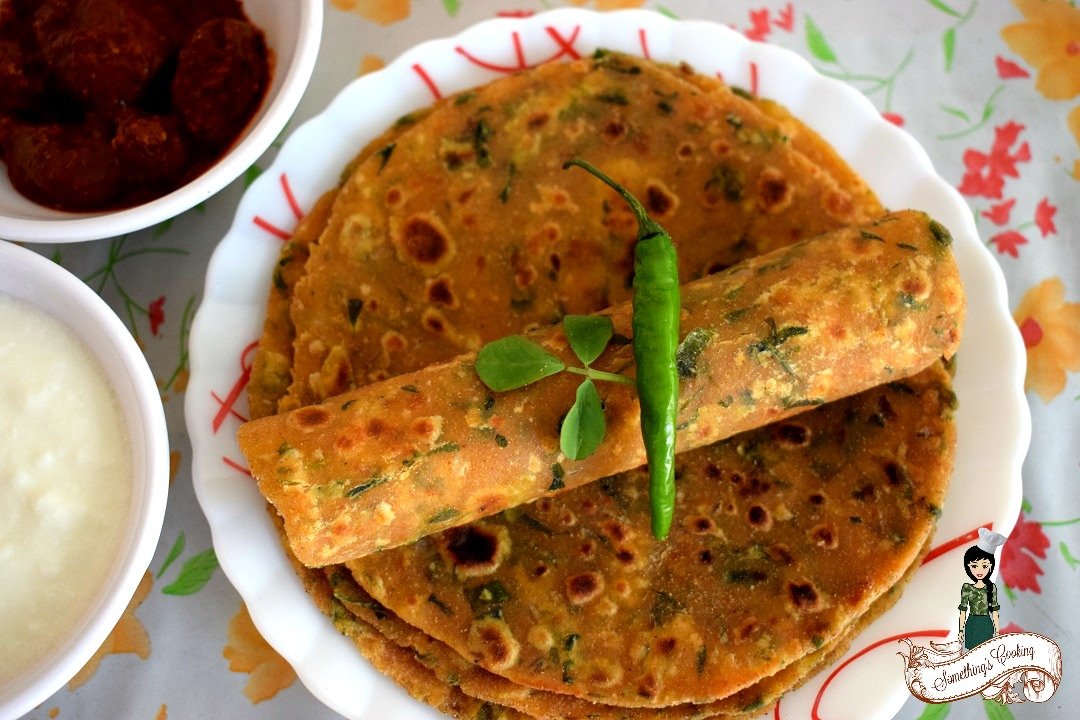 Methi Thepla is soft and can be eaten as such. It doesn't need any side dish, but curd and pickle is a great option. It is also an excellent choice for breakfast, snack and for your lunchbox. Oh, for your kids too. Just roll it and have it.
The last time I had Methi Thepla was a couple of weeks ago, when my neighbour sent some over for us. She is a vegetarian and I am getting to learn many easy, but sumptuous vegetarian recipes from her. This Methi Thepla recipe is borrowed from her and I'm telling you, I find it so much more flavorful than the Methi Thepla recipes online.
The fenugreek leaves are finely chopped and sauteed with onions in oil. This cooked mixture is then added to the flour and spices to knead into a dough. It is then rolled into small flat breads and are cooked on a pan drizzled with oil.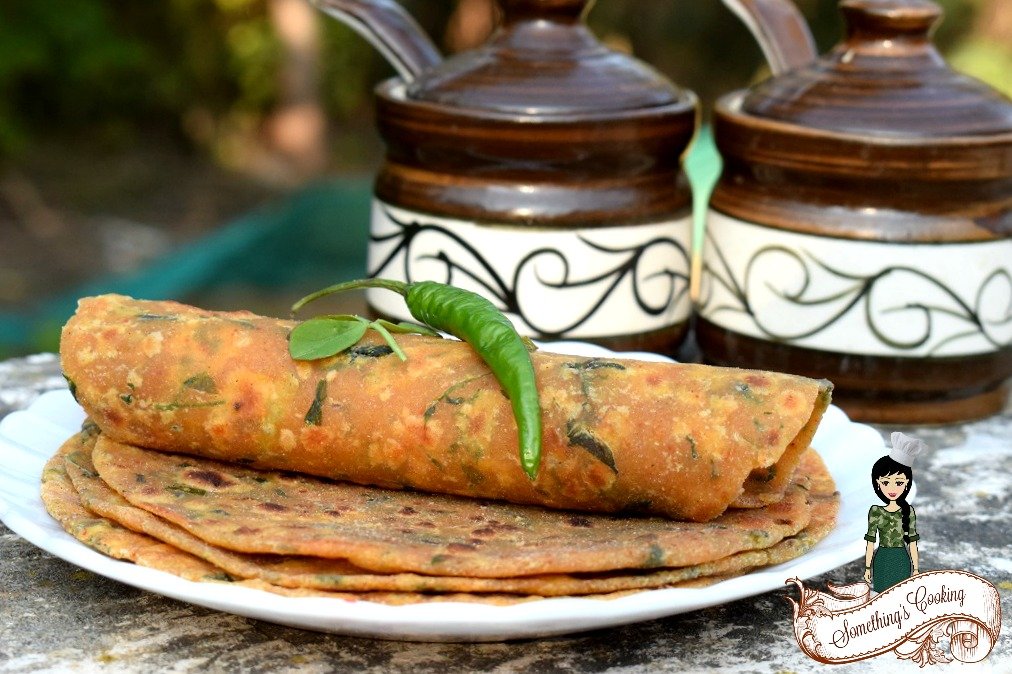 Here's how I made Methi Thepla at home:
| | |
| --- | --- |
|   | Separate fenugreek leaves from the stem. |
|   | Wash and finely chop the fenugreek leaves and mix together with finely chopped onion, green chillies and grated ginger and garlic. |
|   | Sauté the mixture in a pan drizzled with oil, cumin seeds and asafoetida. Cook through and let it cool. |
|   | Mix together the flours, cooked mixture, turmeric powder, red chilli powder, coriander powder, salt and curd. |
|   | Knead the mixture to make a soft dough and let it rest for about ten minutes. |
|   | Divide the dough into ten equal sized balls. |
|   | Roll the dough into thin circles. Cook theplas on both sides on a hot pan with little oil. |
Methi Thepla Recipe:
Print
Methi Thepla
---
Total Time:

40 minutes

Yield:

10
Description
Methi Thepla - Whole wheat Indian flatbread made with fenugreek leaves, served for breakfast or as a snack.
---
Fresh Methi leaves - ¾ cup, finely chopped
Onion - 1 small, finely chopped
Green chilies - 3, finely chopped
Ginger - ½ tablespoon , grated
Garlic - ½ tablespoon , grated
Salt - to taste
Oil - 2tbsp
Cumin seeds - 1 tsp
Asafoetida - ½ tsp
Wheat flour - 2 cups
Chickpea flour/Gram flour (Besan) - ¾ cup
Curd - 5 tbsp
Red chili powder - ½ tsp
Turmeric powder - ½ tsp
Coriander powder - ¾ tsp
Garam masala - ½ tsp
Salt - to taste
Water - as required to knead the dough
---
Instructions
Separate fenugreek leaves from stem. Wash, clean and chop them finely.
Mix together the chopped fenugreek leaves, finely chopped onion, green chilies, grated ginger, garlic and little salt.
Heat oil in a pan and add cumin seeds. Once it sizzles, add asafoetida and the above mixture. Saute and cook for a couple of minutes. Remove from heat and let it cool.
In a bowl, add the flour, spice powders, salt, curd and cooked fenugreek leaves mixture.
Add required water and knead to make a soft dough.
Cover and keep aside for about 10-15 mins,
Knead again for a minute and roll into ten equal sized balls and into thin flatbreads.
Heat a pan and place the thepla. Cook on both sides until small brown spots appear.
Drizzle oil and cook till spots darken and theplas are cooked through.
Serve hot with curd and pickle.
Notes
Sauteing the fenugreek leaves will reduce the bitterness. Curd is used to soften the theplas. These soft theplas are ideal as travel food for it can be had as such, without any side dish.
Prep Time:

0 hours

Cook Time:

0 hours
Love it? Don't forget to Pin it and also follow me on Instagram.