Bengali Fish Curry or Mustard Fish Curry is an everyday dish in the Bengali household. This easy tomato-based recipe can be made with catfish or mullet in mustard oil and boasts of the distinct flavor of mustard and nigella seeds.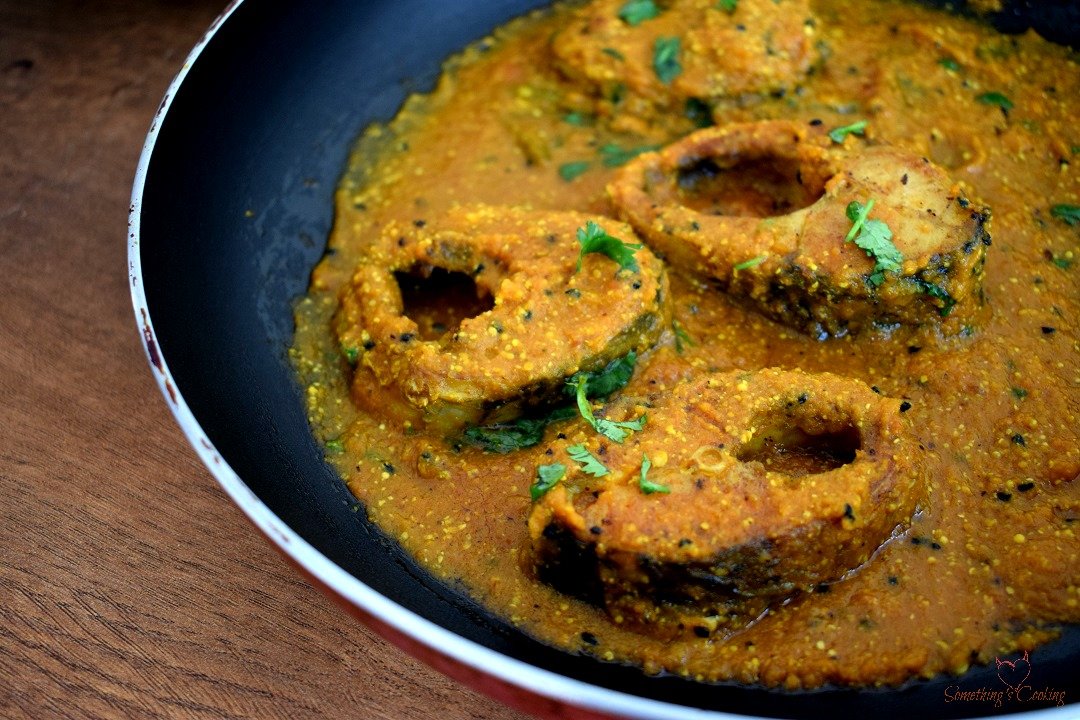 I still remember the first time I had this special fish curry. It was when I had joined my husband in his Regiment in the Army.
I had a warm welcome and the ladies in the Unit tried to make me feel at home. The senior officers and wives sent us lunch and dinner and mind you, that is something. That's how I had my first Bengali Fish Curry aka Maccher Jhol.
Hailing from the South, I wasn't accustomed to the strong flavor of mustard and my husband had warned me before taking the first bite. Yes, it was different but I had loved it. It was new and my palette had welcomed the refreshingly variant taste.
Just like Keralites, Bengalis are also extremely fond of fish. Okay. Excluding the vegetarians. Deny us our staple of fish for lunch, and face the wrath forever! Ever since that first jolt and bang of the Bong curry, I had been wanting to try cooking it. But I never got that perfect recipe or the courage to make. Until…
Macher Jhol is a classic.
Macher Jhol means Fish (macher) in curry/gravy (jhol).
It has few ingredients and they play a crucial role. The strong flavor of mustard and the hotness of green chilies makes the dish delicious and unique from other fish curries. You might find it spicy, but oh yeah, you can't stop eating! Use fishes like Rohu (a kind of freshwater carp), Sea Bass, Catfish, Mullet or Tilapia for preparing this dish.
Cooking with Mustard Oil:
While cooking with mustard oil, the oil is heated to a smoking point and then cooled down, before using it. This is because mustard oil contains erucic acid which gives a strong pungent smell. Heating to smoking point reduces the pungency.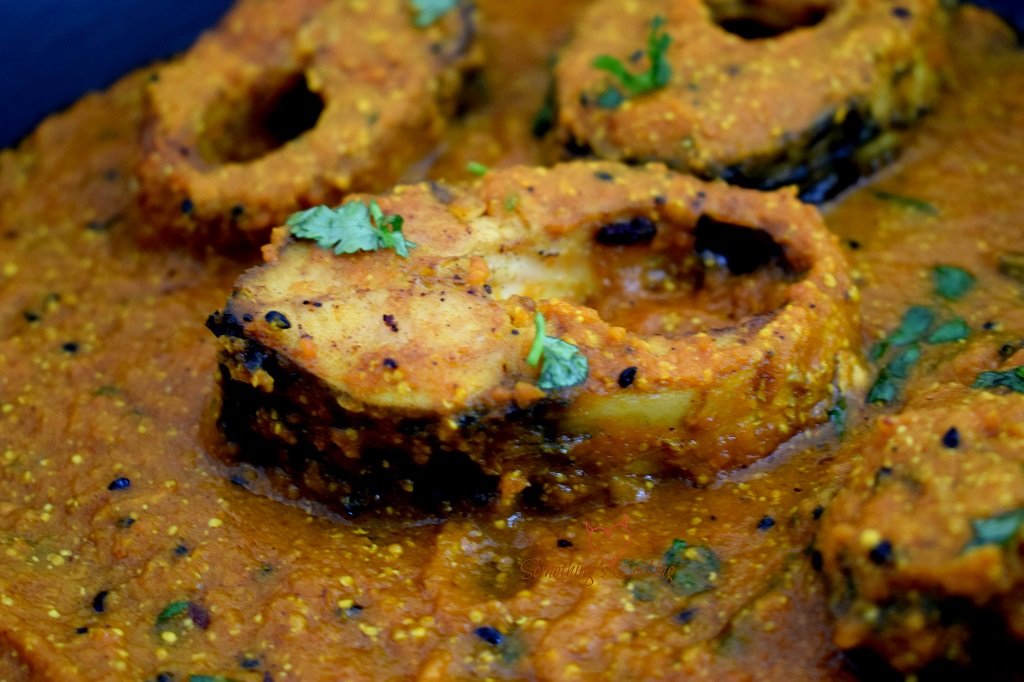 The Bengali Mustard Fish calls for frying the fish steaks in mustard oil before adding to the curry.
You can pan-fry like I did or deep fry the steaks.
There are many different ways of making this dish. I had tried a few before which in the end turned out to be a catastrophe. Yeah, I have one of those days as well. But then I mastered this curry and believe me, it is so effing good.
| View Bengali Fish Curry Web Story here
Here's how I prepared the Bengali Mustard Fish with little twists of my own:
Bengali Fish Curry Recipe with Step by Step Pictures:
| | |
| --- | --- |
| | Marinate the fish pieces in turmeric and salt. Blend tomatoes, garlic, green chillies and powdered mustard seeds and add to the pan with mustard oil. |
| | Cook till excess water is evaporated and oil is released. |
| | Add water and simmer. Pan fry the marinated fish pieces. |
| | Fry on both sides and add to mustard gravy. |
Bengali Fish Curry Recipe:
Print
Bengali Fish Curry
---
Prep Time:

0 hours

Cook Time:

0 hours

Total Time:

1 hour
Description
Pan fried fish steaks simmered in a tomato-based curry scented with mustard oil.
---
Fish steaks – 6
Turmeric powder – 3/4 tsp
Salt – to taste
Tomatoes – medium, 3
Garlic cloves – 4
Green chilies – 5′
Powdered Mustard seeds – 1 1/2 tbsp
Water – 2 cups
Mustard oil – 5 tbsp
Nigella seeds or kalonji – 1 1/2 tsp
Coriander leaves – chopped, for garnish
---
Instructions
Marinate the fish steaks with little turmeric powder and salt. Keep aside.
Powder yellow mustard seeds to yield the required amount for curry as per recipe.
Blend tomatoes, garlic, 3 green chilies, powdered mustard, salt and half cup of water to a smooth paste. Keep aside.
Heat mustard oil in a pan until smoking hot. Remove from fire for 30sec and then keep back.
Add nigella seeds and let it sizzle for about 10 sec. Add the tomato-mustard-chilli paste.
Cook until the excess water is evaporated and oil is released. This would take about 10 mins.
Reduce heat and cook for anouther couple of minutes until it darkens a little.
Add one and half cups of water, mix well and bring to a boil. Simmer for about ten minutes.
Pan fry the marinated fish steaks in mustard oil until golden brown.
Add the fish to the mustard sauce and cook for a couple of minutes more.
Garnish with coriander leaves and serve hot with steamed rice.
Try and let me know? You can also check out other fish curry recipes like Kerala Mackeral Fish Curry and Fish Molee
Pin it for later!
That's all for now!
Don't miss out on any new updates. Subscribe to my blog (find the subscription box on top).
Share and connect with me on social media.
Instagram | Twitter | Facebook | Pinterest
XOXO,