One of the most sort after dishes in India, Fish curry is a seafood lover's delight. There are countless varieties of fish curry in our country, each one better than the other. With so many different varieties of fishes like Basa, Red snapper, Tuna, Salmon, Mackeral, Hilsa, King Fish, Pomfret, Pearl Spot etc. available in fish markets, one can imagine how unique each type of fish tastes like and how different each dish will be. Here, I am presenting the Assam Fish Curry called as Aloo Bilahi Maas.
Assam Fish Curry or Aloo Bilahi Maas is a fish curry simmered in a potato and tomato curry. It is tangy and mild and definitely a delightful side dish for steamed rice. One fo the quickest fish curries to make, it is now one of my favorites.
With the long coastline of about 600 kilometers, including rivers and lakes, fish forms an important part of our diet in Kerala. We have our rich versions of preparing them and I have never tasted any other variety than these. Having the Bengali Mustard Fish Curry was an eye-opening experience for me and thus started my journey of experimenting and learning different ways of preparing our good old' humble fish curries.
Just like we Malayalees (Keralites) and Bengalis, Assamese are known to be prodigious fish lovers. There are many varieties of fish curries in Assam itself and I think, Aloo Bilahi Maas is the easiest of them all. It hardly took about 25 minutes for me to prepare this delicious curry and it was served with fluffy basmati rice. Brilliant combination, I tell you!
What is the major difference I found in preparing Assamese and Bengali Fish curries when compared to Kerala fish curries? In most curries in the Bengali and Assamese cuisine, the fish is lightly fried before adding to the curry. Two, the use of mustard oil. These definitely bring a different flavor to the dishes and my palate is loving it.
How to Make Assam Fish Curry:
The fish pieces are lightly fried at first. A curry is made from onions, tomatoes, and potatoes spiced with different condiments. The fish pieces are then simmered and cooked in this gravy thereby inducing its flavor to the fillets.
Assam Fish Curry Recipe:
Print
Fish Curry | Assam Style | Aloo Bilahi Maas
---
6

pieces of any fresh water fish, preferrably Rohu (Carp)

2 tablespoon

mustard oil

½ teaspoon

turmeric powder
Salt, to taste

1

Bay leaf

2

dry red chilies, slit

½ tablespoon

cumin seeds

4

medium sized potatoes, boiled and roughly mashed

3

tomatoes, finely chopped

1

small onion, finely chopped

4

cloves of garlic, finely chopped /mashed

½ teaspoon

turmeric powder

½ teaspoon

garam masala powder

¾ teaspoon

cumin powder

3 cups

of water

4 tablespoon

mustard oil
Handful of coriander, chopped
---
Instructions
Marinate the fish pieces in ½ teaspoon turmeric powder and salt.
Heat 2 tablespoon of oil in a pan and fry the fish pieces, on both sides. Remove the fish pieces and keep aside.
In the same oil, add the remaining oil, bay leaf, red chilies and cumin seeds.
In medium heat, add onion, garlic and little salt. Saute for about two minutes.
Add tomatoes and saute well. Cook till the tomatoes are mushy and oil oozes out.
Add the mashed potatoes, turmeric powder, cumin powder and mix well. You'll now find a thick gravy.
Add water and mix again. Bring it to a boil and cook for about a minute.
Add the fried fish pieces, garam masala powder and salt. Reduce the heat to medium. Cook covered for about 5-7 minutes till you find oil rise to the top.
Add coriander leaves and simmer for about a minute.
Serve hot with rice or roti.
Prep Time:

0 hours

Cook Time:

0 hours
Like fish curries? Here are some of my favorites!
Kerala Style Mackeral Fish Curry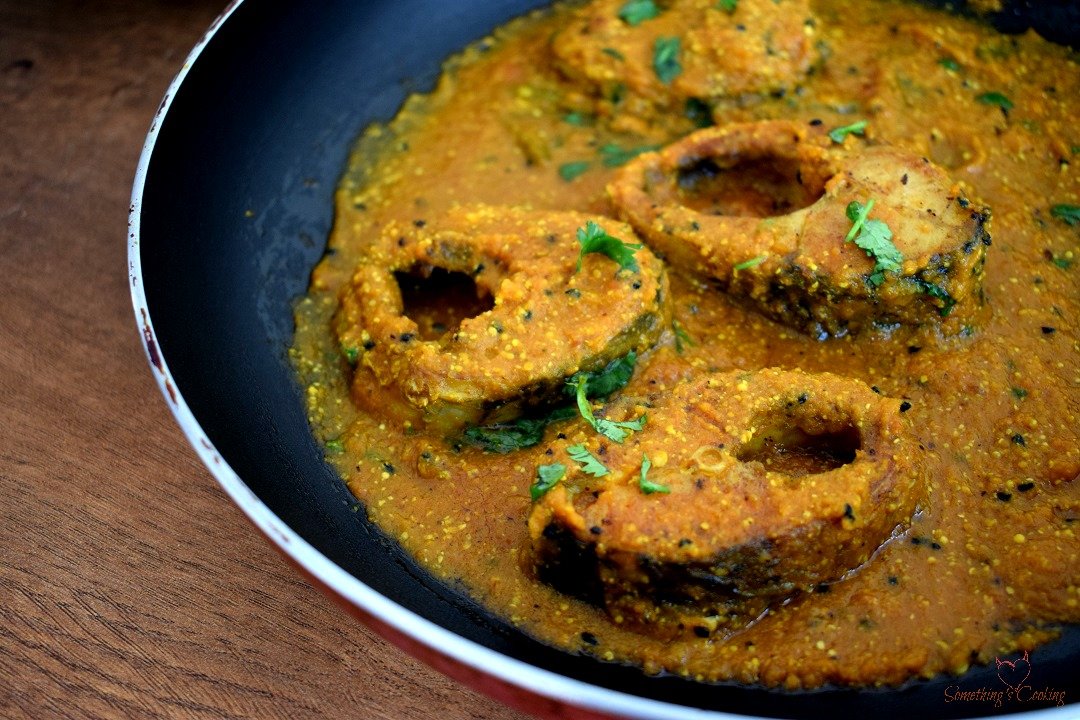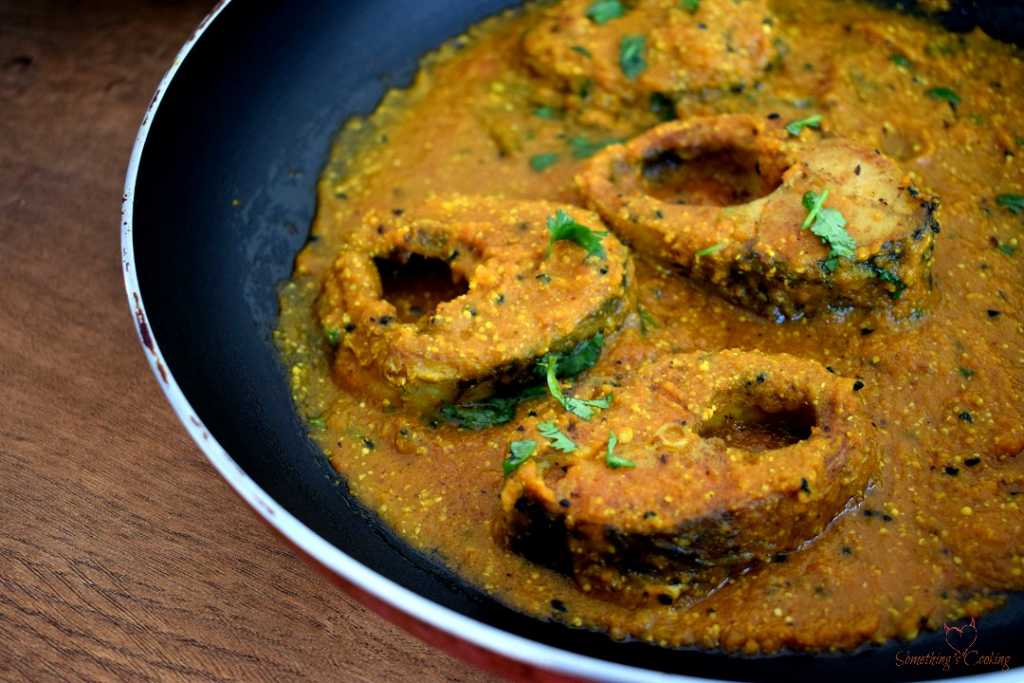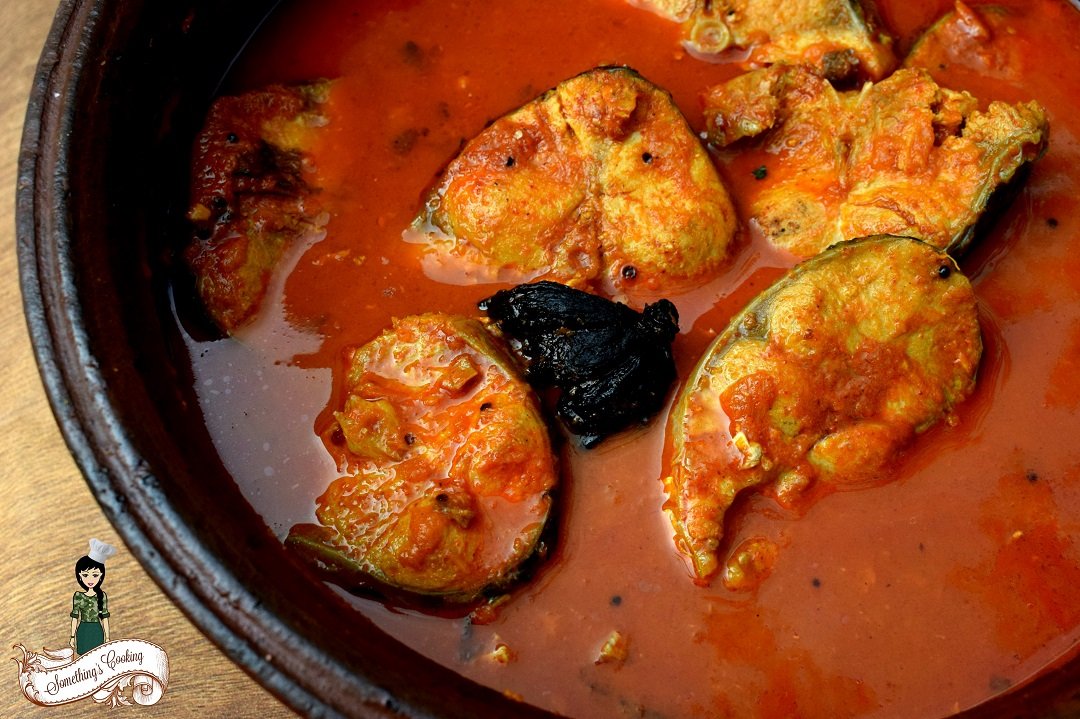 Like it? Pin it!
I'm participating in the #AtoZChallenge and I'm posting 26 easy Indian Recipes to Die for. Follow my posts this April and before you know it, you'll be cooking up a storm. Stay tuned!
Meanwhile, here are 26 posts on Thailand on my travel blog