Brewed in a coffee filter, South Indian Filter Coffee is my absolute favorite. It is popular in South India and is usually served in a tumbler and davara/dabarah as shown in the picture. I am a coffee lover, someone who has 6-7 cups of coffee every day and can be named an addict. There is no looking back when it comes to any type of coffee but give me a tumbler of hot, frothy Kaapi and you'll be my favorite person in the world!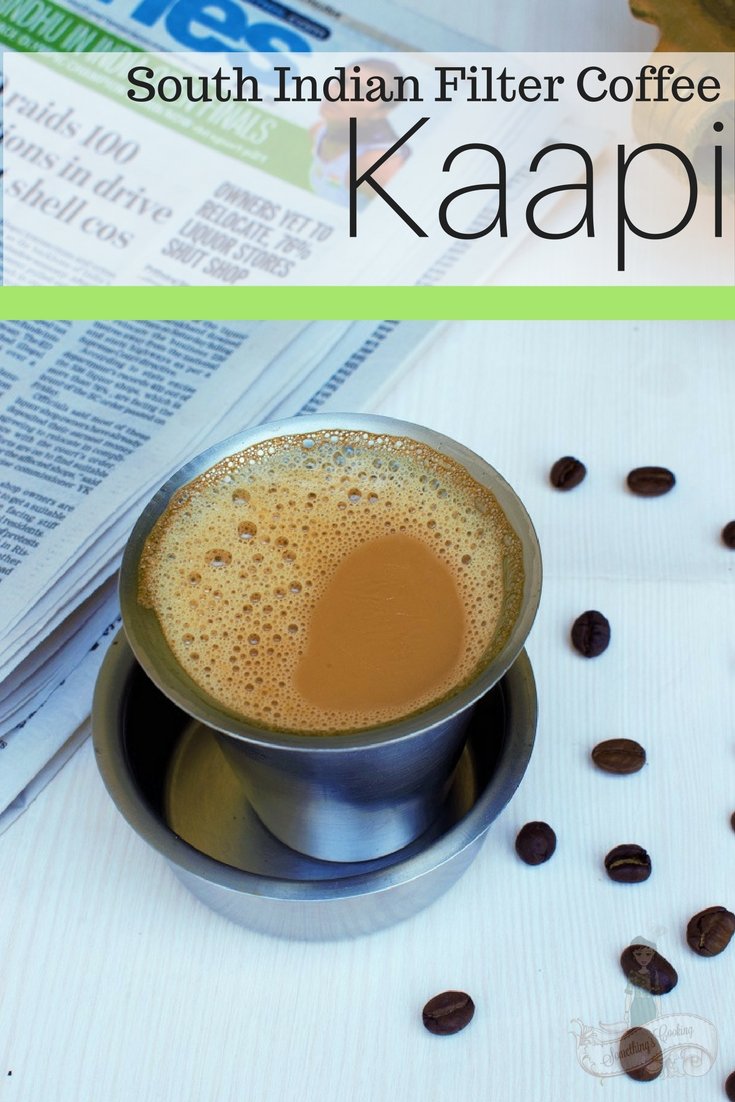 The South Indian Coffee Filter is available on stores. It is a two piece container, the upper part with holes to add the coffee powder and the lower part to collect the decoction. It also has a pressing disc and center handle to level and press the coffee powder.
Preparing an instant coffee is easy when compared to filter coffee. But the taste, flavor, and aroma it gives is worth taking the time. My Dad and husband who are tea lovers, also love their occasional cups of filter coffee.
Here's how you make the South Indian Filter Coffee
Add filter coffee powder to the upper part of the container and pour boiling water on to it. Put the pressing lid so that the decoction drops and gets collected in the lower part of the container. Keep it undisturbed for 15-20 mins. Add to boiled milk with sugar.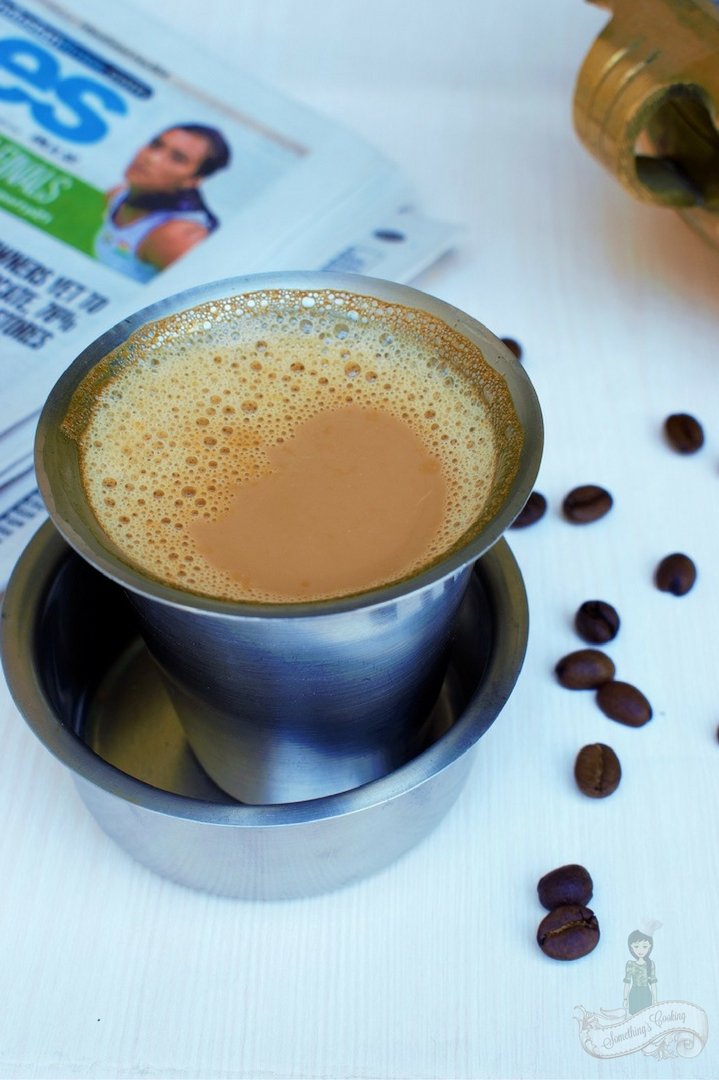 The flavor largely depends on the type of ground coffee used. My favorites include the local brands Bru and Narasus.
South Indian Filter Coffee Recipe:
Print
Kaapi | South Indian Filter Coffee
---
3

-

4

teaspoons of Ground Coffee Powder

1 cup

of Water

¾ cup

of Milk
Sugar, as needed
Coffee Filter
---
Instructions
Add coffee powder in the upper part of the filter. Even it out and add the pressing disc with the handle.
Boil water and pour in the upper part till it's almost full.
Cover with the lid and keep aside for 15-20 mins. The decoction gets collected in the lower part of the filter.
Boil milk. Add sugar.
Pour the required decoction in a tumbler and add milk.
Add more decoction if you want strong coffee.
Serve hot and frothy.
Prep Time:

0 hours

Cook Time:

0 hours
Chef says:
Always use fresh ingredients - be it the coffee powder, milk or the prepared decoction.
While 3-4 teaspoons of coffee powder give you strong coffee, 1 ½ teaspoon is enough for a mild one.
Do you know why we serve in a tumbler and davara? Sugar is usually added to the tumbler than to the milk while boiling. The decoction and milk are then poured into the tumbler. This mixture is poured onto the davara and into the tumbler, back and forth, until sugar is dissolved and the milk and decoction are mixed well, resulting in a delicious tumbler of filter kaapi.