Here is a collection of some delicious Kerala fish recipes. All the below recipes have been tried and tested multiple times over the years by us, as well as our dear readers. I hope you'll find at least one recipe which you can try at home at the earliest.
Karimeen Pollichathu | Grilled Pearl Spots in Banana Leaves

One of the most sort-after recipes of Kerala, Meen Pollichathu is pearl spots or pomfrets smeared in spices, wrapped in banana leaves, and steamed to get the delicious seafood you've ever tasted!
Ayala Porichathu | Pan-Fried Mackerel

Mackerel Fish Fry or Ayala Fry is prepared by marinating the fish pieces with spices and then shallow frying them. Quick and easy to prepare, the spice mix enhances its flavor.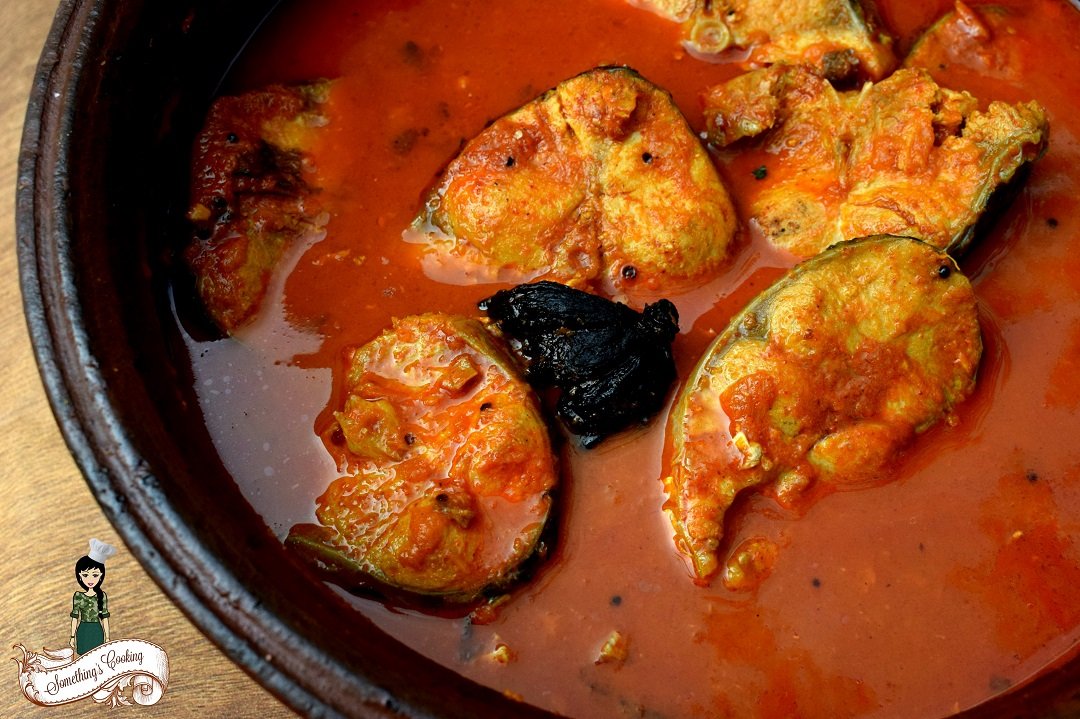 Kottayam Meen Curry | Red Fish Curry

Kerala Fish Curry or Kottayam Fish curry is the most popular and easiest fish curries from Kerala. It is also referred to as Red Fish Curry for it is cooked in red chilies and spices with a kick of Coccum/Cambodge.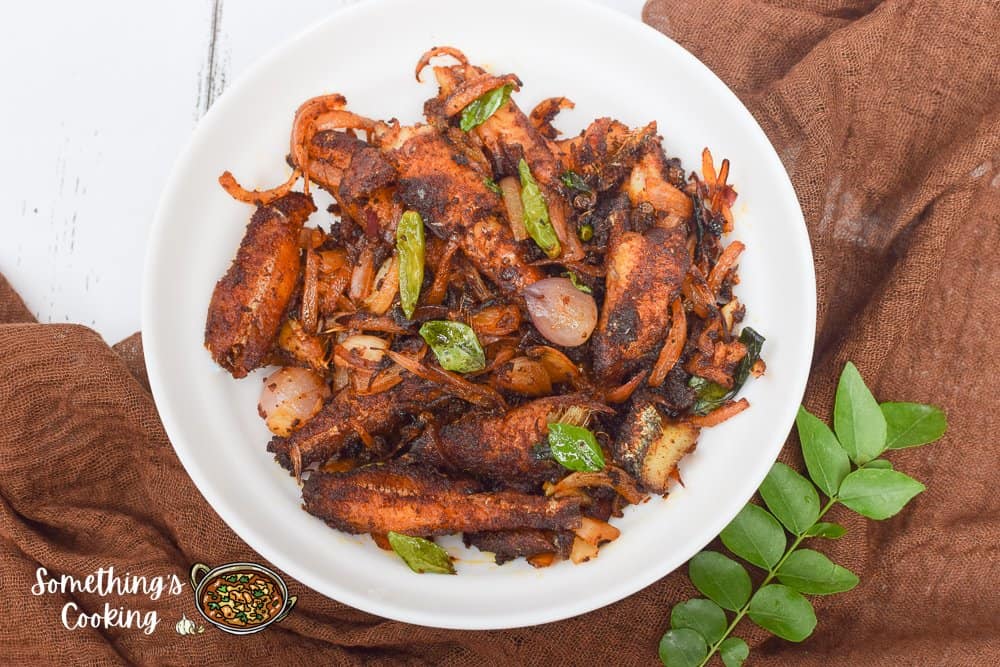 Netholi Fry | Anchovy Fry

Kerala Netholi Fry is a popular dish where anchovies are marinated with spices and fried in coconut oil. I'm taking it a notch higher by adding it to a mixture of sliced onions, garlic, and curry leaves.
Meen Peera | Fish With Grated Coconut

Meen Peera or Meen Pattichathu is a popular Kerala Style fish preparation where sardines are cooked with shredded coconut and aromatic spices.
Fish Molee | Fish Stew in Coconut Milk

Fish Molee or Fish Moolie is a creamy fish curry and is one of the most sort after seafood dishes in Kerala
Fish Biriyani

The delicious classic Kerala Fish Biriyani is made by layering fish gravy with fluffy aromatic basmati rice.
Netholi Thoran | Stir-Fried Anchovies in Shredded Coconut

Netholi Thoran is an everyday side for lunch in Kerala households where anchovies are cooked with shredded coconut and spices.
Mathi Pollichathu | Grilled Sardines in Banana Leaves

Similar to Karimeen Pollichathu, Mathi Pollichathu is sardines smeared in spices, wrapped in banana leaves, and steamed to get the delicious seafood you've ever tasted!
Fish Cutlet

One of the best party appetizers and snacks for evening tea, Kerala style Fish Cutlet calls for a simple and quick recipe. Take a bite of these crunchy on the outside, soft on the inside' cutlets and there will be no looking back! Made with fish, potatoes, and spices, the cutlets are coated in beaten egg and breadcrumbs before deep frying to golden perfection.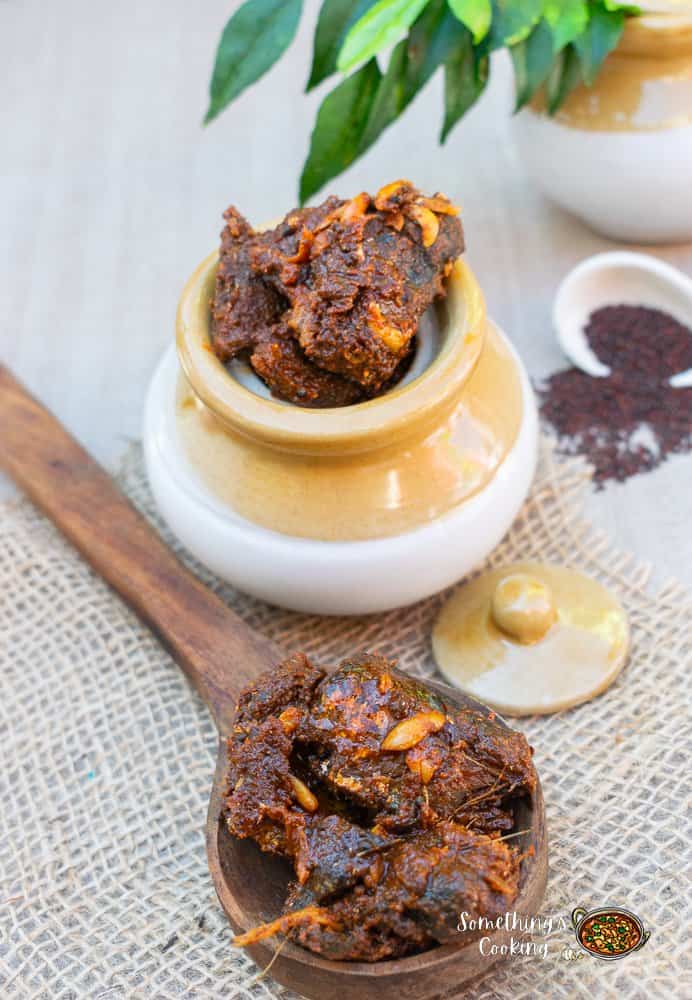 Fish Pickle

One of the yummiest seafood delicacies- which is brimming with flavor and all the more, is quick and easy to prepare – Kerala Fish Pickle in all its glory. This recipe can be made with sardines, tuna, pomfret, and butterfish.
| Find all the seafood recipes in the blog here.
Frequently Asked Questions:
Which fish is famous in Kerala?
Kerala is blessed with both sea fishes like Mackerel, Sardines, or Anchovies as well as freshwater fishes like Pearl Spots, Tilapia, or Catfish. We make different varieties of fish recipes with all these dishes.
Which is the best fish for Curry?
Every fish has a unique flavor profile and many recipes can be made with the same cooking technique. For example, if you use the same red fish curry recipe but use a different fish each time, say Mackerel or Red Snapper, the curry would taste worlds apart.
That said, any variety with rich, firm flesh like salmon, tilapia, cod, tuna, or red snapper is perfect for a fish curry.
What is Kerala Fish Curry?
Kerala Fish Curry is a popular and easy-to-make fish curry. There are different ways to make this fish curry, namely, with coconut paste, and without.
Kerala fish curry without coconut is also referred to as Red Fish Curry or Kerala fish curry with kudampuli as is famous in the Kottayam region. This fish curry is cooked in red chilies and spices with a kick of Coccum/Cambodge (ie, kudampuli/കുടംപുളി ), which gives a distinct earthy flavor to the dish.
Fish curry with coconut paste usually makes use of regular tamarind as the tangy/souring agent.
On the other hand, Kerala fish curry with coconut milk is usually referred to as Stew, Fish Mappas, or Fish Molee. The recipe link is here.
Kerala Fish Curry is usually prepared on special earthen pots (as linked below) which are available across the state.
That's all for now! I'll update this space as and when I add more Kerala fish recipes onto the blog.
Tag me on Instagram @somethingis_cooking
Don't miss out on any new updates.
Subscribe to my blog (find the subscription box below and on top of the website).
Share and connect with me on social media.
Instagram | Twitter | Facebook | Pinterest | YouTube
Love love.