A riff off of the Cappuccino with all its frothy goodness. Once you try out the Beaten Coffee, there is no looking back.
"The bachelors will descend on you at two at night
And expect you to look very fresh and bright!
They'll hassle you to rustle up dinner for all
How you wish to your bed you could crawl!
But your hubby looks on with a grin on his face
While you hunt through your fridge for a pizza base
But don't you worry, your day will come
When these bachelors get married, one by one!" - Wedded to the Olive Green
This is the reality. The first time when I found a bunch of officers at my doorstep at 12 at night with the customary anthem, "Mam...Coffee please", I was aghast with horror. I didn't know what to do. The husband reassured me saying it is part of our lives and that he has done it too. This was payback time! "You should be prepared to cook and entertain them till wee hours in the morning. You would be lucky if they ask only for coffee and not a complete meal", he said. Phew!
The story of the Beaten Coffee goes back to the day night when a frustrated Memsahib decided to teach these bachelors a lesson that they will never forget. When the boys came banging the door for coffee, she gave them a coffee mug which had a blend of coffee, sugar and boiled water. She asked them to mix and beat the mixture till it frothed up. Little did the boys know that it would take all their might to get the job well done. Ten minutes of non-stop stirring later, they resolved never to disturb a family ever again.
However, the Memsahib served them with the ultimate coffee, the one that can beat any Starbucks Cappuccino - The Beaten Coffee. The bachelors realized that their effort was worth it.
From then on, a cup of coffee in our lives means having the Beaten Coffee.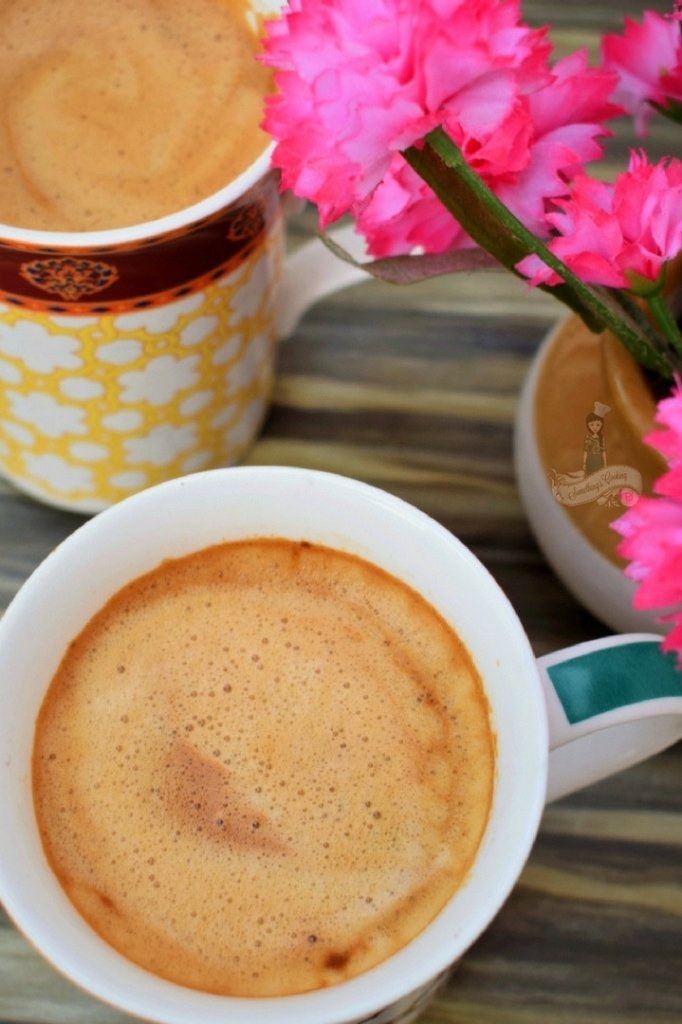 Beaten Coffee Recipe:
Print
Beaten Coffee
---
Total Time:

0 hours

Yield:

Serves 3
Description
A riff off of the Cappuccino with all its frothy goodness. Once you try out the Beaten Coffee, there is no looking back.
---
4 tsp

Instant coffee powder

4 tsp

sugar

¼ cup

boiling water

2 cups

milk

2 cups

water
---
Instructions
Keep ¼ cup of water for boiling.
In a coffee mug, add coffee powder and sugar. Add about a tablespoon of boiling water and mix well with a spoon.
Continue the process of mixing and beating for about 10-15 minutes, adding little boiling water, till it becomes frothy and doubles in bulk.
Divide this frothy mix into 3 cups.
Boil milk and water in a saucepan.
Pour it onto the cups and stir lightly.
Serve hot with cookies.
Prep Time:

0 hours

Cook Time:

0 hours
Love the recipe? It is worth sweating over the task of mixing and beating. Pin this for later and definitely try and let me know how it turned out for you.
I'm participating in the #AtoZChallenge and I'm posting 26 Party Foods that I make in my Army Wife Kitchen. Follow my posts this April and before you know it, you'll be cooking up a storm. Stay tuned!
That's all for now, folks!
Find: more Party Foods here

In 2017 : B as in Baingan Bharta
Don't miss out on any new recipes or updates. Subscribe to my blog (find the subscription box on top and the right side of this page).
Share and connect with me on social media. If you cook a dish using a recipe from this blog, feel free to click a picture and send it across. I would love to showcase it in the new section- The Reader's Space!
Instagram | Twitter | Facebook | Pinterest
Love love.
P.S: Love reading dog tales? Head over to my personal blog now to know what I've planned for you there this #AtozChallenge.