Soft and juicy chicken chunks marinated in a mildly spicy and tangier Indian Achari Masala - Achari Chicken Tikka is a definite crowd pleaser. Serve with mint yogurt dip for a rendezvous!
"My hero doesn't wear a cape or tights; he doesn't have superpowers and he can't lift cars, but he wears stars on his shoulders and fights to defend his country. And that is enough for me."
Early March, like any other blogger, saw me in a crisis. Day in and day out I pondered over what my theme should be for the yearly #AtoZChallenge. With the help from some of my dear friends, I arrived at a conclusion that my theme would revolve around party foods. However, something was amiss and as I typed the Theme Reveal post during the last week of the month, I knew what I should be doing.
So ladies and gentlemen, boys and girls, if you are wondering what I'm blabbering here, just know that you are going to find some quick and sumptuous party foods along with a slice of my life as an Army Wife.
A few days later after I got married to my soldier and stepped foot into this lifestyle, I realized that I am expected to grow overnight from a young girl to a lady. I had to groom my skills in the culinary art as it was indispensable in coping with the constant stream of parties and get-togethers that I had to participate in.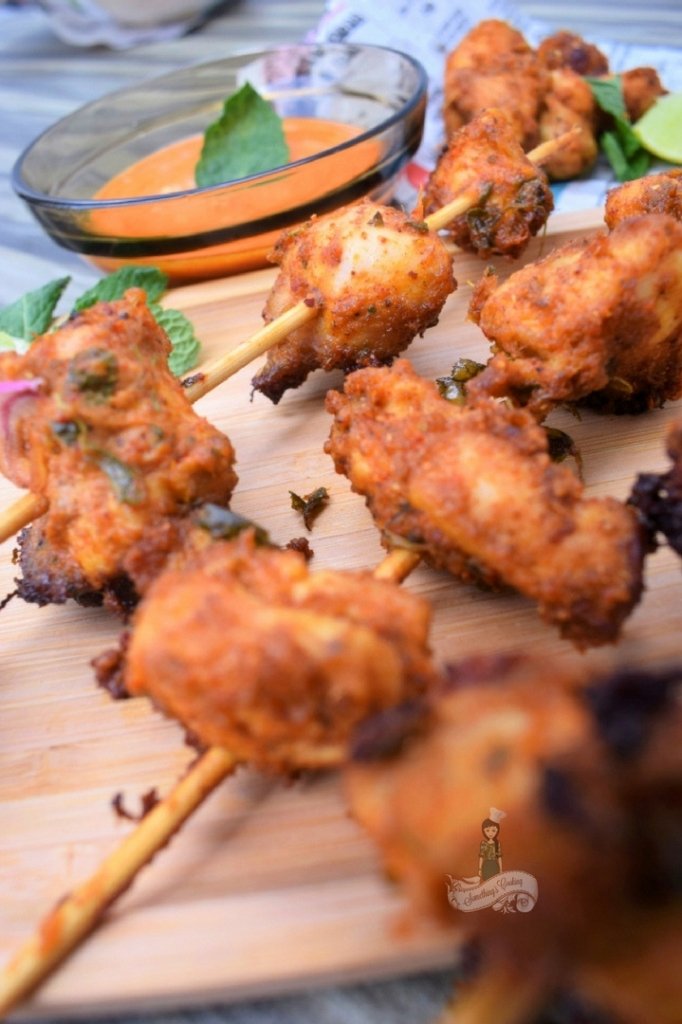 From a simple 'dropping-in', coffee mornings, entertaining a bunch of ravenous Young Officers at midnight, picnics and children's parties to entertaining dignitaries and foreign delegations, an Army Wife has to rise to all occasions.
Our chequerboard lifestyle is bonded together by continuous meetings over meals.
I wasn't born a great cook, in fact, I never even knew how to make a perfect cup of Chai before I was engaged. So all that I learnt over the years is through the trial and error method. Also, phone calls with Mom and Dad (they have exceptional talent in this forte), referring various cookbooks and food blogs, watching my favorite food channels on television and youtube, and getting inputs from fellow Army Wives has definitely helped in my grooming as a not-so-bad cook (I cannot call myself a chef. Not now, anyway).
Coming to the recipe.
The main ingredient for the Achari Chicken Tikka is the Achari Masala. I blindly followed the recipe for the Achari Masala by Whisk Affair and the delicious amalgamation of flavors of the spices makes this Chicken Tikka a humongous success.
Achari Masala is a blend of spices used for making an Achar or a Pickle.
The main spices include fennel, fenugreek, onion seeds, cumin and coriander seeds. Thus, adding this spice blend to a chicken tikka will give the typical pickling flavor - slightly tangy and bitter. I prepare the masala in bulk and add it to everyday dishes like a Potato Fry, Chicken Curry or even for the marinating the fish for a Fish Fry. Trust me, no store bought masala is better than homemade ones.
How to prepare Moroccan Spice Blend
Achari Chicken Tikka is boneless chicken chunks marinated in Achari masala, yogurt, and other spices and grilled to juicy perfection. You can use chicken breasts or chicken thighs for preparing this tikka.
Traditionally, tikkas are cooked in a tandoor. However, you can grill or barbecue as well. The ease of preparation and of course, the deliciousness has made tikkas a hot favorite across the world.
Serve this spicy succulent Achari Chicken Tikka with mint chutney or a Schezwan Mayo Dip. Perfect party food!
Achari Chicken Tikka Recipe:
Print
Achari Chicken Tikka
---
Total Time:

0 hours

Yield:

Serves 2
Description
Boneless chicken chunks marinated in Achari masala, yogurt, and other spices and grilled to juicy perfection - Achari Chicken Tikka is a definite crowd-pleaser. Serve with mint yogurt dip for a rendezvous!
---
250

gm Boneless chicken, cut into bite-sized cubes

2 tsp

Lemon juice

1 tbsp

Ginger Garlic paste

¼ cup

yogurt

1 tsp

Kashmiri chilli powder

½ tsp

Red chilli powder

1 tsp

Garam masala

1 tsp

Chicken/Meat masala

½ tsp

Cumin powder

2 tbsp

Dried Fenugreek leaves (Kasturi Methi)

1 tbsp

mustard oil
Salt, as needed
Oil for grilling/ Butter for basting
For Achari Masala:
1 tsp

Mustard seeds

1 tsp

Coriander seeds

1 tsp

Cumin seeds

1 tsp

Fennel

½ tsp

Nigella seeds (Kalonji)

¼ tsp

Fenugreek seeds

¼ tsp

Carom seeds (Ajwain)

4

red chillies
---
Instructions
Dry roast the spices for the Achari Masala till light brown and fragrant. Allow it to cool down and blend to a coarse powder.
Wash and pat dry the chicken chunks.
Add all the ingredients (except the oil for frying) and a tablespoon of Achari masala which you've just made to the chicken.
Marinate and keep aside for at least an hour.
Grease the grill plates with butter/oil.
Skewer the marinated chicken chunks and grill on both sides basting butter/oil till nicely browned. This would take about 10-15 minutes.
Serve hot with mint chutney or schezwan mayo dip
Notes
Soak the wooden skewers in water for an hour before use.
Dry roast the spices for the Achari powder till it turns light brown. Do not brown them, the masala would taste bitter.
Prep Time:

0 hours

Cook Time:

0 hours

Category:

Appetizer/Party Food

Cuisine:

Indian
Substitute Chicken with Paneer for a vegetarian option. It would just be as good!
Love the recipe? Pin it for later.
I'm participating in the #AtoZChallenge and I'm posting 26 Party Foods that I make in my Army Wife Kitchen. Follow my posts this April and before you know it, you'll be cooking up a storm. Stay tuned!
That's all for now, folks!
Find: more Party Foods here

In 2017 : A as in Aloo Paratha
Don't miss out on any new recipes or updates. Subscribe to my blog (find the subscription box on top and the right side of this page).
Share and connect with me on social media. If you cook a dish using a recipe from this blog, feel free to click a picture and send it across. I would love to showcase it in the new section- The Reader's Space!
Instagram | Twitter | Facebook | Pinterest
Love love.
P.S: Love reading dog tales? Head over to my personal blog now to know what I've planned for you there this #AtozChallenge.