Nasi Goreng is a popular and flavorful Indonesian style Fried Rice which is traditionally served with a sunny-side-up fried egg.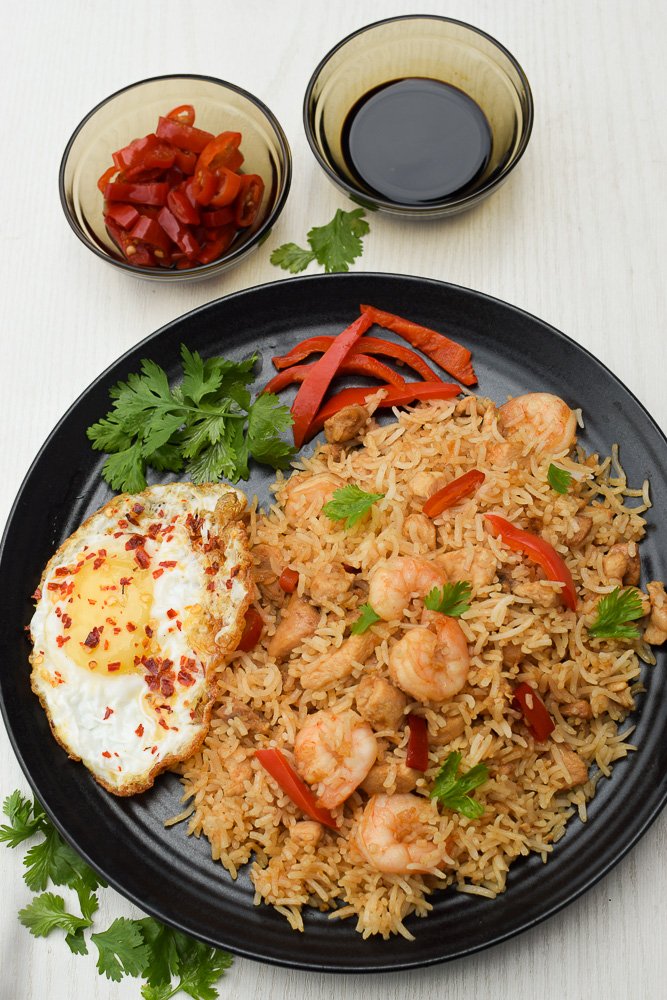 This post contains affiliate links which means if you use them to make a purchase, I'll earn enough money from that sale to maybe buy myself an ingredient for the next food post.
What's best about this recipe is that it uses simple everyday ingredients, thus, making it quite easy to prepare. Nasi Goreng comes from Indonesia where rice is a staple food. If you've been to Bali or any other part of Indonesia you'd be already familiar with Nasi Goreng. I'm sure you'd be raving about it.
It has been a while since I posted a recipe here on the blog. Ah, Life! But I celebrated my 32nd birthday on the 28th of February and I'm back with renewed energy. All this while, I was trying to work on a posting schedule and now that I've finally come up with one, I believe I shall be able to stick to it. Fingers crossed, the YouTube channel will also be revived this week and everything shall go as planned.
If you aren't already subscribed to my channel, please do. It'd mean the world to me. Help me reach my first 100 subscribers?
| Subscribe to Shalini R. Nair - YouTube Channel
So, hello March!
It is a Monday and I have got a perfect recipe for you.
Nasi Goreng
This Indonesian Fried Rice is a breakfast dish made with leftover rice and a flavoring paste. Meat, shrimp, and vegetables are optional and rarely added to it. The seasoning paste is made with sweet soy sauce, brown sugar, chilies and shrimp paste, and the rice is cooked to form a nice, caramelized brown color.
Top it with a sunny side up fried egg, julienned tomato and cucumber - and you are raring to go.
| How to Make Thai Pineapple Fried Rice
The Optional Ingredients or Substitutes!
If you can get your hands on sweet soy sauce or kecap manis, well and good. Kecap minis are a thicker form of soy sauce.
Tip:
If you cannot get hold of kecap manis, reduce the regular soy sauce with brown sugar till you get a syrup-like consistency.
Nasi Goreng uses shrimp paste and it is easily available in major supermarkets and online shopping websites. A traditional Indonesian shrimp paste contains an ingredient called umami which adds more oomph into the dish. But this ingredient is optional for I've tried it without adding shrimp paste and it still tastes just fine.
A more authentic way to go about it is to add dried shrimp. Toast it in a pan with a little salt and crumble. Add it while preparing to the dish and the taste isn't compromised.
The one thing that you shouldn't, however, settle on is the cold leftover rice. In fact, the secret to making any fried rice is using cold rice and not immediately/freshly cooked rice. Freshly cooked rice already has moisture and when it is tossed in sauces, it becomes mushy and sticky.
I usually cook rice a little more than I needed, the previous day. It is then refrigerated making it drier and harder. If you do not have leftover rice, cook well in advance, let it cool and refrigerate for a couple of hours at least.
Once your rice is ready, you'd see that this dish comes together in under 20 minutes.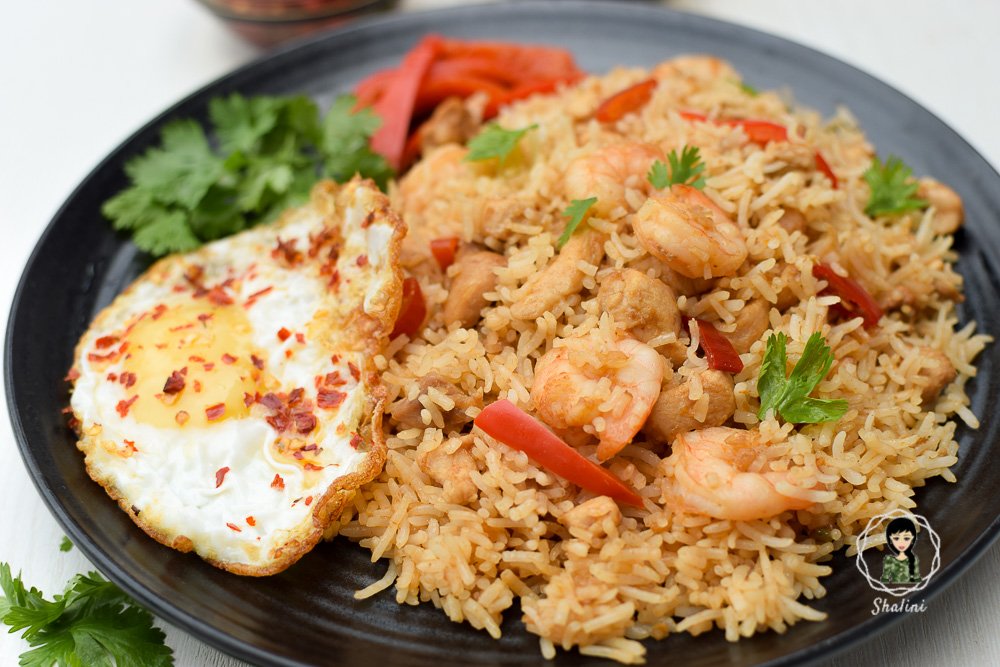 A Quick One-Pot 20-minute Recipe
As mentioned before, Nasi Goreng comes together in just under 20 minutes. All you need is cook the meat (here, I've used shrimp. You may also substitute it with cubed chicken), saute onion and garlic with shrimp paste, add the sauces and brown sugar, the rice and cook till the rice is nicely caramelized.
That's it!
How to Serve Nasi Goreng
This Indonesian Fried Rice is served topped with a sunny-side-up fried egg with a side of fresh cucumber and tomato slices. Garnish with fried shallots, if you like.
Nasi Goreng is a one-pot meal and that makes it my favorite thing to prepare for a quick lunch. It is also Indonesia's national food and it only makes sense!
Nasi Goreng Recipe
Print
Nasi Goreng | Indonesian Fried Rice with Shrimp
---
Total Time:

17 minutes

Yield:

Yields

2

-3

1

x
Description
This Indonesian Fried Rice is a breakfast dish made with leftover rice and a flavoring paste. Top it with a sunny-side-up fried egg, julienned tomato and cucumber.
---
The Protein:
150

gms Shrimp (or thinly sliced Chicken)

1 tbsp

Oil

2

-

3

Garlic cloves, finely chopped

1 tbsp

Kecap manis
Rice:
1 tbsp

Oil

1 tsp

Peanut oil

1

Onion, finely chopped

2

Red chillies, slit

2 tbsp

Kecap manis

2 tsp

Shrimp paste
Garnish:
2

Sunny-Side Up Fried Eggs
Crispy Fried Shallots
Side:
Julienned Tomato/Cucumber
---
Instructions
Heat oil in a large skillet and add the protein. I have used shrimps here. Saute for a couple of minutes until cooked through. Remove and keep aside.
To the same pan, add peanut oil and the remaining oil.
Add onion and garlic and saute till brown.
Add kecap manis and shrimp paste. Mix well. Cook for about a minute.
Add rice and combine well. Also, add shrimps at this stage.
Stir for a couple of minutes, till the rice and shrimps are evenly coated.
Serve hot in two bowls, topped with a fried egg each and crispy fried shallots.
Notes
You may substitute kecap minis with ⅛ cup Light Soy Sauce and ⅛ cup Brown Sugar
Prep Time:

10 minutes

Cook Time:

7 minutes

Category:

International, Other Asian Flavours, Rice

Cuisine:

Indonesian
LOVE THIS RECIPE? YOU MAY PIN THIS FOR LATER!
Check out these popular Rice Recipes on the blog.
Tag me on Instagram @somethingis_cooking
Don't miss out on any new updates.
Subscribe to my blog (find the subscription box below and on top of the website).
Share and connect with me on social media.
Instagram | Twitter | Facebook | Pinterest | YouTube
Love love.