Dog Watermelon Popsicles are the best way to help our pups during summers. We do a lot of homemade frozen dog treats and these two-ingredient Watermelon Pupsicles are just what your four-legged friend needs!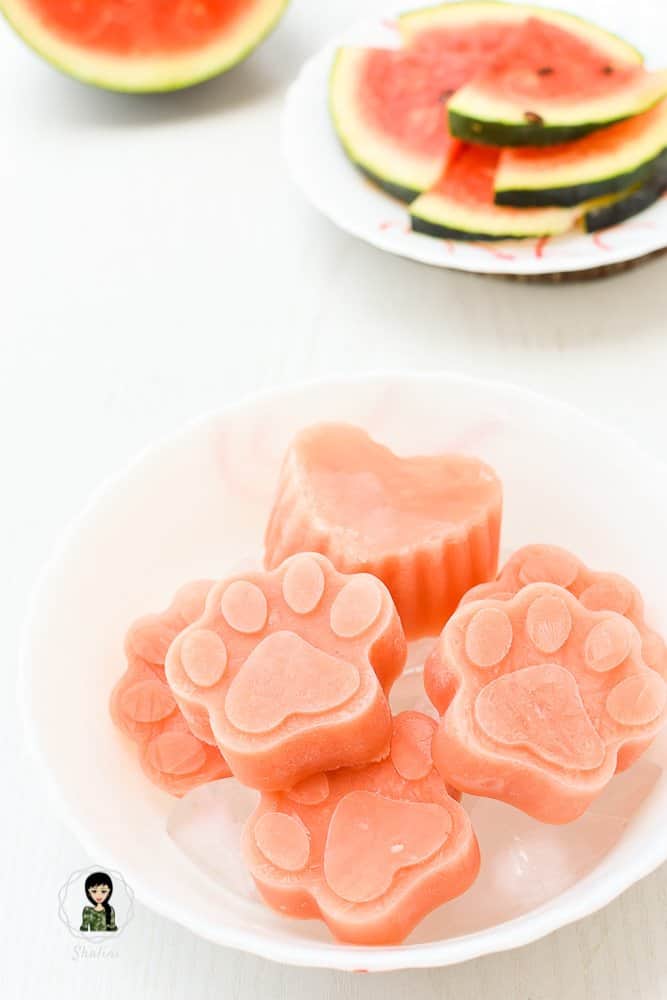 I make a lot of summer drinks and popsicles during summer because I simply cannot bear the unforgiving summer sun. Instead of gobbling on regular cubed watermelons, pineapples or mangoes, I try to come up with some simple, easy and quick to make recipes.
Like this Watermelon Slushie, for example. I have explained two kid-friendly recipes for making a watermelon slushie and also a method to make a cocktail out of it.
Anyway, whenever I do, Mufasa stares at me with his puppy eyes, literally begging me to let go of that popsicle so that he can lick it till its gone.
And that's how I began making a helluva lot of frozen dog treats at home.
Well, Mufasa comes running whenever he hears ice cubes tumbling from the freezer. So, frozen dog treats are his absolute favorites.
Dog Watermelon Popsicles? There would be a million questions running in your mind right now and I hope to address them all here.
Is Frozen Watermelon Good For Dogs?
Yes, in moderation. ALWAYS remove the seeds before giving it to the dogs. I would also not recommend giving the watermelon rind but some do. Watermelon is high in water content, naturally sweet, and is packed with essential vitamins. Therefore, it is an ideal fruit for dogs, especially on a hot sunny day.
Can Dogs Eat Watermelon Popsicles?
Definitely, if it doesn't contain any added sugar or sweeteners. Homemade DIY frozen treats are always the safest bet because you know the ingredients that are used in preparing popsicles.
For dogs, popsicles can be made from any dog-friendly vegetables and fruits like watermelon, carrots, pumpkin, blueberry, yogurt, bone broth, and peanut butter.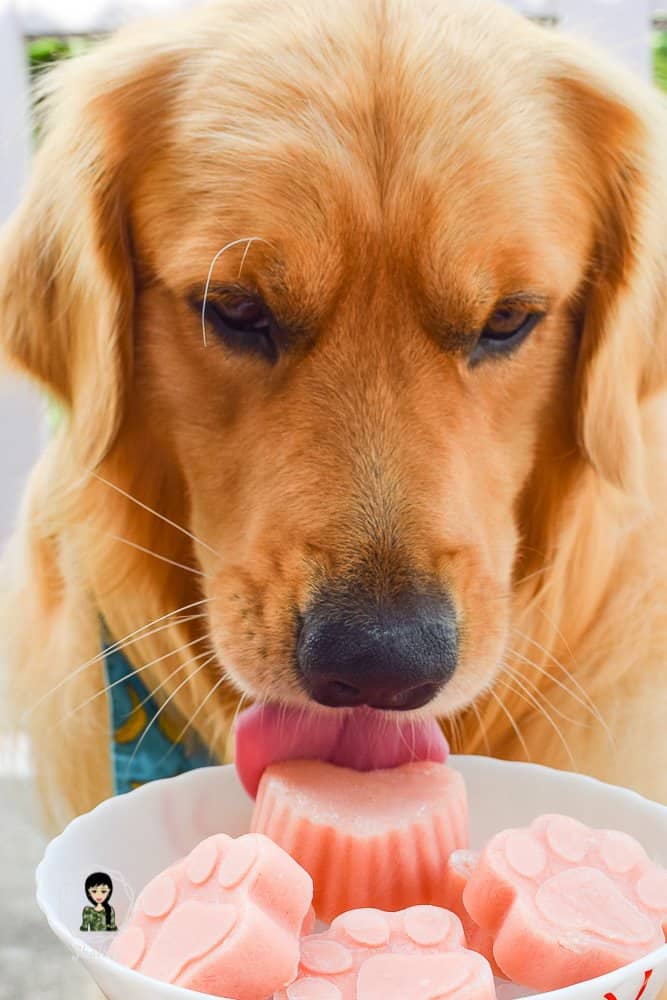 How to Make Dog Watermelon Popsicles
As I mentioned before, homemade dog treats are any day better than store-bought ones. This recipe contains only two ingredients- both available easily during summers and will be kind of a staple in your pantry.
Watermelon and Plain Yogurt
All you have to do is blend it together, pour into molds or ice-cube trays, and freeze for a couple of hours.
Your Watermelon and Yogurt Frozen Dog Treat is ready!
Caution: Please note that some dogs may be lactose intolerant. If so, omit the yogurt. A simple watermelon pureed popsicle also does the trick.
You may use a blender, mixer-grinder, or an immersion beater to puree the watermelon and yogurt.
If you are using silicone molds like I did, place the molds on a baking tray or a regular serving tray (or a plate) and then fill the mod with the mixture. This will be easier to transport to the freezer than spilling half the puree!
Watermelon Popsicle Recipe:
Print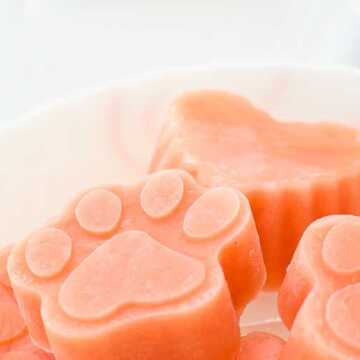 Dog Watermelon Popsicles
---
Description
Homemade Watermelon Yogurt Popsicle helps your doggo beat the summer heat.
---
500

gms Watermelon, cubed and deseeded

200

gms Plain Yogurt
---
Instructions
Blend watermelon cubes and yogurt.
Place the silicone mold in a tray and fill them with the puree.
Freeze for 2 to 3 hours and serve cold to your doggo.
Notes
Always deseed watermelon before giving to your dogs.
Use only plain yogurt and not sweetened or flavored ones.
Place the silicone mold on a tray prevents spillage while transporting to the freezer.
You may also use ice-cube trays instead of a mold.
Some dogs may be lactose intolerant. If so, omit the yogurt. A simple watermelon pureed popsicle also does the trick.
You may also remove the popsicles from the molds, transfer to an airtight container and store in the freezer for up to a week.
Prep Time:

3 hours

Cook Time:

0 hours

Category:

Uncategorized

Cuisine:

Dog Treats
Nutrition
Serving Size:

Makes 5-7 medium popsicles
Like the Recipe? Pin it!
Love easy homemade dog treat recipes?
Here's how you can make a Dog Birthday Cake. Find the recipe for an easy frosting too!
Tag me on Instagram @somethingis_cooking
Don't miss out on any new updates.
Subscribe to my blog (find the subscription box below and on top of the website).
Share and connect with me on social media.
Instagram | Twitter | Facebook | Pinterest | YouTube
Love love.