Kerala Netholi Fry is a popular dish where anchovies are marinated with spices and fried in coconut oil. I'm taking it a notch higher by adding it to a mixture of sliced onions, garlic, and curry leaves.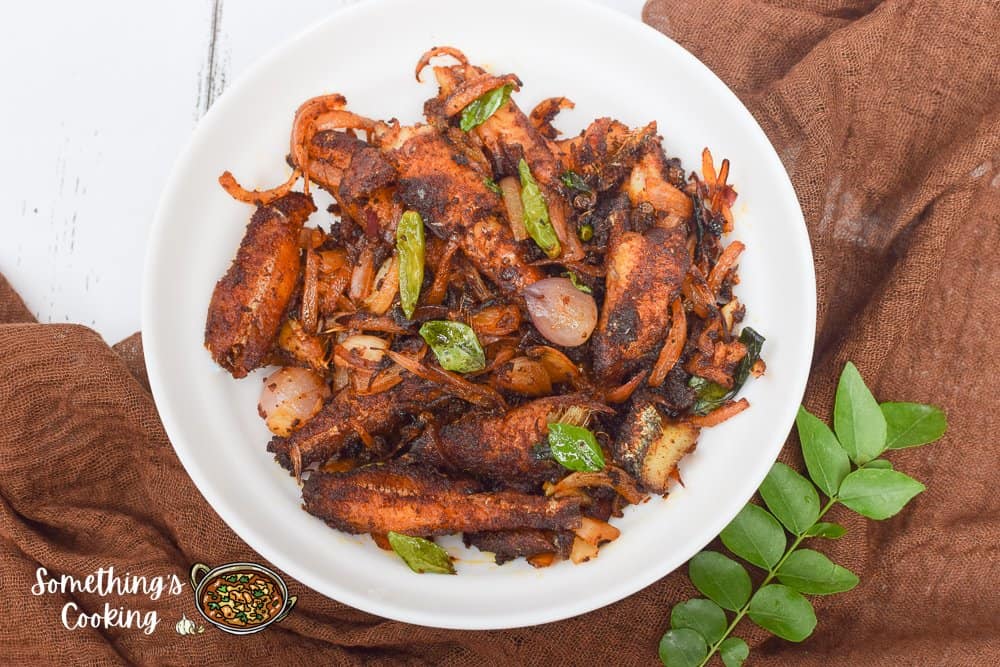 I can't believe it is December already! Time just flies and it also feels weird and strange especially because nobody could have foreseen a pandemic. I still can't get over the fact that this is our new normal!
Even if I try to look at the bright side of things, say, getting time to spend with our loved ones, less traveling or hustling and bustling, I can't ignore the fact that the fear of life was a little too much to handle.
But we ought to do what we ought to do, right? How are you coping up? I'd like to know.
Now that I am done with my rant, let's get on with this easy-peasy recipe.
Anchovies are popularly known as Netholi, Natholi, Nethili, Podimeen, or Kozhuva in Malayalam.
Being a small and one-bite food, Netholi fry makes for a great appetizer. They are extremely tasty when fried and are served in most of the toddy shops too as Shappile Podimeen Varuthathu.
Anchovies are a good source of Omega-3 fatty acids and nutrients and thus, the health benefits are also many. We can chomp off the fish as a whole once fried, including the fish bones, for it is tiny and delicate.
Related Post: Netholi Thoran
How to Make Anchovy Fry
Anchovy Fry is easy to make. When I say that it is easy, it really is. All you need are some basic Indian spices, onions, garlic, a handful of shallots, chilies, and curry leaves.
Related Post: Indian Cooking 101: Know Your Spices
But there is a secret ingredient which we add to make it crispy and that is rice flour. Marinate the fish with spices, salt, and rice flour and fry them in coconut oil. You may use any oil of your choice. But coconut oil works the best and gives an authentic taste.
Here, I have used Tabasco peppers or Kaanthari Mulaku instead of green chilies. These are tiny but packs a lot of spice and it also has a distinct taste.
Serve with parboiled rice, Thoran, Pulissery, Rasam, or Sambar, and Lemon pickle and you are good to go! Aha!
Related Post: Easy Kerala Style Thoran Recipes
To make Kerala Netholi Fry,
Wash and clean the anchovies.
Add turmeric powder, red chili powder, pepper powder, fennel powder (perumjeerakam), ginger and garlic paste, and salt.
Marinate the anchovies in the above ingredients and set aside for ten minutes.
Heat coconut oil in a pan and fry the marinated anchovies. Remove once they are browned and crisped.
To the same pan, add sliced onions, shallots, garlic pods, tabasco peppers, and curry leaves.
Saute until browned and add the fried fish. Mix well and serve hot.
Netholi Fry Recipe:
[zrdn-recipe id="188"]
Looking for other fish recipes? You may check out these.
From Mufasa's Pride Land
"Outside of a dog, a book is a man's best friend." - Unknown
Did you know Mufasa is a bibliophile and he hosts the annual Reading Challenge ~ #ReadingWithMuffy? Read all about it here and if you are a book nerd, come join us?
Tag me on Instagram @somethingis_cooking
Don't miss out on any new updates.
Subscribe to my blog (find the subscription box below and on top of the website).
Share and connect with me on social media.
Instagram | Twitter | Facebook | Pinterest | YouTube
Love love.