In my quest to demystifying Indian food, I'm starting this series Indian Cooking 101 where I'll be sharing the basics of Indian cooking, the must-haves, and essentials for making authentic Indian recipes, keeping in mind the affordability and accessibility. Let's start the lesson with an insight into spices.
Throughout history, the lure of spices has led the adventurous to unexplored lands. Heck, Kerala's spices enticed Arabs and Mediterranean and the spice trade dates back three thousand years.
Spices improve and enhance the flavor of food. They are also rich in nutrients and antioxidants. In addition, spices also have medicinal properties and are used in home remedies and Ayurvedic medicines.
If you're a beginner to Indian cooking, you'd be overwhelmed by the number of spices we use in our daily cooking. However, what if I say, you need only 5-7 bare minimum spices to prepare a delicious meal? Sounds good? Read on.
Forms of Indian Spices
Spices can be:
Whole spices can be ground and powdered in a spice grinder and stored in airtight containers for convenience. Traditionally, a grinding stone or a mortar and pestle was used for this purpose.
Spices are also available as powders in the market. It is also available as curry paste.
Let's start with the basic spices that you should have in your pantry before you go all out into hoarding the many Indian spices.
Five Basic Indian Spices That You Must Have In Your Pantry
These five spices - cumin seeds, mustard seeds, red chili powder, turmeric powder, and coriander powder constitute the staples of Indian spices.
| English | Hindi | Malayalam |
| --- | --- | --- |
| Cumin | Jeera | Jeerakam |
| Mustard | Sarson | Kaduku |
| Red Chili Powder | Lal Mirch | Mulaku Podi |
| Turmeric Powder | Haldi | Manjal Podi |
| Coriander Powder | Dhaniya | Malli Podi |
Notes:

I mainly use Cumin seeds for simple North Indian stir-fries. It has an aromatic and spicy flavor which intensifies when heated.
Mustard produces a strong, pungent oil that is used in some traditional Indian foods (eg: The Bengali Mustard Fish Curry). In South India, mustard is mainly used for tempering (explained below).
Red Chili powder can be made from ground dried red chilies.
Turmeric powder is made by grinding the root of turmeric in the ginger family. It is a natural antiseptic and is used in many home remedies. It adds a pop of color to dishes like dal and is used along with other spices in curries.
Coriander is one of the oldest recorded spices- from Sanskrit texts to tombs of pharaohs. It can be used as whole seeds, ground powder, or fresh leaves. Considered an aphrodisiac, the powder can be made by grinding aromatic coriander seeds and then stored in airtight containers.
It is easy to master these spices and you can whip out some delicious Indian dishes using them.
Quick Recipes Using Basic Indian Spices
Take, for example, Jeera Aloo which is sauteed potatoes in cumin seeds. All you need, apart from seasoning, is a pinch of turmeric powder and cumin seeds to cook potatoes.
Here are a few more simple stir fry recipes that make use of only the above spices.
Yam Stir Fry | Chena Mezhukkupuratti

Perfect side-dish to rice, elephant-foot yam is cubed, boiled and tossed in coconut oil with simple Indian spices.
Ivy Gourd Stir Fry | Kovakka Mezhukkupuratti

Ivy gourd, potato, turmeric powder, seasoning, and tempering - another quick and easy side-dish is ready.
Taro Root Stir Fry | Chembu Mezhukkupuratti

Similar to Yam stir fry, here cubed taro roots are parboiled and tossed in coconut oil with simple Indian spices.
---
What is Curry Powder?
Now, this is going to break your heart.
There is NO SUCH THING as a Curry Powder in India and it is NOT used in authentic Indian dishes. It is in fact, an American/British version of Indian spice mix which is used to add into soups, stews, and curries.
So, if you mix together some cumin, turmeric, coriander, and ginger, it doesn't guarantee you to bring a traditional Indian flavor to your curries.
Every Indian recipe calls for specific spices in a certain amount. Only this will bring out its true flavor and not a spice blend like curry powder.
For eg, if you add curry powder to your chicken curry and to your vegetable soup, the taste remains the same, barring the different vegetables or condiments you've used in both the dishes.
What is Garam Masala?
Now you'd ask me what Garam Masala is. And how that being a spice mix, we add it in most of the curries.
Yes. Garam Masala is an aromatic blend of whole spices, namely Coriander, Cumin, Cardamom (Black and Green), Cloves, Cinnamon, Peppercorns, Nutmeg, Bay leaves and Fennel.
| English | Hindi | Malayalam |
| --- | --- | --- |
| Cardamom | Elaichi | Elakka |
| Cloves | Laung | Graambu |
| Cinnamon | Dal Cheeni | Karuva Patta |
| Peppercorns | Kali Mirch | Kurumulagu |
| Nutmeg | Jaayphal | Jaathikka |
| Bay Leaves | Tej Patha | Vazhana Ela |
| Fennel | Saunf | Perumjeerakam |
These spices are dry roasted and then ground to a fine powder to be added in curries like Beef Roast or Chicken Curry. Once made, it can be stored in an airtight container.
However, Garam Masala is added along with other spices, and it is mostly not the overpowering one in any dish. Often, Garam Masala is added for ease and to avoid biting into whole spices like clove or cardamom.
Recipe Using Garam Masala
Kerala Style Beef Roast | Beef Ularthiyathu

Beef Ularthiyathu is a traditional Kerala style beef roast prepared by slow roasting tender chunks of beef in aromatic spices, coconut slices, and curry leaves.
Readymade garam masala powder is available in the market and for ease of use, you may purchase them. But as always, nothing beats homemade spice blends.
Notes:

Cardamoms are used in both sweet and savory food preparations. If a recipe calls for adding cardamoms, split open the pods, add the seeds.
Did you know that cloves have antiseptic properties? It works wonders as a local anesthetic for toothache as well.
While across the globe, cinnamon is mostly used in baking and desserts, we use it as a flavoring spice to our Pulaos, Biriyanis, and Savory Meat curries.
Kerala Style Chicken Biriyani

Finger-licking Kerala Style Chicken Biriyani prepared by making a chicken gravy and layered with aromatic basmati rice.
Ground or powdered nutmeg is used primarily in sweets and savories.
Here comes my favorite spice, Black Pepper. As a child, I used to pluck fresh green peppers from the tree and munch on, my Mom says. Ah, fond memories.
This is the spice that took early traders to Kerala, in search of the 'Black Gold'. An important ingredient in Kerala cuisine, pepper is also used for home remedies for coughs and colds.
Kerala Style Pepper Chicken

The flavor of crushed peppercorns, this pepper chicken will surely make you go Whoa!
---
Spices Used in Tempering
Before we learn about other major Indian spices, let's take a look into some common cooking methods. Indian cuisine, like most others, follows the basic methods of cooking like sauteing, frying, deep-frying, shallow frying, boiling, steaming, simmering, and grilling.
But many Indian dishes use a cooking method called Tempering, either at the beginning of the cooking process or in the end as a final flavoring touch.
Tempering or Tadka (or Thalipu in Malayalam) means sauteing whole spices in hot oil or ghee to be added to the dish. This will release the essential oils from the whole spices and add more flavor to any food. Indian tempering cooking method is in no way related to tempering chocolate or eggs.
Tempering spices also differ according to region. For eg, the main ingredient for tempering in South Indian cooking is black mustard seeds and in North Indian cooking, it is cumin seeds.
The main spices used in tempering are mustard seeds, cumin seeds, dry red chilies, and asafoetida. In addition, we also use curry leaves, dry fenugreek leaves, and split lentils for tempering.
| English | Hindi | Malayalam |
| --- | --- | --- |
| Cumin | Jeera | Jeerakam |
| Mustard | Sarson | Kaduku |
| Dry Red Chilies | Sukhi Sabut Lal Mirch | Vattal Mulaku |
| Asafoetida | Hing | Kaayam |
Here are some examples of recipes that call for tempering at the start of the cooking process.
Recipes with Tempering at the Start of Cooking
Cabbage Thoran | Kerala Style Stir-Fried Cabbage with Shredded Coconut

Cabbage Thoran is an everyday side for lunch in Kerala cuisine and also one of the many dishes served in Onam Sadya. It is also a brilliant Keto food!
Aloo Methi | Potatoes with Fenugreek Leaves
Aloo Methi is a delicious dry dish made wherein potatoes are sauteed with fenugreek leaves and spices.
Recipes with Tempering at the End of Cooking
Here are some examples of recipes that call for tempering at the end of the cooking process.
Beetroot Pachadi | Beetroot in Yogurt Sauce
A popular side in Kerala lunches and an essential in Onam Sadya, Beetroot Pachadi has beets chunks boiled, grated and added to a yogurt sauce. The tempering added at the end brings more flavor to the dish.
Dal Tadka
Dal Tadka is a popular Indian dish where cooked lentils are tempered with oil/ghee and spices.
Notes:

Asafoetida is extracted from the resin of ferula plant. It is available in the form of a resinous mass or in powder form mixed with rice flour, which is easier to use. It also has digestive properties and is used for relief from flatulence.
---
Other Important Spices and Herbs in Indian Cuisine
English

Hindi

Malayalam

Saffron
Kesar
Kumkumam
Cambodge/Malabar Tamarind/
Kokam
Kokam
Kudampuli
Tamarind
Imli
Puli
Fenugreek
Methi
Uluva
Ginger
Adrak
Inji
Dry Mango Powder
Aamchoor
Maangapodi
Nigella
Kalonji
Karinjeerakam
Poppy Seeds
Khas Khas
Khas Khas
Carom Seeds
Ajwain
Ayamodakam
Star Anise
Chakra Phul
Thakkolam
Garlic
Lasun
Veluthulli
Curry Leaf
Kari Patha
Kariveppila
Mint
Pudina
Pudina
Notes:

Saffron is the most expensive spice in the world, which can cost around 3000 dollars for just two pounds. It is used as a flavoring and coloring agent in savory foods and desserts.
In its purest form, Cambodge (Garcinia gummi-gutta) is different from kokum (Garcinia indica). Before reaching the market, the fruit is cut open, the inner pulp discarded, and the outer petal-like skin is sun-dried to a black color. To use, soak 2-3 petals in water for 10-20 minutes. Add the pieces to the curry. The below mentioned Kerala Style Fish Curry uses Cambodge.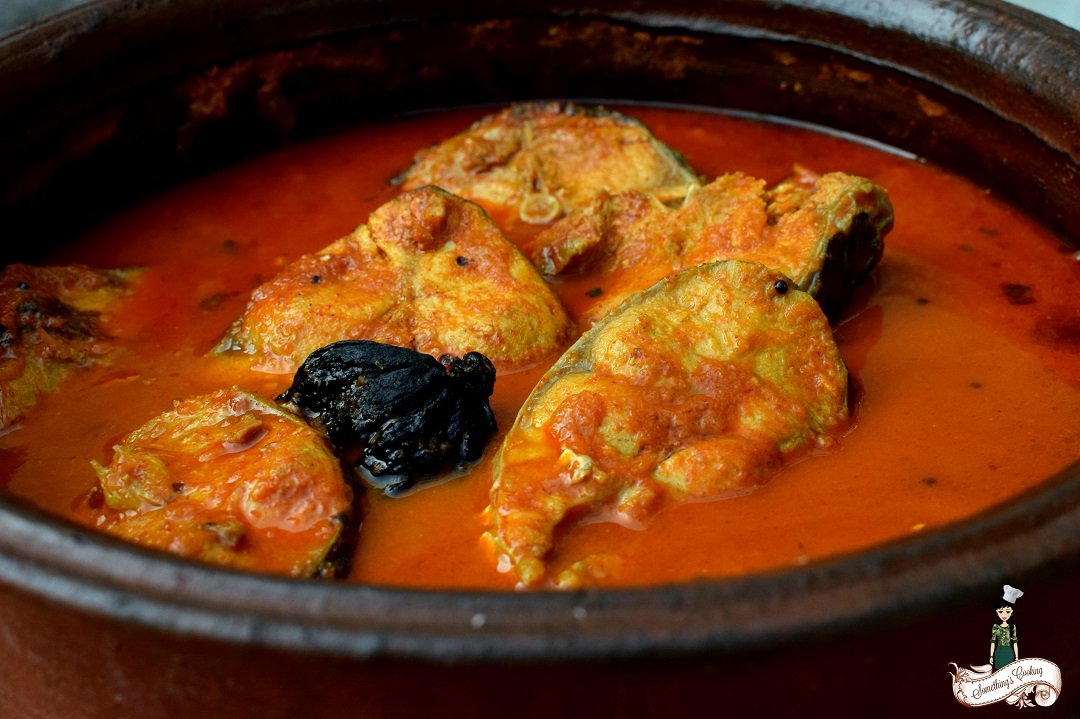 Kerala Style Red Fish Curry
One of the easiest fish curries to make, this Red fish curry from Kottayam, Kerala is cooked with red chilies and spices and has a kick of coccum.
Tamarind is another souring agent added to gravies. To use, soak tamarind in hot water and squeeze to a pulp. Strain to add to the curry.
Used in the form of seeds and leaves, fenugreek is bitter and strong in flavor. The seeds are popular in South Indian cuisine, used in tempering, and leaves are popularly used in North Indian foods, freshly sauteed, or dried to add flavor.
Ginger is mildly aromatic and has a pungent flavor. It is used in a variety of sweet and savory dishes. Always wash and peel before using it.
Nigella is used for tempering and also as flavoring agent in breads and fried snacks- just like carom seeds.
Poppy seeds are mainly used to thicken sauces and gravies.
Star Anise is another flavoring spice like cinnamon and clove, used in Pulaos and curries.
From mythology to religion, garlic is featured everywhere. It has many medicinal properties and helps in reducing blood pressure and cholesterol levels. I love garlic in my food for it blends well with onions and spices.
Curry leaf is used in tempering and its flavor enhances when it is heated in oil. It is one of the essential ingredients in South Indian cuisine.
That's all for now!
Did you like this first post on the series- Indian Cooking 101? Pin it!
Do you have a favorite spice that you like to use? I hope I've covered it in this post. If not, let me know in the comment section below so that I can make the necessary changes.
Tag me on Instagram @somethingis_cooking
Don't miss out on any new updates.
Subscribe to my blog (find the subscription box below and on top of the website).
Share and connect with me on social media.
Instagram | Twitter | Facebook | Pinterest | YouTube
Love love.