These crunchy spiced meat croquettes are popular in Kerala as "Cutlets". We relish them with our evening cup of Chai with tomato ketchup as the dipping sauce. Keema Croquettes are also a great option for an appetizer.
Today I will share one of my favorite moments in my life as an Army Wife.
On a cold winter morning, I set foot in the Pathankot Army Base. This was my maiden visit to his 'Regiment' and I was clueless about what to expect and how to behave among his senior officers and their families. But what blew my mind away was seeing his junior officers with garlands, ready to welcome us. The husband and I were to exchange the garlands and we were shown our vehicle for the drive from the gate to inside the regiment which was a good five kilometers. It was a tractor (sand truck). Of course, I was a good sport and took up the challenge. I happily perched on it alongside him and put on a brave smile. Because come on' I didn't have anything to protect myself from the freezing cold. Once we reached in front of the Officer's Mess, the husband was asked to lift me up and carry me to the Mess entrance. Ha! This moment is etched in my memory.
Welcoming the new bride to the regiment is an age-old tradition. This could be funny, sweet and at times a wee bit rowdy. I was astounded to hear that another Army Wife was asked to sleep in a room full of chickens, goats, and ducks. Another time, the wife of an officer pretended to be the first wife of your husband and that he had cheated on you. Man, that was scary! The groom is always a willing participant. All these pranks are just to break the ice and ensure that the bride is truly 'welcomed' to her new family. These, however, make the best of memories and it is always fun to hear the pranks played on and by the wives of senior officers.
Coming to the recipe...
Keema means minced meat (usually lamb/mutton). Keema Croquettes is made by cooking ground meat with onions, potatoes, and spices. They are great for an appetizer and the patties can be relished with ketchup or chutney.
Meat croquettes are an absolute essential in Kerala cuisine. Am I serious? Of course! Go to any eateries or "bakeries" by around 4 pm and you can find a wide spread of croquettes and "puffs". And the high chance that you wouldn't be able to lay your hands on them post 6 pm because, Yup. They are sold out!
Mutton Croquettes are also part of festivals and celebrations. These croquettes have a permanent place in Christmas feats and weddings. The Kerala Meat Croquettes is simple and easy to prepare. They are delicious and you can also serve it with your burger or pita bread. Such a soul-satisfying dish!
How to prepare Kerala style Mutton Cutlet?
Cook the meat with minced ginger and spices. Once cooled, grind the cooked meat to make the mince. Saute onion, ginger, and spices. Combine with minced meat and mashed potatoes. Make patties and dip in beaten egg white and then coat with breadcrumbs. Shallow/Deep fry in oil. Serve hot with ketchup or chutney.
Keema Croquettes Recipe:
Print
Keema Croquettes | Kerala Style Mutton Cutlet
---
Total Time:

45 minutes

Yield:

Makes

1

0

1

x
Description
Keema Croquettes is made by cooking ground meat with onions, potatoes, and spices. They are great for an appetizer and the patties can be relished with ketchup or chutney. 
---
300

gms Mutton, cut into medium sized cubes

1 tbsp

+

1 tsp

Ginger, minced

1 tbsp

Meat masala/Garam masala

1 tsp

Pepper, crushed
Salt, to taste
Curry leaves, a sprig

1

Onion, finely chopped

3

Green chillies, finely chopped

2 tsp

Meat Masala/Garam Masala
Curry leaves, a sprig

1

Potato, boiled and mashed

1 cup

Bread Crumbs

1

Egg white, beaten
Oil, for deep/shallow frying
---
Instructions
Pressure cook the cleaned meat with 1 tablespoon ginger, meat/garam masala, pepper powder, salt and curry leaves.
Once cooled, mince the meat using a food processor/mixer.
Heat a tablespoon of oil in a pan. Saute onion till it becomes soft.
Add chopped ginger, green chillies and curry leaves. Saute.
Add minced meat, meat/garam masala. Saute till the mixture is dry.
Remove from fire and allow the mixture to cool.
Once cooled, add mashed potatoes and mix well. Make equal sized balls and shape them to croquettes. You can also use a cookie cutter to get desired shapes.
Beat the egg white in a bowl. Spread bread crumbs on a plate.
Dip each cutlet in egg white & coat with bread crumbs.
Deep/shallow fry in oil. Serve hot with tomato ketchup, sliced onion and/or chutney.
Prep Time:

0 hours

Cook Time:

0 hours

Category:

Appetizer

Cuisine:

Indian/Kerala
Like it? You may want to pin it for later!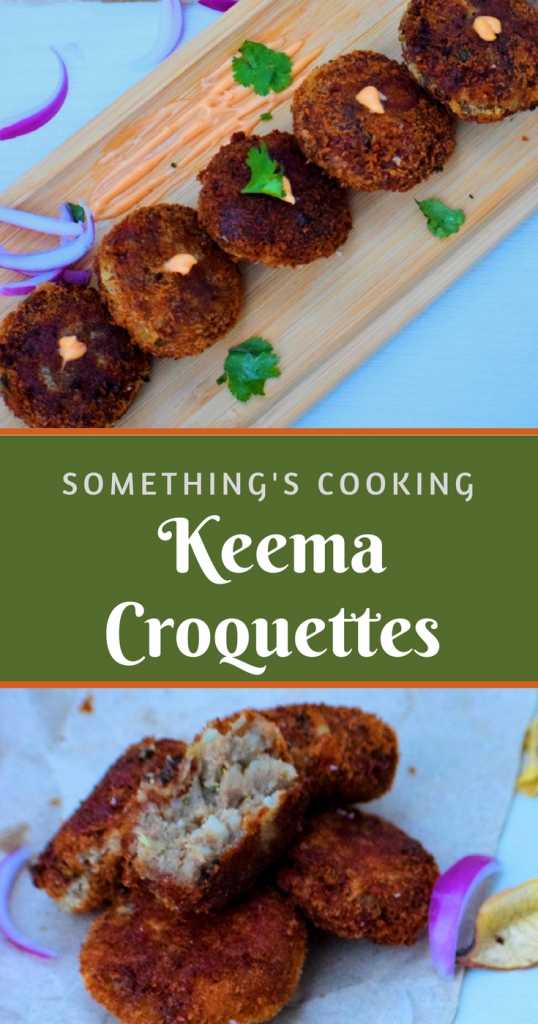 Meanwhile, you may want to check out other Croquettes as well.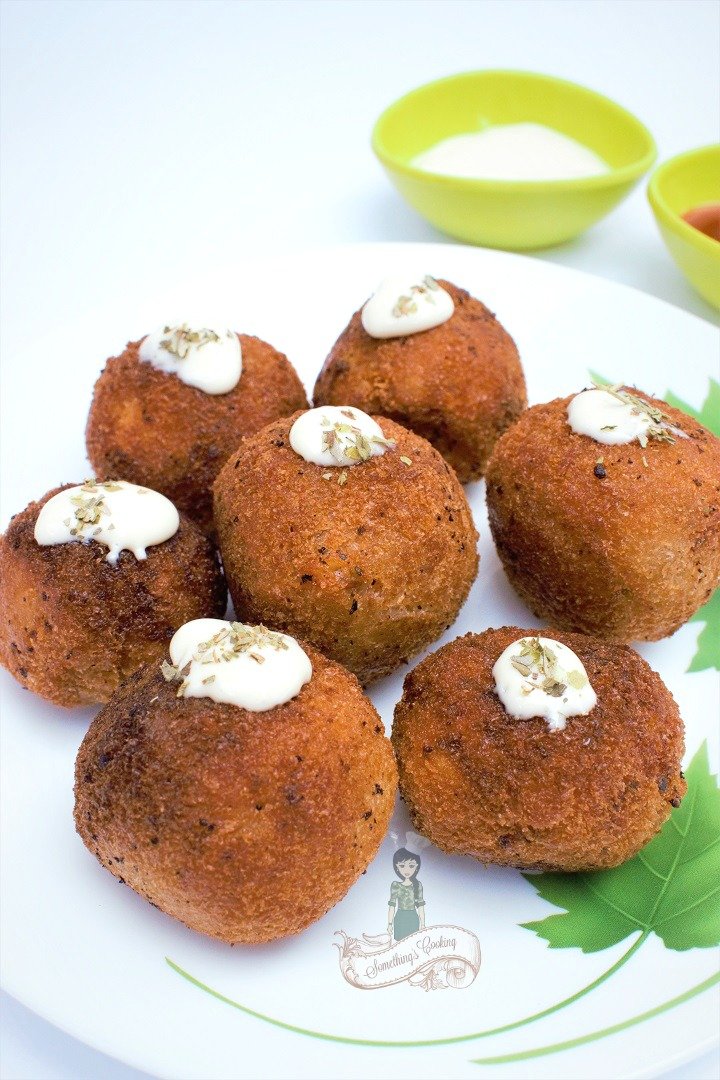 I'm participating in the #AtoZChallenge and I'm posting 26 Party Foods that I make in my Army Wife Kitchen. Follow my posts this April and before you know it, you'll be cooking up a storm. Stay tuned!
That's all for now, folks!
Find: more Party Foods here

In 2017 : K as in Kaapi - South Indian Filter Coffee
Don't miss out on any new recipes or updates. Subscribe to my blog (find the subscription box on top and the right side of this page).
Share and connect with me on social media. If you cook a dish using a recipe from this blog, feel free to click a picture and send it across. I would love to showcase it in the new section- The Reader's Space!
Instagram | Twitter | Facebook | Pinterest
Love love.
P.S: Love reading dog tales? Head over to my personal blog now to know what I've planned for you there this #AtozChallenge.