Looking for easy and best rice recipes? We've got you covered.
Rice is a staple pantry item and most of us have it at home. This humble ingredient can transform a simple homely meal into an exotic dish and can be the star of your meal!
Asians love all things biriyani and I always try and make different varieties. But here are some equally delicious rice recipes from all over the world that are other than biriyani, which you can easily and quickly make at home. From Nasi Goreng to Fried Rice and Jambalaya, you can prepare them all!
I hope you'd try out these dishes!
17 Best Rice Recipes Other Than Biriyani That You Can Make At Home
1. Chicken Fried Rice

Chicken Fried Rice is the ultimate comfort food, favorite takeaway, and an easy under 30-minute dish to prepare!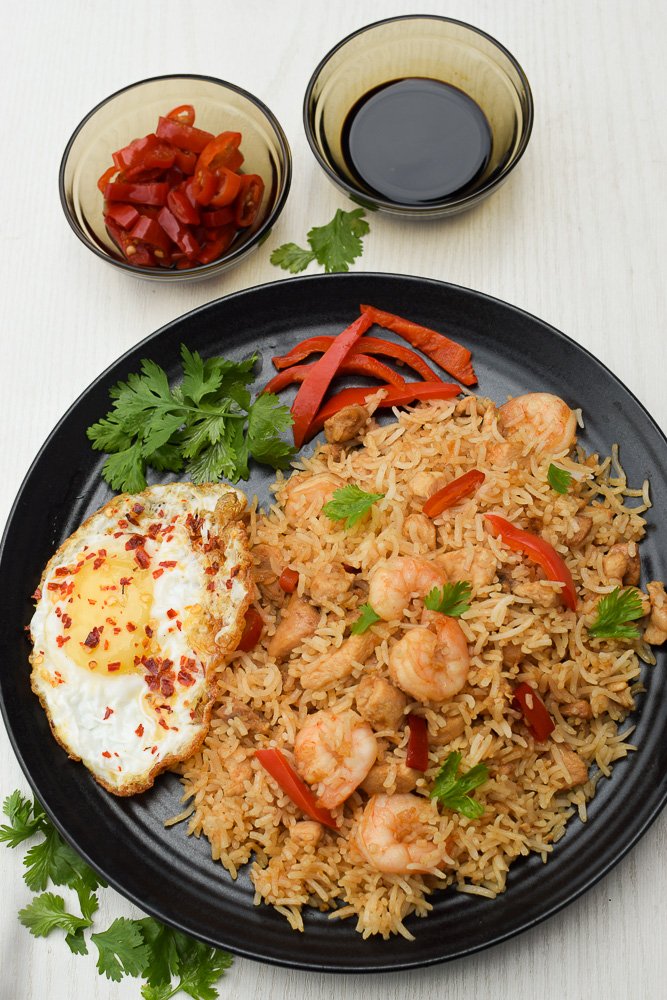 2. Nasi Goreng

Nasi Goreng is a popular and flavorful Indonesian-style Fried Rice that is traditionally served with a sunny-side-up fried egg.
3. Persian Rice with Potato Tahdig

An Iranian dish with fluffy, rich saffron rice and crispy potato tahdig – fragrant, exotic, and oh so delicious! Persian Rice with Potato Tahdig is your comfort food and your go-to for a party!
4. Thai Pineapple Fried Rice

The golden grains of rice with chunks of juicy pineapple, sauteed shrimps and cashews make the Thai Pineapple Fried Rice truly heavenly. You can always omit the shrimps for a vegetarian version.
5. Chicken Sausage Jambalaya

A super quick one-pot meal, Chicken and Sausage Jambalaya combine rice, chicken, and sausage in a delicious way! It is perfect for a lazy day and when you have unexpected guests at home.
6. Thai Fried Rice with Prawns and Peas

Brimming with Asian flavors, this Thai Fried Rice with Prawns and Peas is another easy one-pot dish.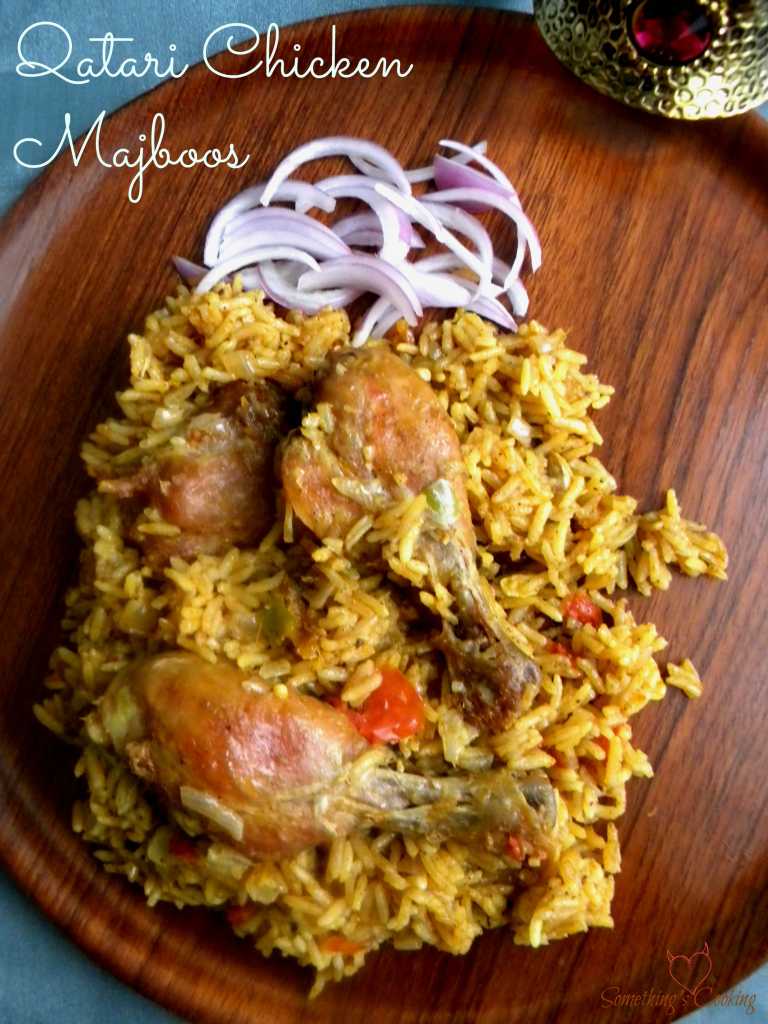 7. Qatari Chicken Majboos

Stunning Arabic dish made with spiced rice and herb chicken. Delicious and flavorful and also easy to make!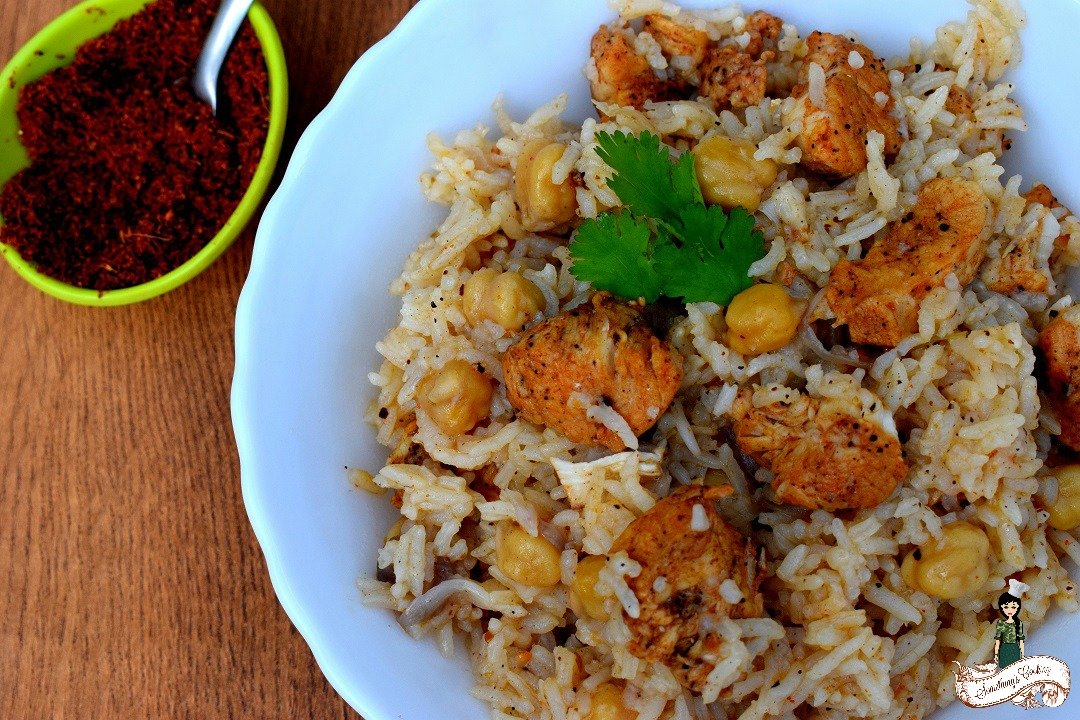 8. Spicy Moroccan Rice with Chicken

Moroccan Rice with Chicken is a spicy, sumptuous one-pot meal with an eclectic mix of spices. Find the recipe for Moroccan Spice Blend as well.
9. Chicken Kabsa

Another Middle Eastern Rice recipe prepared with exotic spices and meat.
10. Cilantro Lime Chicken and Rice

A super easy and quick recipe that'll take only about 20 minutes to prepare! Must try, especially during winters when you crave a hug-in-a-bowl, one-pot dish!
List of Rice Dishes in India
11. Veg Pulao

Veg Pulao is an easy-to-make delicious Indian rice where fragrant basmati rice is cooked with vegetables and spices. Also known as Vegetable Pulao, Pulav, or Indian Pulao, this dish is loved by children and adults alike and can be made with everyday Indian pantry ingredients.
12. Zafrani Pulao
Zafrani Pulao is an exotic and delicious Indian Style Saffron Rice. It is easy to make and is light on the palate without compromising on flavors.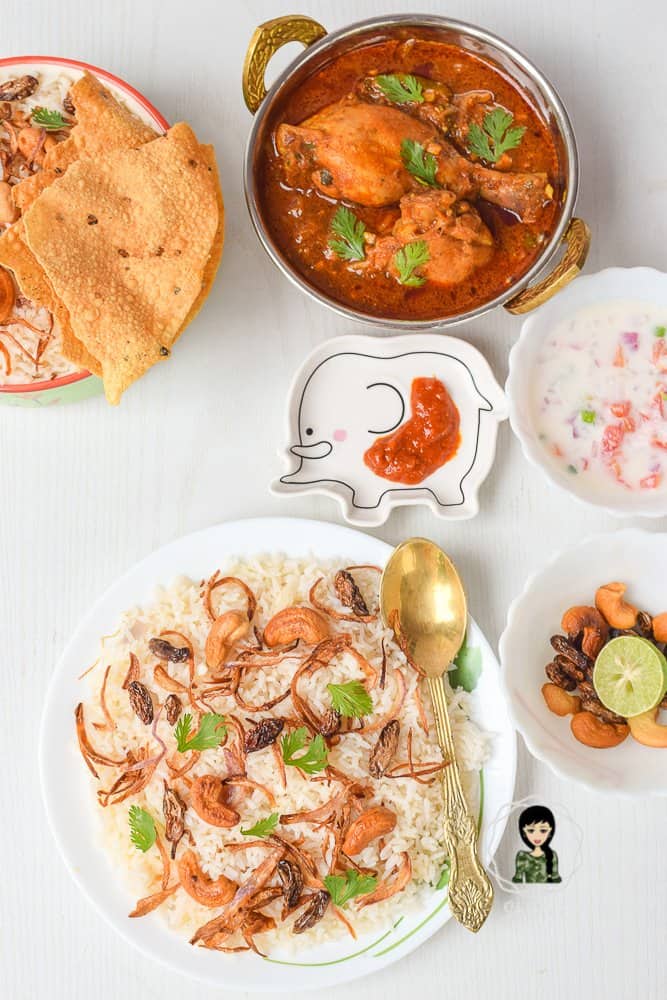 13. Kerala Ghee Rice

Neichoru or Ghee Rice is a traditional Muslim dish from the Malabar region of Kerala. A quick-to-make and easy dish, Neichoru is made by cooking rice with clarified ghee, spices, and dry fruits and is prepared on all special occasions like Ramadan and weddings.
14. Yakhni Gosht Pulao

Yakhni Gosht Pulao is one of the very best dishes from Kashmiri cuisine. The rich, aromatic rice is packed with flavors; thanks to the tender meat cooked along with rice. This dish is generally made with mutton, but you can also substitute it with chicken or vegetables.
15. Carrot and Pea Pilaf

Carrot and Pea Pilaf is a bowl of delicious low-fat rice that helps you get a few veggies in your diet.
16. Jeera Rice

Jeera Rice is one of the most popular and commonly prepared flavored rice in North India. It is prepared by cooking basmati rice with cumin seeds or jeera and other mild spices. It can be prepared in a few minutes and I should say, that there is no curry that wouldn't go well with this.
17. Zarda Pulao

Zarda Pulao is a sweet rice dish and is prepared during special occasions as weddings and festivals like Eid and Ramzan. Also known as Meethe Chawal in Punjab, Zarda Pulao is served in Gurudwaras as well. It is sweet because of the addition of sugar. Top it with dry fruits and dried coconut pieces, and this delectable pulao is ready to be served.
Let me know in the comments section which your favorite rice dish is.
Love the recipes? Pin it!
| For Blogchatter's #MyFriendAlexa Campaign
Tag me on Instagram @somethingis_cooking
Don't miss out on any new updates.
Subscribe to my blog (find the subscription box below and on top of the website).
Share and connect with me on social media.
Instagram | Twitter | Facebook | Pinterest | YouTube
Love love.